The Kilted Chef shares some of his favourite yuletide recipes and memories
Christmas was special when I was a boy growing up in New Brunswick. We always set up our crèche, or navity scene, in the same spot under the Christmas tree. We attended mass on Christmas Eve, and went home to open gifts. But one of the best things about the holidays was that my mom baked treats she didn't make any other time of the year. So did my friends' mothers.
My friend Anne's mother (known to me as Madame Marquis) made lunch for some of the kids in the neighbourhood. Occasionally my mother, knowing how much I envied those kids (especially when Madame Marquis made homemade mac 'n cheese), would let me eat lunch at Anne's.
The best time of year to eat at Madame Marquis', though, was Christmas, when she made her mochas. These squares of soft white cake, covered in chocolate and sprinkles or nuts, and topped with red and green maraschino cherries, were the epitome of Christmas for me. To this day, they're one of my favourite Christmas treats. Just one bite brings me back to being a young boy at Christmas.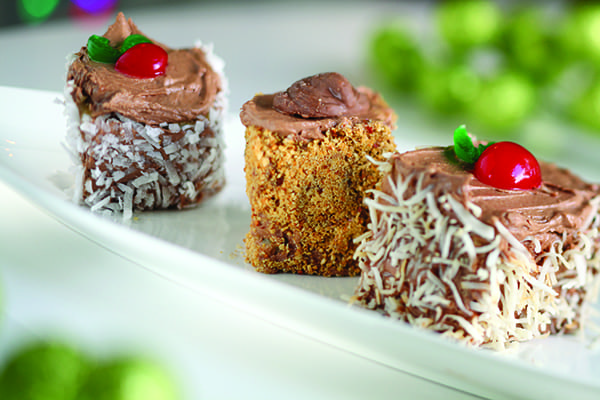 One of my wife Johanne's favourite Christmas sweets are her mother's secrets. Made mainly of butter and icing sugar, they're impossible to resist.
So what's the "secret"? The butter-sugar mixture is rolled around either a maraschino cherry or a walnut, so you never know what you're going to get until the icing melts in your mouth. These sweets are always a hit, especially with kids.
This Christmas I wanted to share a few of my family's most treasured holiday recipes. Who knows, maybe they'll become a new tradition in your family.
Recipes