(It's just paint)
Spring is, of course, when we think about throwing open windows and freshening things up, but this year, I'm leaving the re-organizing, tidying and KonMari decluttering methodology to someone else. Instead, I want to talk about one of the fastest and most effective ways to change your space—colour: big colour.
If your preference is for a serene home with walls that resemble an art gallery, you may want to look away, as the rest of us are about to take a dip in a thick, saturated pool of tones and hues. We'll also have a look at some tips for applying a colour scheme in general, and for using saturated colours, or at least saturating your space with colour.
Before starting, though, let's all understand the viewpoint of your author today, which is that paint is one of those elements of design that I love very much, and, at the same time, view as easily changed for a modest investment (for the average space).
When talking about decorating, I always ask clients if they think they might change out their furniture again in five years, or would they like to achieve a look that will hold for years to come. Investing in good quality furnishings and decor is something many people want to do once every decade or two, or three. And I completely understand that. But paint? Tell me you want to have the same colour on your walls for 10 years and I might faint dead away. Just ask my husband, who has grown used to returning from trips to find things have, um, changed a bit in the dining room. Or the living room. Or the bedroom.
Paint, to me, is like a jaunty side scarf that you can change with frequency to freshen your look.
Colours for 2017
Every paint company issues their "colour of the year" and, typically, an entire palette of colours they feel are on the rise in home trends. This year, many companies are highlighting deep, bold tones that exude a certain confidence when used properly. There are so many gorgeous shades that for the sake of time and column space, we're just going to give you three colours to consider, and let you explore the many others at your leisure.
In the violet range, Beauti-tone's Plum's the Word is a trend colour for 2017. A deep, dusky shade of purple, this is the sort of tone that can compliment a variety of spaces, from a traditional sitting room to a modern bedroom. It's a lush, velvety colour and you wouldn't go wrong thinking of luxurious textures like velvet and wonderful touches of warm metals to compliment this. Natural woods are also a beautiful match for this tone.
Behr has designated Midnight Show, a deep blue, as one of their colours for 2017. It's not the deepest, darkest of blues, but it is still a rich, full colour. Imagine this tone coating the walls in a dining room, with antique mirrors, dark woods, and gilt frames bringing out its depth.
Finally, Farrow and Ball has gone green, with their Studio Green No. 93. This hue was the exterior colour of their original paint studio, and they still recommend it for outdoor use. It's a stunning, intense green that gives no quarter to any duskiness or softening tone. For interior use, they recommend it in spaces that have good natural light to allow the green to actually push through. Like Midnight Show, this is a colour that would lend itself well to any space with a traditional feel, or a mixed look that brings together classic elements with modern twists. Again, natural elements like wood and stone would go well with this, along with metals that enhance its richness.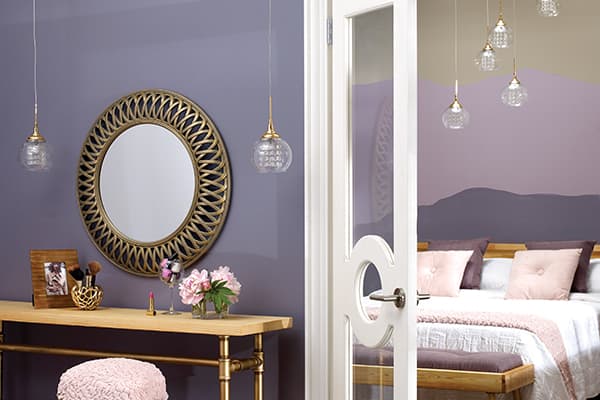 Applying Colour
OWhen thinking of how to apply colour, it's helpful to consider the big picture before you dive in with any colour, especially a big, bold one. Divide this into two tasks: thinking about the overall colours in your home, and about a palette for this project.
When thinking of your overall home colours, you should consider whether you want everything on one floor (or even your whole home) to be of one unified palette, or are you happy to shift colours from room to room? If you want one unified palette, I'll stop you right now and say a big bold colour is possibly not the best choice. It's not impossible, of course, but it's a very considered look that not many would opt for.
However, if you are looking to create a bit of a shift from space to space, then you do want to consider what's next to or in the sight-line of the room you are about to paint. If you can see the other spaces and colours, how will this work with the colour you are about to introduce? A lot of this comes down to personal taste, but it's worth stopping to consider it before you proceed.
Within the space, you must consider what is already there and what will still be there when you have finished painting. What are the other colours and tones in the room, from furnishings to window treatments to décor, and will they work with your new paint colour? It's helpful to create a palette for the space so you can see what the overall plan is.
Think of a palette as colour for the whole area, not just your walls. I usually create palettes for clients that are based on four or five colours. When creating a palette, you can either hire someone like me who will create it for you based on your input, or you can DIY it. Head to your local paint store or use their online services. Most paint companies have automatic suggestions for palettes to go with any colour you choose, so spend some time trying out their tools.
Once you have a palette in mind, a great rule of thumb for applying it is the 60-30-10 approach. Using this, you take the main colour you have in mind as 60 per cent of the colour in your room. Typically, this is your wall colour, and will also appear around the room, here and there, in furnishings or décor accents. The 30 per cent will be a few colours that are from the same family and will either be a harmonious compliment to the main colour, or something that contrasts it. This 30 per cent often shows up in rugs, furniture and window coverings. The final 10 per cent is a last colour that is often the bright or bold pop of contrast to the rest of the colours. In a room of blues and greys, think of a pop of cherry or goldenrod that you can inject via your small décor accents, or within a pattern in something like your drapery or rugs.
Tips and Tricks for Colour
If you have decided to give a more saturated look a try, there are some considerations and a few tips for how to approach this.
First, consider the state of your walls and the finish you want. Dark colours can make flaws in your wall stand out, especially the higher the sheen in your paint. If you have perfect, flat walls, you can add as much sheen as you like and the look will still be glossy and beautiful. Older walls with bumps and lines may benefit from a lower sheen or matte finish.
Using big colour can look a bit cartoonish, especially if it's bright or mixed with other big colours. But there are a few ways to avoid this. First, try a monochromatic approach. While this means you base your look around a single hue, you are free to use all its tints (added white), shades and tones (added grey and black). With colours like green this can achieve a fantastic, lush, almost tropical feel to a room.
Mixing in some neutrals is another option. Avoid clashing colours by choosing one bold hue and then fill the rest of your palette with neutrals. Think of natural elements like stone and wood, and soft textures and tones in your upholstery, all within a subdued palette that lets the big colour loose on its own.
Of course, if you are thinking of committing to a colour, you might think to yourself "Darn it, let's just do this," and really go for it. If your trim and mouldings aren't beautiful original wood, then painting these, along with your walls, all in one, deep, intense shade is a way of embracing the monochromatic approach that can create a true statement. This approach also creates a unified background against which your lighting, furniture, and decor can be featured, so think of bold, architectural light fixtures, and metals that contrast with the colour. Not for everyone, I know, but I can dream of the clients who are ready for this.
You could also choose to apply the colour somewhere other than the walls. A painted ceiling offers more than just a splash of colour to your room. It can trick your eye into seeing added height to your walls (or accent existing height), particularly if you draw the colour down the wall up to 12 inches (30 cm). And it gives you the colour without having to cover your walls with it.
A final tip before you commit to a colour: samples. I always recommend buying a sample of the colour and painting two-foot by two-foot (60cm x 60cm) swatches of it in a few places around the room. This will give you a much better idea of what the colour will look like at different times of day and in different areas of light.
Putting this much colour in your home isn't for everyone, but then neither is any style or trend. There is room for everyone, from those with a pastel bedroom to those with a carousel-red powder room. Remember, it's just paint. If you don't like the colour, change your scarf.
Cheryl Cook is the owner of SeeSea Interiors.