It may be 100 years since LM Montgomery created Anne of Green Gables, but the fiesty redhead's popularity continues to defy time-and place-through lively song and dance.
"Anne of Green Gables never change...we like you just this way...
Anne of Green Gables, sweet and strange, stay as you are today...
Though blossoms fade and friends must part...old grow the songs we've sung,
Anne of Green Gables in my heart, you are forever young..."
~from the Charlottetown Festival musical "Anne of Green Gables"

The book Anne of Green Gables is 100 years old this year(2008), but the musical is 43 years "forever young" at Charlottetown's Confederation Centre of the Arts. For more than four decades, the 14 young women who have played Anne Shirley on stage in the Charlottetown Festival production have brought joy to the world-particularly to their adoring Japanese fans.
The "Anne" musical opened in July 1965, with US actress Jamie Ray in the title role. The headline of a review in the Toronto Star at the time by late theatre critic Nathan Cohen said it best: "Something wonderful has happened in Charlottetown." Since then the show has been seen by 3.5 million people, and not just in Charlottetown-in packed houses around the globe. It's Canada's longest-running musical and critics still echo Cohen, calling the production the "perfect piece of musical theatre."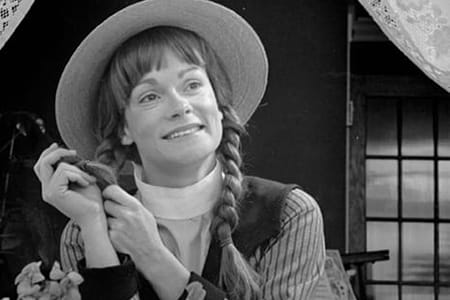 Finding the right Anne for the starring role has always challenged its directors, producers and writers, says Don Harron, who wrote the musical's script, and is currently writing a book called A Hundred and One Things You Didn't Know About Anne of Green Gables, the Musical. But in 1968, they found "the real Anne," an intellectual, imaginative teenager who completely got the persona of the girl's character. She was their sought-after triple threat: she could act, dance and sing.
Gracie Finley, all of five foot two and 100 pounds, is the longest-playing Anne (1968-74; 1984 and 1985) in the history of the theatrical gem. "I was 16 years old, and so thrilled to be a part of it. Charlottetown was the place to be in Canadian theatre… I felt privileged and honoured to win the lead role," says Gracie Finley Stickings, who now lives in Buckinghamshire, England.
She explains her affinity with the Anne character-not unlike the feelings expressed by Lucy Maud Montgomery herself, who came to Cavendish as a young child to live with her grandparents after her mother's death. "I was nine years old, and felt very much an outsider when my family moved back to PEI. I felt distant from everybody else; read lots of books, even philosophy, and I loved poetry and dreaming.
I identified strongly with the introspective, thoughtful, spirited Anne who had her own ideas and a strong will to express them.
"My Aunt Beth read Anne of Green Gables to me, and I identified strongly with the introspective, thoughtful, spirited Anne who had her own ideas and a strong will to express them."
The friends Gracie made during her years playing Anne in Charlottetown, Toronto and Japan are still buddies, she says. Charlottetown's Glenda Landry, who played Diana Barry, her best friend in the musical, remains her dear friend. (Glenda still charms "Anne" audiences as an Avonlea matron).
A few years ago a group of actors who had played Anne throughout the years got together. "We exchanged stories about it...we found that there was some of Anne in each of us...."
One "Anne" tour is especially vivid in Gracie's memory. The cast went to perform at Expo '70 in Japan-a world away from their red island home. "We went on a chartered plane with the RCMP Musical Ride men," she says. "The strong drinks were flowing freely; no one could get any sleep as the noise level got higher. When we arrived in Japan I was deaf in one ear from the flight. I had to go to a doctor to try to fix it before starting the gruelling schedule.
"The Japanese doctor couldn't speak English, and I could say only 'hello,' 'goodbye' and 'ice cream' in Japanese." Somehow Gracie and the show went on-and it was a huge hit. Japanese fans filled her days, as she and Anne became interchangeable celebrities. "I'm still writing and keeping in touch with some of the friends I made over there," she says.
Girls in Japan were not supposed to be that uninhibited; high spirits and opinions were frowned on in that strict society, somewhat like Anne's Victorian one...
Toshiko Suzuki Adilman, who lives in Toronto, has seen the musical "at least a dozen times." She has a summer home in PEI and regularly visits her relatives in Japan. She now travels the world as an international translator, but grew up in Japan during the 1940s, when girls were taught to speak gently, never argue, and defer to men and elders. She puts the Japanese love of Anne into perspective. "We see Anne as a free-spirited personality who is intelligent, says what she feels, knows to be true and aspires to do what she desires. Girls in Japan were not supposed to be that uninhibited; high spirits and opinions were frowned on in that strict society, somewhat like Anne's Victorian one… we were ordered to follow the polite rules of behaviour. Also, I think the physical beauty of PEI's spacious land and sea vistas made us long for such a place."
She adds that today, light years apart from when she grew up, Japanese people still love the story. "It was first translated into Japanese by Hanako Muraoka in 1952, and has been in the school curriculum since the 1950s. Even more recently, with the globalization that has taken place, Japanese girls, boys, men and women enjoy 'Akage no An.'"
Novelist Hiroshi Takada was 62 when he read the classic. He felt glad to have known Anne, who became vivid to him-like Dostoyevsky's Alyosha, he says.
But the majority of Japanese people attracted to the character and her story are women like Hiroko, a 32-year-old teacher. She was staring up at the Victorian buildings in downtown Charlottetown last summer, smiling while singing a line from the musical: "Gee I'm glad I'm no one else but me..." As well as going to the musical Hiroko had come to PEI to see the Island and meet its people, see Green Gables House in Cavendish, and visit the Silver Bush house on the Lake of Shining Waters at Park Corner. "This is a true dream for me. Ever since I read the book as a child, I have imagined being here."
It didn't seem to matter to Hiroko that the weather was chilly and wet. When she visited the place where Maud was wed she said, shyly, "If I meet the right man we'll come here to say our vows."
George Campbell's ancestors first came to the property where he and his family now live 232 years ago, in 1776; he recalls growing up in the historic house where Lucy Maud Montgomery married Ewan Macdonald on July 5, 1911, with fans from Japan visiting. "They somehow found their way here to Park Corner," he says.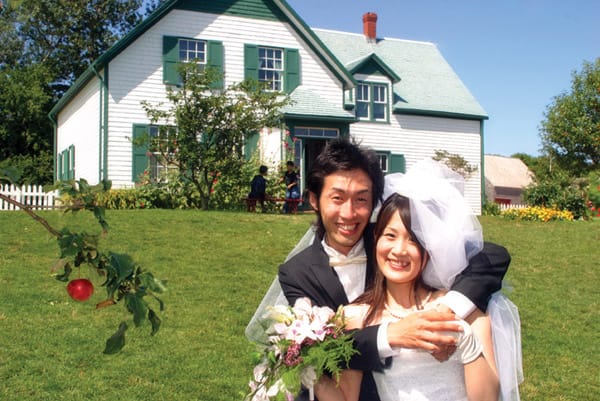 Since then the Campbell family has founded the Anne Society (www.annesociety.org) and the Anne of Green Gables Museum at Silver Bush, Park Corner. "My great grandparents John and Annie (MacNeill) Campbell were Lucy Maud's aunt and uncle," George says. "She stayed here many times, describing the house as 'the wonder castle of my childhood.' Her room in our house is still called Lucy Maud's room. My mother, Ruth Campbell, was determined to keep the house and 110-acre property in the family and to continue the connection with Aunt Maudie.
"Couples come here to say their vows... They know the Montgomery books by heart."
Perhaps it's an auspicious beginning, in an idealized and idolized place where imagination and optimism rule the day, where personal ambition takes a back seat to doing the right thing by family and friends. 
Success has also followed many of the young actors who have played Anne Shirley. "There was this great sense of joy I felt, doing the show," says Gracie Finley Stickings. "I think it came magically from Anne's spirit.
"Maud saw poetry in everything; the beauty of the place and people. And so do the actresses who bring that balance to this role... it becomes a part of you for the rest of your life; at least for me it certainly did...
"Anne has been such a blessing in my life."
Anne's Legacy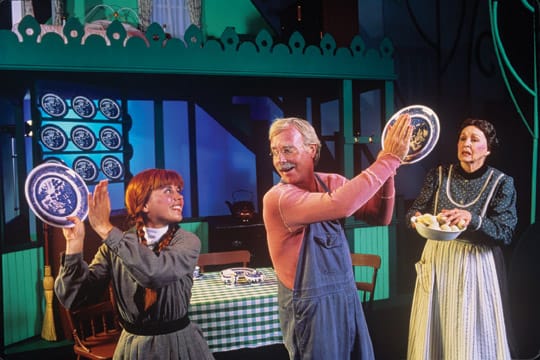 In 1965, before "Anne" the musical premiered at the Confederation Centre of the Arts, some pundits wondered if a story about a strict spinster, her shy farmer bachelor brother and a spirited freckled orphan could entice people to the 1,100 theatre seats. They needn't have worried-those seats have been filled to capacity for four generations.
This year(2008), marking the 100th anniversary of the book Anne of Green Gables, promises to be no exception. Lucy Maud and her lively characters will come to life in a year-long list of celebrations not only on stage at the Confederation Centre, but in Japan and throughout the world.
The Confederation Centre opened in 1964 to commemorate the centenary of the 1864 Charlottetown Conference, which eventually led to the creation of Canada; the centre became Canada's first modern building to be named a national historical site. Last year Alberta gave $100,000 to the centre; Ontario pledged $200,000.
"We make this contribution in support of Canadian artists working to give expression to what we are as Canadians and to who and what we are as a nation," said Ontario Premier Dalton McGuinty in a CBC news release.
Anne has been seen by 2.3 million people at the centre. Its mandate is "to inspire all Canadians to celebrate, through Canada's heritage and the arts, the creative vision of Confederation, and Canada's evolving nationhood."
David MacKenzie, the centre's CEO, says, "Anne has meant everything to the success of this place. A perfect theatre piece, pay dirt for the centre. It's an artistic and monetary gem. I sometimes wonder what would have happened to the place without it...it has served as a financial foundation for a host of our artistic endeavours, a launching pad for so many things."
Playing Anne
Success has followed many of the young actors who have played the redhead throughout the years. For example Leisa Way's international acting career bloomed after her five years in Charlottetown as Anne Shirley, from 1987 to 1990 and again in 1993. Leisa, interviewed by a newspaper in Carmel, California, where she recently starred in "Peter Pan," says both protagonists have hardships and they retaliate, turning them into adventure. She feels fortunate to have made "what I absolutely love to do, into a career"-a career that came into its own in PEI.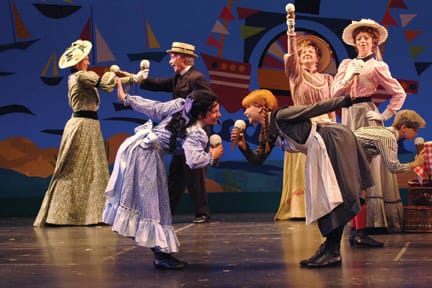 After Tracy Michailidis played Anne in Charlottetown for two years (1994 and 1995), she went on to play leading roles in the Stratford and Shaw Festivals, and had a supporting role in "Beauty and the Beast" on Broadway.
Critically acclaimed Jennifer Toulmin brought the spunky redhead alive on the Festival stage in PEI for four years (2002-2005). In 2006 when she heard she was to be replaced, she told the Canadian media, "I adore this role. I would happily be returning if I were given the chance, but I wasn't." As sad as she was to leave, in the true spirit of Anne she didn't miss a beat, and this year she's playing the musical's lead in London, Ont.
Amy Wallis from British Columbia became the 14th Anne, in 2006. She recalls her thrill at getting the role: "When I was a 12-year-old actress in Vancouver I always thought playing Anne in Charlottetown would be the best role in the world," she told the Vancouver Sun.
All Annes carry poignant memories-and some funny or ironic ones. Gracie Finley, shown above, played Anne from 1968 to 1974; then in 1984 she was asked to play Anne again, and stayed for the 1985 season. "I was 30ish, married and had two children-and I was pregnant," she says. "But they said I could still pass for the petite orphan girl. Toward the end of the run, at seven months along, the Anne costumes were getting tighter and tighter around my waist..."
The Japanese Connection
Over the years Japanese fans have been generous in celebrating Lucy Maud Montgomery's legacy. Groups of up to 100 have travelled to PEI from Japan seeking "the Anne experience and the natural splendour of the Island," adding to tourism coffers but also donating to the Montgomery Land Trust, established in 1994 to buy and perserve precious natural north shore land from development.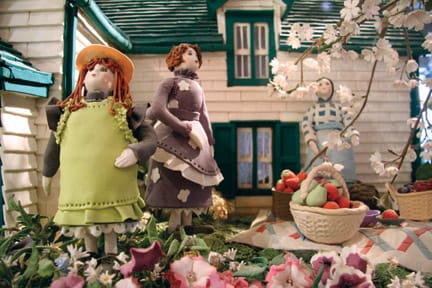 On Japan's northern island of Hokkaido, Canadian World attracts thousands who visit "Anne of Green Gables Land." The 19th century theme park, complete with Anne's village, Lover's Lane and Haunted Woods, was mostly built by PEI carpenters and opened in 1990.
In 1994 the Japanese sent PEI a sugar model of the Green Gables house in Cavendish, which stands in the Confederation Centre's foyer as part of its permanent exhibit. It took famous cake designer Keiko Sakaguichi more than two months to build and weighs 330 pounds.