Henry Demone sits in the boardroom of the corporate offices of High Liner Foods, in Lunenburg, NS, framed by a painting by famed marine artist Jack L. Gray. He talks about how his company recently outbid its rivals for the Asian and American assets of the Icelandic Group—an international network of independent fishery producers, processors and marketing companies—with what some have suggested was a bargain price of $232.7 million US, and not the highest bid on the table.
"Some of our competitors were very large companies," he says. "Actually, it was an advantage to be based in Atlantic Canada, with a good understanding of politics in the fishery."
What Henry Demone did with that "understanding of politics" was go to Iceland, where he talked with the owners of the company.
"I asked them to make a friendly deal with us," he says.
Then he met with major fish processors, who wield considerable political clout in the country, many of whom also operate fishing vessels. "I said to them 'High Liner is a food company, not a fishing company. We are your customer, not your competitor'—reinforcing a complementary relationship." The strategy worked.
On a roll
The canny president and CEO of High Liner has been on a bit of a roll of late. In December 2010, the company bought the American-based Viking Seafoods for $31.5 million US. That purchase followed the acquisition of some of the assets of Newfoundland's Fisheries Products International.
In April 2011, the influential international seafood media group IntraFish chose Henry as its Person of the Year, announcing the honour in its Seafood International magazine.
And most recently, he was named chairman of the National Fisheries Institute, the first Canadian to be chosen in the 66-year history of the largest US seafood trade organization.
That nomination was ample affirmation that High Liner Foods is indeed a major player in the international seafood business; in fact, it is the largest processor and distributor of frozen seafood products in North America. As well as a plant in Lunenburg, the company has four plants in the US, one in China and another in Burin, NL, with approximately 1,900 employees total. The stock price is up, and the company is making money.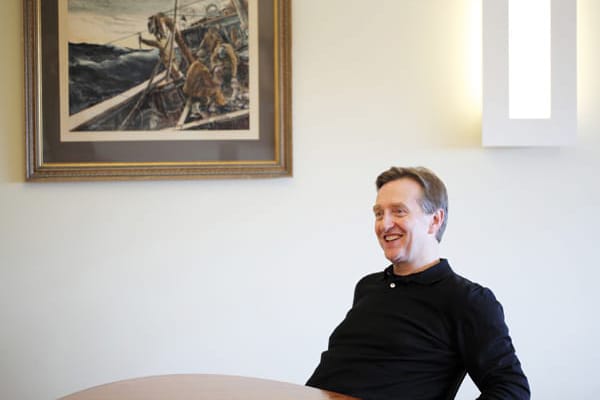 The glory days
Henry Demone spends a good deal of time zipping about in aircraft, commuting to places with exotic names from his home base in Lunenburg—where it all began in 1899, when a group of fishing skippers formed a company to outfit the schooners they sailed to Labrador and the Grand Banks of Newfoundland.
Those were the glory days of "wooden ships and iron men," and Henry's grandfather was part of the heritage, being master of a "banker," as the two-masted schooners were called. Back then, and well into the 20th century, the plundering of the Grand Banks fish stocks continued apace, based on the naïve belief that nature's supply of cod was inexhaustible.
The graceful schooners, with their stacks of flat-ended dories on deck—ready to be launched overboard with a pair of fishermen in each to catch the cod with baited hook and longline—gradually disappeared from Lunenburg Harbour and all the other safe havens along Nova Scotia's Atlantic shore. They were shouldered aside by sturdy steel trawlers, able to catch more fish in less time by towing big basket-like nets that scoop indiscriminately from the ocean bottom.
Henry's father was a trawler captain, and was a "high liner," conferred upon the skipper who came home with the most fish in the hold after a trip to the Grand Banks.
Ashore, American inventor Clarence Birdseye revolutionized fish processing by flash-freezing the flesh, preserving quality and flavour, a technique he adapted from the Labrador Inuit who in winter ate ducks and cod that were frozen fast in the ice of local ponds.
A perfect economic storm
More change was coming. Into the '70s, the fish just weren't there in quantity on the Grand Banks, the Scotian Shelf or Georges Bank. The trawls were coming up empty, or nearly so. Adult fish were sizing smaller. There were new regulations and quotas telling fishing skippers how much of which species they could land. Time was running out for the fish stocks once said to hold "enough fish to last until the end of time." A perfect economic storm threatened the entire East Coast fishery.
From 1980 to 1984, High Liner (then called National Sea Products) lost money in four of the five years. The company was more than $200 million in debt, unable to sell millions of dollars worth of frozen fish in its warehouses. The situation had become so dire that the Liberal government in Ottawa was convinced the only way to save the company was to nationalize it.
For David Hennigar, grandson of legendary Nova Scotia financier R.A. Jodrey, and point man for the Jodrey bloc of shares in High Liner, that was tantamount to prescribing medicine that would kill the patient.
Hennigar and then-president Bill Morrow found a fellow believer and investor in Frank Sobey, patriarch of the Sobey family of Stellarton, NS.
After prolonged and difficult negotiations with the federal government, the provincial government and several banks, the affable but tough-minded Hennigar had his way—High Liner would be preserved by private enterprise through the pragmatic patience of the Nova Scotians.
A "food" company, not a "fish" company
It would take one more Nova Scotian to set a new course: a Lunenburg homeboy named Henry E. Demone, in 1984, a 30-year-old sales manager working in France for a Swedish food company.
Henry was summoned home. By 1989, he was president of High Liner and in 1992, he became CEO, and the goal of becoming a global player had been set.
Then in July 1992, the Conservative federal government imposed a moratorium on cod fishing. And by 1995, the quota of fish that High Liner was allowed to harvest in Canadian waters had been slashed, from 123,000 tonnes to just 14,400 tonnes.
Tough times demand tough decisions. Inefficient plants were sold off; so were fishing vessels. Thousands of workers were laid off; sales fell by 50 per cent in the early '90s.
The toughest decision of all, and in hindsight the wisest, was to abandon the company's traditional role as a fish harvester, transforming its core purpose to that of processing and marketing prepared seafood products fashioned from raw product obtained around the globe—codfish from the Barents Sea, shrimp from Vietnam, tilapia from Indonesia.
High Liner would be a "food" company; no longer a "fish" company. For Lunenburg workers, the day the "wetfish line" stopped was a demarcation line between the past and the uncertain future.
Today, raw fish arrives at the Lunenburg facility in frozen blocks, ready to be sawed into servings and processed into oven-ready entrees.
Gordon Sawler, now 62, and in his 42nd year of employment with High Liner and its forbears, has put away the knife that once made him the fastest man at the filleting table. On this day, he hoists huge bags of breading to his shoulder to empty into the hopper, coating the frozen portions coming down the automated line.
Only about 180 production workers– with an average age of 52—remain to do the jobs in Lunenburg that machinery can't do.
"It's been almost constant change," says production coach Sharon Nowe. "We've had to adapt. We know that if we can't sell it, we don't make it."
Henry would like the sound of that.
That's what everybody in the plant calls him: Henry. It's a Lunenburg thing—a mark of respect for the man—that they use the more informal first name. It means he's one of ours.
Managing people, not product
Henry is a fit man in middle age who keeps that way by jogging or cycling to work in the morning. He has spent the last 25 years making difficult decisions to keep his company alive.
"You knew what you had to do, so you did it," he says. "We had to focus on value-added products, and that has gone well. We'll do over $1 billion in sales in 2012.
"We buy 30 species of fish from 20 countries. Wherever there is fish, we buy. We go global for our procurement, but we concentrate on North America for sales."
Henry Demone subscribes to two essential principles of modern management: focusing on his company's core purpose, and managing people, not product. "We set goals each year, and we communicate them to our people. Then we let them do their jobs. I'm not a micromanager."
The payback from his workers is a communal dedication to quality, and a unity of purpose that extends to every worker on the production floor.
Technology has helped a lot, on the processing line and in the offices linked to every supplier of raw product in those 20 countries around the world.
High Liner will produce 280 million pounds of processed product this year, and all of it can be tracked back to head office.
"Twenty years after the moratorium, we are the biggest buyer of codfish in the world," says Henry. "There is just about as much cod in the oceans of the world now as there ever was. I believe in sustainability, and in having a strategic vision. And I believe our best days are still in front of us."