Candy Palmater, comedian and star of The Candy Show on the Aboriginal Peoples Television Network (APTN), was born to a Mi'kmaq father and a non-native mother in Point La Nim, in Northern New Brunswick. After graduating as valedictorian of her law school class then working as a lawyer, she took a job as director of the Mi'kmaq Liaison Office in the Nova Scotia Department of Education. She's now completing a master's degree in education at St. Francis Xavier University. Season two of The Candy Show will air this fall on APTN.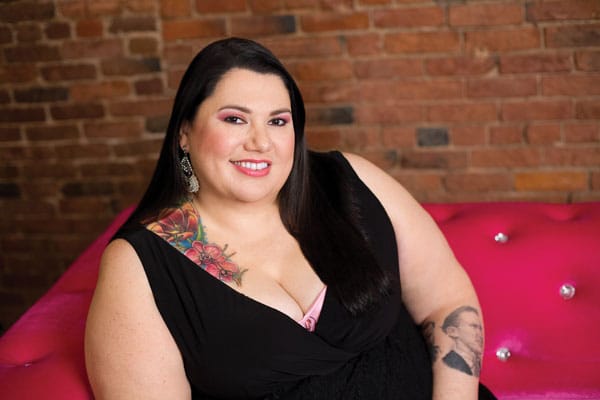 Q Tell me about growing up in a large family.
A My parents had six children, and we lived in poverty. My dad was an alcoholic. When he was 46, he got sober. He moved the family to a mountain in the woods, and had the nerve to ask my mother if he could experience being a better dad now that he was sober. That's when I was born.
Q Your father died not long ago. What's your fondest memory of him?
A It's hard to pick one. Everything from braiding my hair to the fact that he could do anything. He couldn't read or write, but he built our house, could take a motorcycle or car apart and put it back together. One night on the way to a dance, I tore the fabric of my skirt. He mended that tear and you could not tell that it had ripped. A man who had such a hard life—and was a rugged man—darned my silk skirt.
Q And your mother?
A My mom was disowned when she married my dad. I always say I get my grand visions to dream from Daddy and my ability to roll up my sleeves and work from my mother. My mom is 84 and has come to Halifax—a six and a half hour drive—to every taping of the show. My mother is my hero.
Q Did your older siblings influence you?
A My brothers and sisters took the attitude that whatever we didn't have, [I was] going to get. It was like each of them took their hopes and dreams and lived them through me. They spoiled me just as much as my parents. It was a dreamy, dreamy upbringing.
Q Why did you want to be a lawyer?
A I've always been the kind of person who likes to speak up for people who don't have a voice, and to right wrongs when I see them. I naively thought that's what being a lawyer was about.
Q Why did you become a bureaucrat?
A Well, as an overweight, gay, native lawyer, not enough jokes were being told about me, so I thought I'd be a civil servant [laughing]. An Elder suggested that I could be a better tool for my community if I had some knowledge about how government works. What I've been able to achieve working for the community in government is much more significant than what I did as a lawyer.
Q How did The Candy Show start?
A I had this wonderful little pink bedroom. I used to watch music television and read Rolling Stone and dream about life beyond that little place. I'd dream about having some of my favourite bands hang out there and play their tunes, and I could interview them.
Q Does your upbringing in a partially Mi'kmaq family influence your comedy?
A The thing I remember most is the laughter. My family met hard times with laughter. After my brother Billy died, we told stories late into the night and we were roaring. That's a deep part of Mi'kmaq survival.
Q What do you remember about your brother?
A Billy bought me my first set of skis when I was four. There I was, waiting to be taught how to ski, and he pushed me down in the snow. He said, 'I'm going to teach you how to ski, but first I'm going to teach you how to get up. If you know how to get up, you'll ski without fear.' From that day to this I've lived life without fear of falling because I know how to get up.