Gary Schneider is passionate about trees. And about native plants. And about owls. "I take people out and show them barred owls, which is the most common owl that we have here on PEI, and it's interesting to see how much excitement there is to have something wild around them," he says. "People love it." Schneider, the manager of the Macphail Woods Ecological Forestry Project, in Orwell, PEI, is just getting started. "I tell them, 'Well, if you are interested in owls and other wildlife, you also have to be concerned about their habitat.'
"On Prince Edward Island," he says, "we have lost, I'd say, 95 per cent of our old-growth forest.
"This project started 20 years ago as a place to demonstrate good forest practices. Everywhere we looked at the time—and for the most part still do—we were seeing clearcuts. We wanted to show that you could handle woodlands differently.
"We are managing 2,000 acres of public forest land for the province, and have worked with them to get the first block of provincial land—ever—certified under the Forest Stewardship Council, which is a certification system for improved forest practices. So, really, we are looking at how to bring back the native Acadian forest and how to get people to fall in love with their woodlands."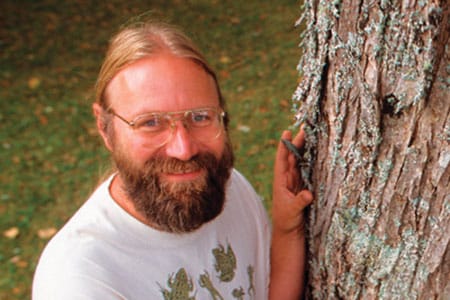 As he has. Schneider, a former journalist and originally from Ontario, moved to the Island more than 30 years ago to join his brother who had bought a piece of property there. "I worked in the woods with the worker cooperative here for three or four years. We used horses for logging, and I realized that I loved the woods, even the bits of beat-up wood that still had some resiliency.
"I started the [Macphail Woods] project because I was tired of going to meetings with foresters and debating, and so often people would ask if we would come in and give a second opinion on something, but for the most part, everyone else at the meeting was paid to be there. If you wound up actually getting someone to admit that something was wrong, they would just say, well we don't do that anymore anyway. So it really was a way to talk to people in the woods as opposed to arguing with people in rooms.
"I'm hopeful that if people start to look after their forests, that they'll start to look after everything else," he says.
And it's paying off. The project offers workshops on natural history, birds and wildflowers, and has extensive kids' programs, including week-long summer workshops.
"In the kids' program, we used to struggle to get enough kids interested in nature here," says Schneider. "Now people start calling in early January. We've seen kids who started with us in our children's program who are now in third-year biology, and their parents are telling me that they want to come and work here."
Schneider pauses. "I sort of blush saying this, but it's really quite rewarding to get that kind of feedback, and to feel like you've had some kind of positive influence on how people view nature and their surroundings—and maybe even each other."
He says he's also seen some change in terms of forest management practices on the Island. "We've seen woodlot owners go out on their own, and with a little bit of help they're now doing some of the best restoration work. It's really quite exciting to be a small part in that transformation."
As he speaks, a sense of pride permeates his humility. "I was telling someone the other day: I have a robin's nest. It's the first time that I've had a robin nest in a hemlock that I planted about 10 years ago. And I thought, you know, I could almost die a happy man, just thinking that this hemlock is going to live, hopefully 400 years—and it's already a place that wildlife uses."
To learn more about Macphail Woods Ecological Forestry Project, go to macphailwoods.org.