How part of a New Brunswick ship finds its way home more than 100 years after breaking apart off Holland.
On September 15, 1875, a three-masted ship named Revolving Light slid from the slipway at the Turner Shipyard in Harvey Bank, NB, amid cheers of onlookers. Her pennants flashed in the sun as a tugboat towed her through the tidal waters of the Shepody River and into the Bay of Fundy.
At 196 feet long, the 1,338-ton ship was beautiful, graceful and sturdy.
Standing on her deck, Gaius Samuel Turner no doubt felt a tingle of pride - it was his shipyard's first vessel. Although iron and steam had already begun to replace wood and sails, he was optimistic. His contemporaries were building small ships for coastal trade, but his access to quality timber allowed him to tap into the more lucrative market of large, ocean trading vessels.
For the next 27 years, the Revolving Light braved the stormy Atlantic seas as she sailed between exotic ports-of-call. Then one night, as she was being towed by tugboat through the tricky channels off Holland's coastal islands on the last leg of a voyage from Buenos Aires to Germany, the weather shifted. An unexpected storm unleashed a volley of waves and wind, wrenching the ship from her tow cable. The captain and his 16-man crew struggled to re-establish a connecting line in the gale. Driven by wind, the ship floundered on a sandbar near the small Dutch island of Texel, and the men abandoned ship.
With his crew aboard the tug, the captain watched as the vessel began to break apart. It was December 18, 1902. Texel residents ventured out to search for survivors or bodies. Finding none, they gratefully salvaged the sturdy beams and planks washing up on their island of dunes, dykes and salt marsh, an island bereft of decent timber. It would seem that the Revolving Light's travels were over.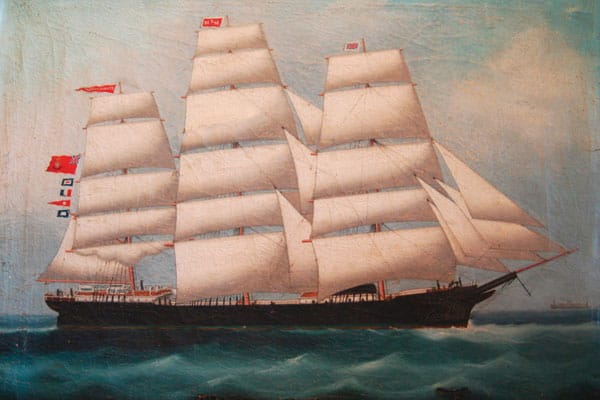 Fast forward to May 2002.
John Kernaghan, a columnist for the Hamilton Spectator, in Hamilton, Ont, was nearing the end of a trip across Canada, when he crossed an emerald sweep of dyked salt marshes near Harvey Bank, NB, to interview naturalist Dr. Mary Majka. The feisty Polish-Canadian immigrant - known for her heritage and environmental conservation projects - talked about her latest endeavour. She planned to create an interpretive site at a newly restored wharf.
Several years earlier, Majka had sidetracked government plans to dismantle the old wharf on the Shepody River - all that remained of the Turner Shipyard. Majka felt Turner's contributions to the province's shipbuilding heritage warranted remembrance.
"They told me it would cost $70,000 to remove the wharf," she said. "I told them: 'You give me the $70,000 and I'll restore it.'" With some finagling, the funds were diverted to help restore the wharf, and support historical research and park development.
The shipyard had merely a line or two in Kernaghan's article, but those few words, posted briefly on the Spectator website, attracted the attention of a retired Dutch mariner named Ed Eelman thousands of nautical miles away, on the island of Texel.
As a young lad, Ed Eelman spent many hours watching vessels navigate the channels, and listening to his uncles tell tales of their ocean-going exploits. It's no surprise that he became a merchant navy officer, spending his working life crossing the world's oceans. But after retirement, he returned home to Texel and purchased the family farmhouse that his great-grandfather, Jakob Eelman, had built.
"For this type of building, called a stolp, it was necessary for big beams to form a square about six to seven metres high, on which the full weight of the roof would rest," he says. "Farmhouses on the island were only built when good timber beams became available."
Always fascinated with the massive beams framing the central room of his farmhouse, which he'd speculated came from a shipwreck, Eelman began to search for their origins. Comparing newspaper archives, records in Lloyd's Register and Karmsund Folkemuseum in Haugesand, Norway, he concluded they'd come from a three-masted ship from the Turner Shipyard in Harvey Bank, NB - called Revolving Light.
Late one night, a century after his great-grandfather had purchased the salvaged timbers, he sat down at his computer to see if he could uncover any information on the Internet about the shipyard. He typed in the keywords "Turner Shipyard" and "Harvey Bank," then clicked Search. A single line emerged from the column Kernaghan wrote the previous June.
Eelman e-mailed the columnist, who forwarded the message to Majka. Information and photographs were exchanged; the two discovered they were both avid birdwatchers, naturalists and photographers in a landscape of salt marshes and dykes. Eelman had even helped restore an old sailing ship, the Texelstroom.
That fall, Majka travelled across the Atlantic and touched the beams for herself. She took a single crimson maple leaf to set afloat on the surf where timbers from the Revolving Light washed ashore.
Back in New Brunswick Majka was inspired to enlarge her project: she contracted a local craftsman to build a replica of the vessel on the restored wharf, and further developed the site with pathways and interpretive panels.
Hearing about the project, Dr. Samuel Turner, an American descendant of Gaius Turner, travelled to Harvey Bank for Shipyard Heritage Park's formal opening festivities, in August 2006. An underwater archaeologist, he'd built a career exploring marine history - yet was only vaguely aware of his genealogical connection with the sea. Kernaghan and Eelman also flew in for the celebrations; Eelman brought with him a piece of the ship's timber. The Revolving Light had come full circle.
The Turner Shipyard now has another colourful facet to its history, Majka has a tale for her interpretive site, Kernaghan knows his words created a vital link, Turner found his salty Albert County roots and Eelman has a story to tell of his historic home, and its Canadian ties.
All told it's a tale of circumstance, and an acknowledgement that underlying all we think we know and think we can see, hidden threads weave us together through time and place.