You know Dasher and Dancer and Prancer and Vixen, Comet and Cupid and Donder and Blitzen, but did you know that they really exist, in the form of mountains, deep within the New Brunswick interior? Along with North Pole Mountain and Mount Saint Nicholas they form what has collectively become known as the Christmas Mountains.
Although they've likely had Mi'kmaq and Maliseet names for hundreds of years, the 10 peaks were officially nameless until nearly 40 years ago. That changed in 1964, when the Canadian Permanent Committee on Geographical Names gave New Brunswick committee member Arthur F. Wightman the task of finding suitable names for the mountains, located approximately 70 kilometres west of Newcastle and just southeast of Mount Carleton.
The Christmas season was approaching when the assignment landed on Mr. Wightman's desk. Poring over a map in his Fredericton office, the provincial surveyor noted that North Pole Stream, so named by loggers a century earlier for its perpetually icy waters, meandered through the cluster of peaks. As Mr. Wightman searched his mind for inspiration, the festive "Rudolph the Red-nosed Reindeer" began playing on the office radio. Immediately Mr. Wightman picked up his pencil and wrote "North Pole Mountain" on the 685 metre-high peak at the head of North Pole Stream. To the remaining mountains, ranging from 530 to 730 metres in height, he gave the names Rudolph, Dasher, Dancer, Prancer, Vixen, Comet, Cupid, Donder and Blitzen.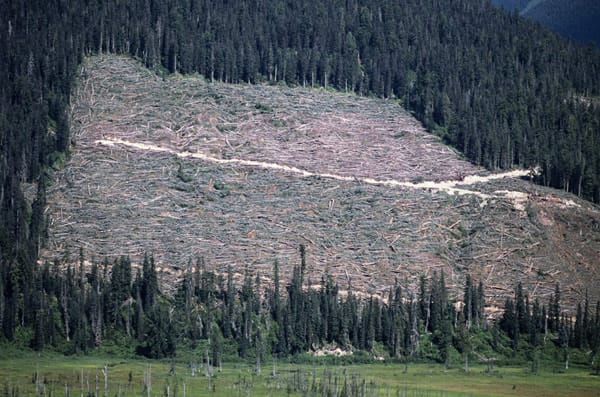 The committee, today known as the Geographical Names Board of Canada, accepted all the names from the 1823 Clement Moore poem "A visit from St. Nicholas" but rejected the newcomer "Rudolph" as being too commercial.
When Mr. Wightman dutifully replaced it with "Mount St. Nicholas," the land the old-timers in the 1800s had called the "Country of the Spruce" became known as the Christmas Mountains.
The area's story goes back much further, however. For centuries the Mi'kmaq people along the province's northeastern coast and the Maliseet in the west had rendezvoused on this sacred land for trading purposes. They had buried their dead there. The headwaters for the mighty rivers that gave life to their villages-the Tobique, Nepisiguit and Miramichi-flowed from the 51,194 acres of mostly spruce and fir that blanketed the Christmas Mountains.
Non-aboriginals, too, have long realized the inherent value of the land. In 1883, provincial surveyor Edward Jack proposed that 1,800 square miles of north-central New Brunswick be set aside as a wilderness area for future generations. Both the 1974 Tweedale Commission Report and the 1990 Provincial Parks and Heritage Sites Master Plan recommended that the Christmas Mountains be protected for their wilderness value. The parks plan further proposed that the Christmas Mountains and Mount Carleton Park be set aside jointly to serve as "the foremost example of the Province's environmental character."
Although these proposals were never implemented, until recently the Christmas Mountains ecosystem had successfully eluded the curiosity of commerce. Protected by its remote location and the inherent low value of its softwood stands, it enjoyed the distinction of being the province's last unfragmented, old growth forest. And while the term "old growth" conjures up images of trees that have been living almost forever, it more accurately defines a forest that has never been subjected to significant human disturbance. Here a red spruce might live to 300 years while a fir would be nearing the end of its life cycle at100 years.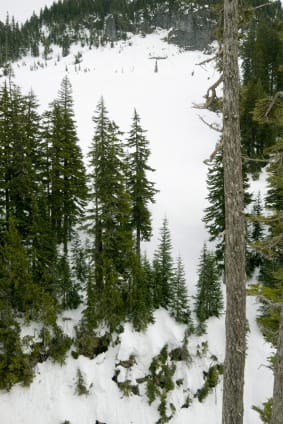 "This was one of the few large areas of unfragmented forest left," says David Coon, policy director with the Conservation Council of New Brunswick. "Some of it had never been harvested and there were few logging roads. This province is full of logging roads."
But as early as 1935, the winds of fate began changing for the Christmas Mountains. That year, a government study assessed the wilderness not for its intrinsic value but for its considerable potential as a commodity. It concluded that while the forest would "not be productive for coniferous crops for at least 40 years [due to a budworm infestation in the1920s…during that time it must be protected both from fire and settlement invasions for the future prosperity of the province."
Fuelled by a 1980s' government study that forecast an impending shortage of spruce and fir, Repap New Brunswick Inc., a pulp and paper company, began building roads between its Miramichi area mills and the Christmas Mountains. It felled the first trees on Mount Comet in 1986; by 1989 Mount Prancer was being harvested. Further road building opened up the vast forest so that by 1993 only the northwest quarter, approximately 12,000 contiguous acres, remained roadless.
In April of that year Repap placed a full page notice in the Miramichi Leader to announce its plan to cut in "the Big South Forest," an area that included the Christmas Mountains. This softwood forest, it stated, was "overmature" and "starting to fall down mostly due to the combined effects of old age, the infestation of Hemlock Looper and Spruce Budworm, and wind storms." Repap gave notice that larger than normal clear cuts were on the agenda and that clear cutting was the only feasible option.
Now the logging began in earnest. The company later insisted there had been little public reaction to this local announcement. Nonetheless, by summer's end 10 environmental organizations collectively petitioned the government for a 15-year moratorium on road building and logging in the Christmas Mountains. This, they hoped, would buy time for a thorough assessment of the area's ecology, natural history and wilderness potential.
"I was up there that summer with a group of botanists," recalls Jim Goltz, then president of the New Brunswick Federation of Naturalists. "Within a short time we'd found three rare species of plants. We also know the rare and endangered lynx has been seen there. Imagine what we would have found if we'd had time for a complete assessment."
By the following summer, public support for the moratorium had grown to include 24 environmental, naturalist and aboriginal groups. Under growing pressure, the Department of Natural Resources sent a botanist, an ecologist and a geologist to the Christmas Mountains to conduct an assessment. The botanist, Gart Bishop, wrote: "If we assume that we do not know all the answers, that current environmental assessments do not cover all the factors and parameters of living ecosystems…then are we not taking a great chance in removing and losing this potential reservoir of natural habitat?"
In the early afternoon of November 7, 1994, sudden winds exceeding 100 kilometres an hour sent loggers in the Christmas Mountains scrambling to their machinery for cover. For the next three hours they watched more than 30,000 acres of trees topple like dominoes. By late afternoon, a million cords of wood lay on the ground, enough to feed the local mills for the next two years.
Swiftly Repap switched from harvest to salvage mode, logical enough considering that the fallen wood, totalling $100 million in value, would rot away to nothing if left on the ground. The salvage operation would keep more than 600 people employed, temporarily ease the softwood crunch and infuse millions of dollars into the province's economy. But opponents were now doubly outraged. Clear cutting had caused the blowdown, they charged, and now Repap was further impoverishing the landscape by removing untold tonnes of nutrients and organic materials.
"Their clear cutting was like taking the studs out of a house and watching it fall down," says Henry J. (Hank) Bear, an aboriginal lawyer of the Maliseet Nation at Tobique. He maintains that the consequences have been disastrous for the Maliseet people.
"We've had floods and our water table has been lowered. This has impacted on both our fishery and drinking water. It's choking the fish and dehydrating us."
Tony VanBuskirk, Operations Superintendent for District 3 UPM-Kymmene Miramichi Inc., which acquired Repap last year, says blowdowns have always been part of the forest. "The blowdown was the result of the advanced age of the softwood and the nature of the forest." He offers further evidence of Repap's commitment to harvesting judiciously. "We followed strict, legislated guidelines for road building and we worked with salmon conservation groups. They asked us to widen our buffer zones around lakes and streams, and we did…"Environmentalists want to let it all fall down and grow up again. But it also makes sense to harvest and salvage and let regeneration take place naturally without altering the tree species."
Jim Goltz agrees with Hank Bear that clear cutting was the catalyst for the blowdown. "There were two main species there (which mature at different rates) and trees don't all collapse at once like pick-up sticks. And when trees fall naturally here and there they don't go to waste, leaving the ecology of the forest unaffected.
"Humans see this as an economic opportunity but that's not the only view," he continues. "In terms of money, harvesting makes sense, but what about other values like spiritual, recreational, and wilderness and species preservation?"
Tony Van Buskirk asserts that some areas "will never have timber extracted, areas containing old growth sugar maple, white spruce, black spruce and balsam fir."
While that is true, the fewer than 12,000 acres that remain standing, are, without argument, mere fragments of the original wilderness. Whatever the consequences, their ecosystems have been irrevocably altered. The species that once thrived there are at risk.
"I'm not against forestry," says Matthew Sheridan-Jonah, founding member of the Friends of Christmas Mountains, a group that won a Commonwealth Youth Award for its part in the struggle. "It's been in my family for generations. But we must acknowledge that we don't deserve 100 per cent of everything. We shouldn't be so consumptive that every single stick of wood is needed."
In the end, there is guarded agreement that some lessons have been learned and awareness has been heightened. If awareness can lead to protocol, Jim Goltz hopes that one day soon an effective mechanism for public involvement in the management of public lands will be put into place.
"Currently the onus is on the environmentalists to prove the worth of areas for their non-harvestable resources."
Matthew Sheridan-Jonah agrees. "The way public lands are managed is so complex, technical and confusing that it precludes public participation. Big words and scientific jargon are used to describe relatively simple concepts." Tony VanBuskirk also sees positive outcome of the conflict. This was the first large-scale interaction between forestry operations and environmental groups, he says. "It forced everyone to attempt to see the others' viewpoint."
"We wanted to bring land-use issues to the public and did," says Hank Bear. "What we want most of all is cautious and respectful behaviour from the people who operate in our traditional tribal area. The companies want to shave Mother Earth bald. We just want to comb out the grey." Matthew Sheridan-Jonah says if the goal was to protect a large tract of continuous forest, the battle was lost. "But if the wider goal was getting people to know about forests and Crown land and helping them realize that they are owners, then this struggle was successful, particularly in a province that has so much Crown land."
Until there is no longer a need for jobs and the thousands of wood products we consume and until the economy ceases to be hinged on things sold and things bought, humans will continue to harvest from the forests.
It is honourable work and, for many, a long-standing family lifestyle and tradition. But its nature is changing-must change-if the jobs are to exist decades from now. If the wilderness areas are to be enjoyed by those yet to come. And if the essence of the planet and life itself is to remain uncompromised by the loss of plant and animal diversity.
In the words of Hank Bear, "We are all still creatures of creation who have a natural obligation to care for each other and to respect the Creator and other creatures."