An eclectic East Coast icon that offers milk and bread, newspapers and natter, rain or shine. And you just might have to make eye contact with someone.
Across the street and up the block was the Pitt Stop. For bread, milk and eggs my husband and I crossed the street in biting cold and driving rain, or in the calm after a heavy snowfall, calling out to others as they, too, slowly unfolded themselves from the warmth of their shelters.
For popsicles or a bit of candy I slipped across the street with my daughter when the sun was bright, the pavement hot and the day lazy.
The Pitt Stop Convenience & Laundromat, in Saint John, NB, was no modern convenience store. There was no parking lot; it didn't have large windows and its interior hadn't been arranged by a marketing specialist.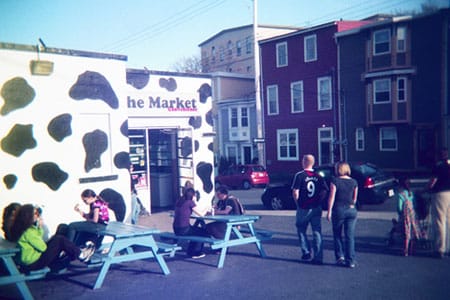 It was cramped, too small for more than a few movies, or for more than a couple of customers at one time.
Yet that was what I liked about it. If there was anybody else in the store, you had to talk, had to say "excuse me" or "can you get that for me?" You had to make eye contact. And almost always, someone held the door while I convinced my girls it was time to leave.
The first time I walked into the store, I was looking for quarters to use in one of the two washers in the adjoining room. The last time I walked into the store, I had two children and a washing machine. We were moving. It was time to say goodbye.
Moving always takes more time than you think; we didn't have time to head across town to say goodbye to the owner of a very different corner store, Thai Hut. You went to this store for ice cream, Thai fast food, alternative movies and the kind of conversation you can only have with a philosophy graduate turned small business owner. A portly man with children just out of university, the owner admired my figure throughout two pregnancies, teased my children, talked politics with my husband and noticed when we hadn't been in for a few weeks
Saint John is like that. A place where the owners of the local corner store become part of your life simply because they sell coffee and newspapers and sugar.
Corner stores were a puzzle for me when I first moved to Saint John from Calgary-it took a while to become comfortable with the absence of anonymity that comes with the large-chain convenience stores that populate so much of the West; the big little stores.
But to my husband, the corner stores that populate the East Coast remind him of home, of Sisak, Croatia. When he was a boy he would run up the block to one of the many small stores crowded into house fronts for fresh bread, tomatoes, chocolate or a bottle of beer for his dad.
The corner stores here remind him of a time when store owner/operators looked out for him, when every penny was saved for candy and collecting cards, when each journey up the street and across the road was another step toward independence, and the indecipherable world of adulthood.
When I think of Saint John now, I miss-at least a little-the corner stores I went to, and the daily natter with their owners.
Now we live in St. John's, NL. Our new corner store is Halliday's Meat Market. In the back there's a small butcher shop; at the front register there are yellow hand-knitted washcloths for a few dollars a pair. Men linger to chat with the butchers in the back. The women in front know the names of my girls.
In downtown St. John's, old signs and boarded doors indicate there used to be more corner stores than there are now.
Dale Jarvis, storyteller and cultural heritage development officer for the Heritage Foundation of Newfoundland & Labrador, speaks of a time when you had to ask for what you wanted at a counter, when men asked for "French safes," and women asked for a "box of cookies" at that time of the month, because it wasn't polite to use the correct terms. A time when each store was a wonderful confusion of items.
However the corner store is, as always, a community gathering place; a place to tell stories. "I know I'm back home when I'm in a store and people tell me their stories," says Jarvis.
As my daughters and I walk the few blocks home from a local outdoor pool, we pass a store. The girls always beg and, almost always, I give in.
As I watch my daughters agonize between orange and grape popsicles, I recall the trips with my sister to our local store, quarters clutched in small hands; I recall our first tortured math calculations as we added and subtracted sugar candies or suckers; I recall the hot pavement outside the store and the grass in which we lay out our treats to share; and I know there's something right in this small, wonderful corner of the world where I reside.