A plumber by trade, Andrew Downs created a world-renowned zoo, succeeding an Aztec emperor-if briefly.
Five hundred years ago Montezuma, the Aztec emperor of much of Mexico and Central America, ruled the greatest empire yet seen in this part of the world. Among the wonders of his realm was the institution of this hemisphere's earliest zoological gardens. Llamas and deer lived in penned enclosures, while bronze cages housed jaguars and pumas. Ten ponds filled with waterfowl were yet another source of amazement to Hernando Cortez and his Spanish compatriots. But there were no zoos in the Americas for more than three centuries after Montezuma's death, killed by the conquistadores in 1520.
One of the fascinating byways of genealogical research is encountering seemingly ordinary people who did extraordinary things. Such a person was Andrew Downs, whom Nova Scotia's provincial archivist Bruce Fergusson called "Montezuma's Successor." Downs was not a botanist, biologist nor any other scientist, but by trade a plumber, which makes his achievement even more remarkable.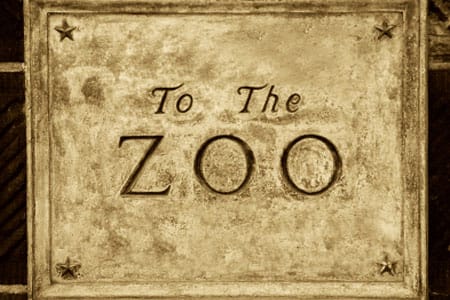 Andrew's father was an illiterate plumber from Scotland who settled in New Brunswick, New Jersey, where Andrew was born in September 1811. The boy enjoyed rambling through wooded areas, and by the time his family moved to Halifax in 1825, Downs' lifelong fascination with birds and animals was well established.
Eight years later the young man met the ornithologist and artist John James Audubon, and they corresponded for years afterwards. As well as sharing an interest in birds and natural beauty, the two both had humble origins: Audubon was born in Haiti, the son of a French father and a Creole mother; in his early adult life he worked as a shopkeeper in Louisville, Kentucky. And while they both became world-renowned, Audubon remains so, whereas Downs' remaining legacy will soon be flattened and his fame forgotten-even more than it has been.
In 1838, Downs proposed that Halifax establish a park, museum and library of natural history. Nine years later he began to assemble land near the head of Halifax's Northwest Arm, calling it Walton, as a site on which to realize his dream. By 1860, this property encompassed 127 acres, featuring a greenhouse, an aviary and a cathedral of glass, his famed "Gothic Cottage"-which had a museum of stuffed animals; the property had picnic areas, ornamental trees, statues and several water features. The zoo became home to animals both native and exotic, from beavers to Mexican deer, monkeys to Chinese swans. Edward VII visited the gardens when he was Prince of Wales. King Victor Emmanuel II of Italy heard of Downs' skill as a taxidermist and engaged his services to mount his hunting trophies.
When New York City opened its zoological collections at Central Park in 1867, Downs went there as its superintendent. Due to political machinations in New York his tenure there was brief, and he returned to Halifax. He tried to re-establish a zoological garden not far from his original site, but there was little public interest and in 1872 he abandoned his dream. Halifax had lost the Americas' first zoological garden since that of an Aztec emperor 350 years before.
Downs trained pigeons to carry messages between Sable Island and mainland Nova Scotia, and bred prize-winning poultry. He frequently had visitors wanting to learn about "wild life in the woods and by the waters of Acadie." He wrote papers on ornithology and supported his family by his taxidermy. He died at his home in Halifax in August 1892, aged 80. A friend penned a posthumous tribute to one "whose heart was in his work… who had the liberality of spirit which all true lovers of nature have."
There is a monument to Downs and his gardens in Halifax not far from the Armdale Rotary. At the time of this writing, a grove of beautiful old pines still stands, marking the property. Sadly, those guardians of the gardens of a magnificent dreamer will soon become wood chips and brush, while the little stream and the tiny plants of the forest floor will be bulldozed into a housing development.
Dr. Terry M. Punch is the resident genealogist on CBC Radio and editor of Genealogist's Handbook for Atlantic Canada Research.