Stuck between a glut of supply and low wharf prices, the East Coast lobster fishery is fighting to survive
Leonard LeBlanc was untying his boat from the wharf, and just about to check his traps when the news came in over his VHF radio. Lobster fishermen in his area were tying up their boats in protest of low prices.
LeBlanc, a 58-year-old three-decade veteran of the lobster fishery, and the longtime president of the Gulf Nova Scotia Fishermen's Coalition, hitched his boat back to the wharf and joined in.
The May 2013 protest extended far beyond LeBlanc's home harbour in Chéticamp, Cape Breton. Lobster fishermen across the Maritime provinces remained on land for the better part of a week. A shore price as low as $3.25 per pound for a market-sized lobster was unacceptable, they argued. "I think the message to the provincial government was: you better address this quickly or it's gonna blow up big time," says Leblanc.
The East Coast lobster fishery is a $1.7-billion industry that employs thousands of people, most of them in rural, coastal communities. In many of those communities, the lobster fishery is the local economy. Yet it has struggled in recent years, hammered by a series of factors, including a glut of supply, low prices, American-Canadian currency swings and the Great Recession. Those forces have many industry players—from the independent harvesters to processors to politicians—worried about the sector's future. Simply put, the East Coast lobster fishery faces a crisis of long-term survival.
Only a crisis explains the robust attendance at the Canadian Lobster Value Recovery Summit, which took place March 26 to 27, 2014 at the Lord Nelson Hotel in Halifax. Outside, a winter blizzard raged, but the summit still drew more than 150 fishermen, processors, wholesalers, distributors, industry experts and government representatives. (There was debate among the organizers over whether to postpone the event. Poor weather, they likely concluded, is rarely a deterrent for fishermen.)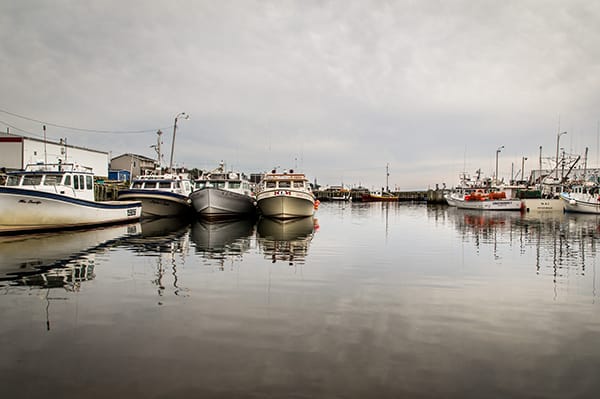 The summit, which cost $90,000, including nearly $40,000 from the Atlantic Canada Opportunities Agency, was organized by the Lobster Council of Canada, a group formed in 2010 in response to the industry woes. I ask Geoff Irvine, the council's executive director, if the lobster industry is sustainable in its current form. He pauses. "That's a big question," he finally says.
The sector, he explains, is very complex. The industry's current setup is influenced by long-standing traditions and supported, in large part, by government programs. "It's hugely propped up by social programs," Irvine says. Most East Coast lobster fishermen are on the water 10 weeks a year. For the rest of the year, they either work other jobs or collect Employment Insurance. "You tell me if that's sustainable," Irvine says.
Such issues, however, are outside the council's mandate and, Irvine adds, likely far beyond debate within the fishing community. So for now his goal is to make the best of the current industry setup. "We have to figure out how we can make a silk purse out of a sow's ear," he says.
In hosting the summit, the Lobster Council was trying to address four simple (though still contentious) recommendations from the Maritime Lobster Panel, released last November: the establishment of an independent Maritime Lobster Market Intelligence Institute (to produce "high quality" industry information), the creation of a generic marketing campaign to promote Canadian lobster around the world, and possible lobster price-setting mechanisms to determine a minimum price.
The most prominent issue, however, was the call for an industry levy of two cents per pound (one cent from harvesters; one cent from processors—which recently turned into a controversial five-cent proposal) to fund, primarily, the generic marketing campaign.
The campaign would be comparable to generic ads for milk or eggs: the intent to boost general consumption of lobster, to benefit all harvesters. "If there's no demand for your product, there's no price for your product. The more demand, the higher the price is," says Brian Guptill, president of the Grand Manan Fishermen's Association, a 180-member group that supports the (two-cent) levy. "A couple of cents from the industry to try and get a dollar back is worth trying."
The lobster marketing campaign would highlight the quality of local lobster and the image of an independent harvester. Guptill, who started fishing in 1982, noted the levy has been a discussion point for seven years. So what's the hold up? "Don't ask me!" he says before releasing a husky laugh. "It's about time the ministers go to their legislatures and make it happen." With lobster landings up, he adds, "you gotta talk somebody into eatin' it."
All four summit discussion items were recommended in a report from the Maritime Lobster Panel, which was released last fall in response to the 2013 protests. Still, the March summit certainly wasn't the first attempt at fixing industry problems. A similar summit in 2007 failed to achieve significant results.
For his part, Irvine was buoyed by the presence of regional political leadership. That presence, he said, marked a change from previous attempts at reform. In fact, the summit was being hosted by the three Maritime fisheries ministers. At the outset, however, they were unsure of what the summit would yield.
During an opening scrum, one reporter compared building consensus among fishermen to the frustrating task of herding cats. Keith Colwell, Nova Scotia's fishery minister, said the goal was to get the fishermen to speak with a "united voice." "We haven't had that in the past. We may have to take some steps to move forward regardless of whether we get the consensus or not," he said.
Colwell said fishermen in his province might feel comfortable with the current lobster prices, which were—by comparison to recent years—high. "But if we don't make these corrections it will be down to $3 a pound again…or lower. And the fishermen simply won't be able to make money," he insisted. "We've got to move the industry forward. We've got to get into the current age."
The current age, according to Colwell, involves proper marketing. A levy to fund a generic marketing campaign for Canadian lobster would increase demand, and boost the wharf price to a "proper" level. "And that doesn't mean $6 a pound. That means a lot more than that," he said.
In his opening remarks, New Brunswick's fisheries minister, Michael Olscamp, said the lobster industry had "hit a wall." The former school teacher sounded as though he was imploring his students to work together.
"We can't continue to go in the direction we've been going…the status quo cannot be maintained in this industry," he told the media. "If we miss the boat on this one, I can't tell you where we're going to go."
Before heading into the morning sessions, both Colwell and Olscamp threatened to legislate a levy even if the industry didn't reach consensus on the proposal. Would the industry walk voluntarily toward reform, or be dragged there?
Leonard LeBlanc speaks with a slow, calm voice and a Francophone accent. He's sitting in a side room at the Lord Nelson Hotel shortly after the conclusion of the summit's first day of debate.
LeBlanc decided to become a fisherman 36 years ago. His father advised him to spend some time on the water before actually buying a vessel, so LeBlanc spent 11 days fishing for snow crab on a friend's boat. "I was seasick for 10 days and I lost 15 pounds. It was hell," he says. "But on the 11th day I stopped being seasick and I've never been sick since."
LeBlanc mortgaged his house to buy his own boat. "I was putting everything on the line to become a lobster fisherman," he says. "But I've struggled through and managed, and I'm still fishing. It's something I love to do. Fishing is not a job. It's a career. It's a passion."
Still, it certainly hasn't been without challenges. In his second year as a fisherman, LeBlanc's boat exploded in Chéticamp harbour, injuring many aboard and killing his five year-old son, Matthew. LeBlanc considered quitting the fishery after that, but the community rallied with both financial and emotional support. "Leonard, you're not quitting," they all told him. To pay them back, he's served as the coalition's volunteer president for 25 years.
LeBlanc welcomes the proposed levy. But he has a history of encouraging change and new ideas, at least in his corner of the lobster fishery. As president of the Gulf Nova Scotia Fishermen's Coalition, LeBlanc represents 164 lobster harvesters on both Cape Breton and mainland Nova Scotia. Back in 2006, his members were struggling. "Nobody was making money. In fact, the helpers were making more money than the captains," he recalls.
So the coalition's executive assembled and created a management plan to boost the local lobster fishery. Among the changes: licences were bought back (thus shrinking the ranks), the number of fishing days were voluntarily reduced and the trap count was cut from 300 to 250 per fisherman.
The group is now catching more lobsters, and the catch is spread more evenly over the entire season, which spans May and June. "Our catches are going through the roof. Our costs are down, way down," LeBlanc says, noting an economist determined costs dropped by an average of 7.9 per cent per fisherman. "And my back is happier because I'm only lifting 250 traps," he adds.
There's only one drawback. "I used to come home at 1 or 2pm in the afternoon. Now I come in at 10:30 or 11am So my wife's not pleased because I'm home for lunch everyday," he says with a laugh.
LeBlanc's district is now contemplating further changes, including selling as a co-operative bloc and building a storage facility capable of holding a half million pounds of live lobster. The lobster pound would allow the harvesters to hold their collective catch for a few months and sell it gradually, particularly when prices are strong. In 2013, the price jumped by a full dollar the day after they finished selling.
LeBlanc reports that many of his members have offered to contribute money to building the storage facility. "To me that's amazing, that harvesters are willing to invest in their future, out of their own pockets, instead of running to the government," he said. "I'm lucky that I have a core group of harvesters who want to shake the tree."
After nearly 40 seasons on the water, LeBlanc clearly understands what the current challenges mean for the lobster industry's future—and for the communities that rely on it. "It's the backbone of the communities," he says. "We had a crisis when the cod fishery collapsed. That would be nothing if the lobster fishery was to collapse."
His own group is moving to prevent a collapse. But will the rest of the industry follow along?
The lobster sector's struggles are mirrored in the mussel industry's recent woes. Five years ago, mussel sales and prices were stagnant.
"We had more product in the water than we had markets for," recalls Linda Duncan, executive director of the Mussel Industry Council. "And industry really didn't talk to each other. They were all separate little silos."
The Mussel Industry Council launched a generic marketing campaign designed to boost consumption of Canadian mussels across North America, 80 per cent of which are grown in PEI. The "Discover Mussels" campaign was targeted at both chefs and consumers, and involved everything from advertising to blogging and trade shows.
The Mussel Council's five-year campaign, funded in part by an industry levy, garnered a 25 per cent increase in mussel sales in PEI and an increase in the shore price of about 15 per cent. So is there a lesson for lobster industry? "Obviously they believe so because I've been asked to speak at both their AGM and today," Duncan says at the summit.
Gail Shea, the federal fisheries minister, arrived from Ottawa for the final day of the summit. She told the attendees that increased co-operation and an industry levy to fund a marketing campaign would help the sector expand its global reach. Those efforts would be further aided, she argued, by trade deals with both the European Union and Korea. "It is a world-class product," she said. "There's an opportunity here to fundamentally change this industry and to stabilize it for the future."
Following Shea's speech, the doors of the main ballroom closed and the delegates settled in for a final round of discussion. When they re-emerged, it was clear some progress had been achieved. The results were encouraging, if not a little ambiguous. No consensus was reached on price-setting mechanisms, but the group did agree on the Lobster Market Intelligence Institute, and endorsed a levy to fund a generic marketing effort.
A levy spanning the three provinces is expected within a year, though Geoff Irvine admits key details must still be determined, including exactly how much harvesters and processors will contribute, and the mechanism for collecting the levy. (Based on last year's landings, a two-cent levy per pound would net about $3 million).
Following handshakes, slaps on the backs and a few final conversations, the fishermen flowed out of the hotel and onto the freshly plowed roads, headed back to their home harbours. Leonard LeBlanc stood at a small table packing up his laptop. He was pleased with the summit's end result. His fellow harvesters, it seemed, were adopting his penchant for change, if only to a mild degree.
"Industry is as aligned as it's ever going to be," he said while zipping up his bag. "God forbid if we lose this chance, because we'll probably never get it again. Not in my life time of fishing."