Yes, you can grow food in containers No, it's not too late in the season
Since moving from my former home to the place in Wolfville where I now hang my gardening hat, the garden space is significantly smaller. I made several new beds completely from scratch out of the existing grassy yard, which are now choc-a-bloc full of flowering plants—perennials, shrubs, a couple of young trees.
Although my neighbour has a large kitchen garden that she has offered to share with me, I didn't have time or energy to delve too far into growing vegetables. A few pots of herbs and salad greens on my deck were sufficient. After all, I live in the Annapolis Valley, the agricultural and farm market heartland of Nova Scotia.
I can get all the fresh food I want.
Then, two things happened.
Readers may recall that in my last column, there was a photo of a wooden garden "trug" or large, raised planter, built by friends as a Christmas present (after I coveted theirs). That trug produced an impressive amount of tomatoes, hot peppers, delightful little round, yellow zucchini, and rainbow Swiss chard—favourite vegetables all. I didn't have to do a lot of veggie-garden maintenance, the plants were at waist height, and best of all, we placed the planter in full sun in a place where we could never have dug or made a garden.
A second trug, last year's Christmas present, joined the first one this spring. These, plus many pots of greens and herbs, form my kitchen garden.
I love container gardening for its portability and ease of care, and growing vegetables in containers pleases me far more than tilling of rows of weed-laden and drought-stricken beans and potatoes. That's the voice of experience talking, there. If you've ever eaten a ripe tomato, warm from the sun, out of your garden, or made a salad of all goodies from your patch of ground or collection of pot-grown greens, you know the satisfaction. Food tastes better when it's home grown, doesn't it?
While I wouldn't recommend growing some food crops in containers—potatoes, corn, ground-covering squash and pumpkins—there are plenty of edibles you can put in pots. If you attended Saltscapes Expo in April, you would have seen several exhibitors, and several presenters including yours truly, waving around flats and pots of pea shoots, which are dead simple to grow and delicious to use in salads, soups, and stir fries. I soak a generous handful of seed peas for 12 hours to wake them up, sow them in a 10-inch plastic container with good potting mix, and set them in a bright window. Three weeks later, voila! Pea shoots galore.
Wait, you're saying. It's June now. Isn't it too late to start a veggie garden? Not at all! If you're growing from seed, there are plenty of choices that grow fairly quickly, including chard and spinach, radishes, beets, all kinds of salad 'greens' (and reds and purples), herbs like dill, cilantro and basil, peas (for shoots and peas), beans…
If you want a jump-start, there should still be transplants of peppers, tomatoes, cucumbers, eggplants and cabbage and relatives available from good garden centres. I didn't even start my own peppers and tomatoes until late April—we all know how fickle weather can be in Atlantic Canada, and many years there have been frosts in June! The only caveat about transplants from nurseries is that they may have limited choices when it comes to varieties, and the plants may be potbound. But if you can live without heritage tomatoes for your first time growing your own, next year you can start some from seed.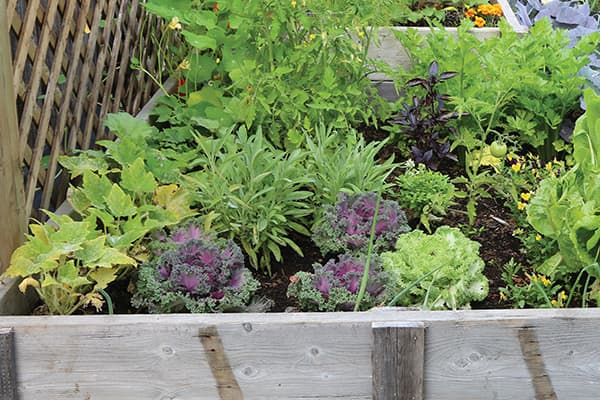 A few pointers to help you grow:
Plant what you like to eat. I loathe kale, so will never grow it; while I love all other brassicas, (cabbage, cauliflower, etc.) they can be pest-plagued so I leave them to local farmers. Likewise, I don't bother with corn, potatoes, squash except for dwarf types, or carrots or parsnips, because I don't have the space and again, am surrounded by local farmers that I support. Heritage and hybrid tomatoes, hot peppers, all sorts of greens, herbs, beets, radish, chard: those are my passions.
I confess that I utterly love different-coloured veggies, so I have rainbow chard, mesclun salad mixes, and purple, yellow and green bush beans; along with many different hues of tomatoes and peppers. Incidentally, if you have young children and want to get them excited about growing and eating their own veggies, try the different coloured ones. I started my gardening voyage planting blue potatoes with my grandfather when I was very small. You never know!
Add some edible flowers. Edible flowers are a delight when used as garnish or in salads or other dishes. They also provide a lovely pop of colour in a container planting, plus can help to attract pollinators to your garden. Among my personal favourites are nasturtiums, calendula, lavender, and Johnny-jump-ups. Many herb flowers are also delicious, although we tend to pinch herbs to prevent flowering.
Plant in sunny locations. While some vegetables will do adequately with less than six hours of sun, others demand all the sun and heat they can get. It's much warmer where I live now than in my former Bay of Fundy shore home, hence I can rejoice in growing my own tomatoes and peppers, which never succeeded in the land of fog.
Use good soil in your planters. Don't dig soil up out of the yard; you're better off with a good purchased potting soil, or your own mixture of compost, peat, perlite or vermiculite, and well-seasoned manure, maybe some seaweed meal. Avoid buying premixed soils that have fertilizer already added and boast of water-retention particles; it's better to add your own fertilizer as needed, and you are going to have to water daily, especially if it's a hot dry summer like we had in 2016.
Have the hose nearby. I can't stress this enough—vegetables need ample water and will not thrive without it. Planted in a garden, they can be mulched and have much more soil to delve their roots into; in a container, space and soil are limited and it's easy for pots to dry out. Grouping them together helps reduce evaporation a little bit, but make sure you either have a big watering can or that your planters are within reach of a hose.
Feed your food. Food crops need to be fed in order to produce well, and this is especially true when they're growing in containers with limited soils. There are many options for fertilizing. You can buy any number of pre-mixed synthetic or organic fertilizers, and there are pros and cons to each type. I personally prefer to use organic fertilizers, primarily because they tend to be gently complete (containing relatively equal amounts of the three big nutrients, nitrogen, phosphorous and potash, aka NPK) and add organic matter to the soil.
Plus, if you compost and/or have livestock fertilizer on hand, it can be pretty inexpensive to feed your crops. I mix seaweed meal into my potting mixtures when I make them, along with marine compost, composted manure, and worm castings.
Throughout the season I water at least once a week with liquid seaweed and fish emulsion fertilizers, and the results have been just fine.
With herbs that are planted out in the garden permanently, I don't fertilize other than a little compost at the beginning of the growing season, but my potted herbs do get liquid seaweed fertilizer every couple of weeks because they are in limited amounts of soil and they get harvested regularly—some of them, even daily—and so need some help to keep them producing well.
Deal with pests and diseases. I'm pretty laissez-faire when it comes to sharing my gardens with other creatures, but growing in containers does help to curb some problems others may have. I rarely see any slugs in my container-grown plants, and those seen can easily be removed and disposed of. I don't like to spray food crops with anything, not even insecticidal soap, so I mostly just watch for insect pests and hand pick any I see, or let the natural predators take care of them.
Since I'm only growing a few of each vegetable and tend to move the easily moved containers around throughout the growing season, there are fewer chances of something getting all of any one crop. You can use row covers—lightweight and light-permeable cloth that you put over your crop—to deter insects like flea beetles on radish, or caterpillars on greens. Row covers can also help protect against a light frost.
Diseases can be an issue, although prevention is key: if you start with healthy plants, good soil, adequate spacing and proper fertilizing, you are less apt to have issues with diseases. There are disease-resistant varieties of many ornamental and food crops available; if tomato blight is common in your area, select blight-resistant tomato varieties for growing.
Deer are an unfortunate fact of life for many gardeners, although I have not had problems with them. Many gardeners resort to fencing vegetable gardens to deter deer, though I'd be really interested to hear from other gardeners who have had issues with deer targeting container-grown food crops, and what you've done to combat them.