How East Coast gardeners keep thumbs green when frost and snow drives us indoors
It's November. The killing frosts have finally come. The blaze of colourful foliage has wound down and the world is shimmering with muted shades of soft gold and bronze rather than crimson and orange. The gardens have been put to bed, our tools and pots cleaned and put away. We're bracing for another long, cold, seemingly endless winter that starts for some of us in November and doesn't release its grip until late April—and that's if we're lucky.
Hardcore gardeners know that we need a changing of the seasons for the sake of the plants in our gardens as well as ourselves—but we miss those days of puttering in warm soil, creating living tapestries of flowers and foliage. So how do we keep our passions for growing going strong when the weather finally sends the garden to sleep?
Planting bulbs now for spring colour. There's still plenty of time for most of us to plant bulbs outdoors, providing you can still find some at garden centres or have already bought and stored them correctly. I've been known to plant into January after a surprise early snowfall followed by a thaw; in fact, one year I found bulbs somehow forgotten in the basement and planted them in late March. Some of them bloomed quite nicely, too. There's a rich array of bulbs to choose from, including those much-advertised 'Canada 150' and 'Canadian Celebration' tulips—which, I have to tell you, are simply a couple of older cultivars, 'Happy Generation' and 'Carnaval de Rio', renamed by Dutch bulb breeders to honour the 150th anniversary of Canada's birth.
Potting bulbs to force indoors in winter. We're all accustomed to the elegant beauty of amaryllis bulbs putting on their spectacular displays of flowers throughout the winter months. But did you know you can force many spring flowering bulbs to bloom indoors, too? The secret is to subject them to a chilling period of some weeks starting in autumn, so that they think they're in the ground outdoors and go through their dormant period. Then, when brought into the warmth of your home, they wake up, sprout and flower.
How to do it: Select any type of spring flowering bulb you want—including petite wonders like grape hyacinth, scilla, and dwarf iris—then place bulbs in a largish (8 inches or bigger) container filled partway with potting medium, then cover so only the tips of the bulbs are exposed. Water well, then place in a cool spot such as a garage or a basement where they will not freeze but will be chilled: the temperature range is 35° to 48°F (2° to 8°C). Leave them in this state for 12 to 16 weeks, (the upper range is for larger bulbs like tulips, hyacinths and daffodils) then bring them into the main part of your home, set in a bright spot, and watch them begin to grow. You can compost them without guilt when they are finished, as forced bulbs don't usually rebloom well if planted outdoors.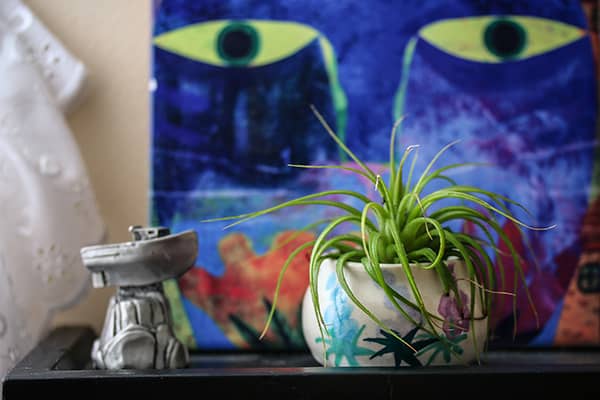 Winter garden photography. I'm a photography buff, quite amateur but gradually putting in my 10,000 hours to become a 'real' photographer. Last year, I discovered that a great way to cope with winter was to look at it through my camera lens, exploring gardens, woodlands, town and country landscapes, and other delights. The garden in winter, if planted with an eye to winter interest, is an alluring thing to photograph, whether it's to catch frost edging a leaf, or a determined late-season rose still defiantly blooming, or the intriguing seedheads and fruit of perennials and trees. Many evergreen shrubs and trees change foliage colour in winter, and the season of no leaves is a great time to enjoy brightly coloured twigs, unusual bark, and just the shapes of branches and limbs against a snowy backdrop.
Take up with a new indoor plant collection. Succulents, terraria, ferns, oh MY! Having been obsessed with plants since I was a teenager, I've seen plant fads come and go and come around again, although perhaps we don't need to see macramé plant hangers made out of that ghastly phentex yarn ever again. When the terrarium craze swept in the late 70s, I had several, including one made out of a very large beaker from the chemistry lab at the Agricultural College. Don't tell on me, OK?
I also had many dish gardens filled with succulents, and an assortment of ferns, although those were a challenge to keep growing well in the dry air of my Chapman House residence room. All of these plants and ways of growing have come back in a resurgence of popularity, helped on by garden writers who come out with fabulous books about adding plants to home décor. Other new or rekindled planting enthusiasms include air plants (see "What the heck's an air plant?" page 61), windowsill herb and veggie gardens, bonsai growing, and indoor 'fairy gardens.' There's something for pretty much every taste and every skill level. Avoid all dyed cacti and orchids, however. Those are just abominations.
Updating that garden journal. We have discussed the art of the garden journal in the past, and many of us have acknowledged that we don't have time to work on it during the spring and summer. With the onset of late autumn, we catch up with entering photos and seed packages, plant tags and notes about what worked and what didn't. And did we record where we planted all those new plants and spring bulbs? (Oops, I must get at that…)
Grow flowering plants indoors. Flowers in our homes lift our spirits with their bursts of bright colours, and sometimes, even fragrances. As we head into the holiday season, of course, there's a proliferation of poinsettias, Christmas cacti, cyclamens, azaleas, and other seasonally decorative plants, usually in flower shades of red, white, or rose, available for use in our décor for the season. But there are also many plants grown in greenhouses and timed to bloom for us throughout the cold, dark months of winter. Look for flowering tropical hibiscus, hardy Phalaenopsis (moth) orchids, the plentiful African violets, bromeliads, peace lilies, and flowering maples, as well as more specialized beauties like jasmine, flowering citrus shrubs, and some of the more particular orchids.
Catching up on our reading. During the height of gardening season when daylight stretches well into evening, we often don't come indoors from our plantings until dusk. That leaves little time for other things like housework, laundry…and more importantly, reading! Now that we're indoors more, that stack of books to explore and savour is being tackled. A few of my personal favourites, newly acquired, include Wildflowers of New Brunswick and Trees and Shrubs of the Maritimes, both written by Newfoundland horticulturist Todd Boland; Noel Kingsbury's breathtaking new Garden Flora; and Gardening for Butterflies from the Xerces Society. I'm sure you have one or two or a dozen new gardening books waiting for your attention, too. And, of course, don't forget to read all your back issues of Saltscapes, featuring some (hopefully) great gardening ideas for the next growing season.
What the heck's an air plant?
You have possibly seen a selection of plants for sale at local nurseries and even department and large grocery stores, labeled as 'air plants.' They may even be sitting out on shelves in no container, just the bare plant. While this treatment is certainly not recommended for most plants, these so-called air plants come from the bromeliad family, and are also known by their botanical name of Tillandsia. They don't need to be planted in soil, because in their native habitats, they are found growing on trees and rocks; they are also known as epiphytes, meaning they take their nutrients in through their leaves and don't require soil in which to grow.
There are many, many different types of tillandsias available on the market, some of which will also flower quite happily in home conditions. They are well suited to either open or closed terrariums, mounted on a corkboard, or even fastened to a larger shrub in your home like a hibiscus. I have several growing in seashells, including one as a magnet on my fridge. They should be watered at least once a week, usually by misting, or you can dunk the plant in a basin of tepid water for a few minutes. Don't overwater, however, or the plants will rot and die. If you're inclined to forget to water your houseplants, maybe you're better off with cacti.