From contemporary to traditional, choose cabinets and hardware to reflect your style
KITCHEN CABINETS and hardware establish the look and feel of a kitchen, so you want them to reflect your home and your lifestyle.
"People are designing the kitchens they want, not what society or the industry wants," says NS-based kitchen consultant Christine Langlois. Choices range from traditional natural wood, to white Shaker cabinets—which are both popular and timeless—to contemporary slab cabinets with a simple flat surface and clean lines.
"PVC is a wonderful product," says Langlois. "If you are looking for something really modern and funky, you can achieve that with PVC cabinets. Some PVC is UV protected, if someone has a big window, they can go with PVC. This material also takes well to high gloss applications."
The tiny stack cabinets are "big" right now. Stack cabinets are usually 12-inch cabinets that sit above the 36-inch upper cabinets. Stack cabinets offer extra storage and add to the character of the kitchen. They often have glass doors and the interior can be painted to add a pop of colour.
"When it comes to colour, people may choose white uppers and dark lowers, or all white cabinets and an island in a different colour or wood tone," says Langlois. Colours or stains of choice range from dark espresso shades to natural wood—maple, cherry or walnut, enhanced with a lacquer finish—to white, which is very popular today.
Hardware options
"Matching hardware to cabinets is something clients sometimes find difficult. It is almost like the cabinet is the outfit of choice and the hardware is the jewelry. It finishes the kitchen," she says. Brushed nickel is popular for its clean sleek line, followed by oil-rubbed bronze and gold finishes. "Gold (tone) is coming back," Langlois says, "either in pure brass, polished brass, bronze, brushed brass or antique brass. Longer hardware is also popular."
Contemporary styles often feature automatic closing without hardware in.
Choosing cabinets
Karl Stapleton, who owns a custom kitchen centre in Elmsdale, NS, is both a carpenter and a furniture maker so he brings those skills to kitchens he creates. "Ninety-nine per cent of what we do is solid maple," he says. The most common styles he sees today are the Shaker and Shaker with a bead. "The bead is a rounded moulding that is routed into the door as it is being made. It adds a decorative feature and makes cleaning Shaker doors easier," he says. People are also choosing cabinets that go right to the ceiling to provide more storage and avoid the dust collecting space above the cabinets.
Another favourite cabinet style is a raised panel door. "We put a little trim on the outside of the door that makes it look like furniture," says Stapleton.
Stapleton's company does custom colours to suit the customer need; some bring in a flooring sample or other item they want matched. "Cloud white and bisque are very much in demand, as are our custom stains, dark roast which is a chocolate brown, and black roast which is almost an espresso shade."
The company hand-stains every piece, rather than spraying, and uses two primer coats and three top coats on painted cabinets.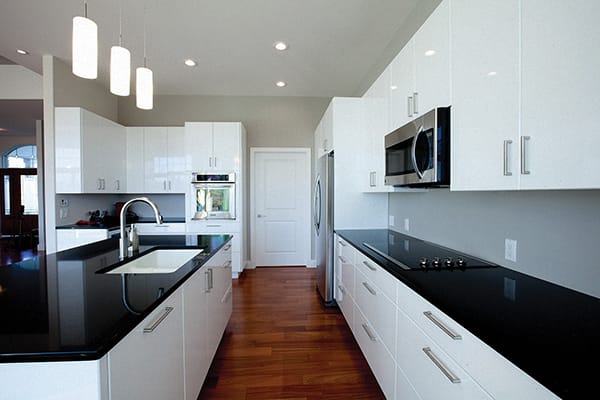 "We just did a Shaker kitchen where the owner chose a cloud white paint for the upper cabinets and his fridge door. He did his lower cabinets with a flat panel and stained it espresso. So he combined two looks, that is starting to get big," says Stapleton.
For lower cabinets, the company does upright doors with dove-tailed pullouts inside to hold pots, pans or smaller kitchen appliances such as blenders.
Brushed oil-rubbed bronze (BORB) hardware is a favourite of many customers, while others choose pewter. People want contemporary straight lines, more square than round choices.
Pantries are popular but the weight of goods stored on the pantry doors can be significant.
"We use a zero-integrated hinge on our pantries," says Stapleton. This hinge moves the door away from the pullouts, so they come out without touching the door. They also use eight screws in each door to better support the load.
Lynn Macaulay, a Halifax-based kitchen designer, says many of her clients are looking for a modern take on a traditional feel. "Shaker style doors, painted in grey or white tones, paired with a rustic wood island give an updated farmhouse feel which is very on point right now."
She sees a growing interest in European style cabinetry; high gloss doors and simple lines mixed with metallics, wood grain or bright colours, which appeal to those who want an ultra modern décor style.
"I'm finding most of my clients are choosing substantial feeling pulls for kitchen doors and drawers in black, chrome or brushed nickel. Gold tones are very trendy in cabinet hardware right now; glass knobs can add a bit of sparkle to your cabinet."
Whether it is the style, the colour, or the small practical details that can make a big difference over the long term, choosing kitchen cabinets and hardware takes time and thought but it's time well spent to make your kitchen feel like home.