A group of East Coast painters is trying to convince the art world that realism is as relevant as ever—and thriving in Atlantic Canada
In the summer of 2013, noted Canadian art authority, Tom Smart left his home in Ontario and went on an epic 3,500-kilometre road trip looking for realism in Nova Scotia. A province-wide call for submissions to a realism exhibition at the Dalhousie Art Gallery took Smart from Nova Scotia's southwest coast to the northeast shore, and to 43 artist's studios in between. By the end of his journey, Smart had discovered a broader spectrum of realism than he anticipated.
"Some people dismiss realism as a form without paying attention to what is expressed through that form," says Smart, former director of the McMichael Canadian Collection, a prolific art writer and author of books on Canadian artists, including Alex Colville, Mary Pratt and Christopher Pratt. "The truth is that realism occurs in a range of approaches ranging from plein-air, still life and landscapes to social realism, magic realism and digital capture. The more you look at realism, the more it evolves."
Despite this evolution, realism has rested on rocky ground for the past 50 years, generally under-represented in national galleries and held by many in less regard than abstract art forms such as installations, found objects and new-media work. There is even some notion that realism is only relevant for those who lack either the education or ability to appreciate more sophisticated art-making practices.
Despite this preconception, and what Tom Smart describes as an "unfair bias," Atlantic Canada sits comfortably at the forefront of modern realism, continuing to produce and attract world-renowned realist artists who work in a variety of genres and modes to capture ideas, experience and place. In Atlantic Canada, realism is more than pretty pictures—it's a legitimate form of artistic expression.
"Realist painting has never really gone out of style here," says Germaine Pataki-Thériault of Gallery 78 in Fredericton. "Many Atlantic Canadian painters have maintained a tradition of realistic landscape, still life and portraiture painting. As a result, this region has continued to attract artists whose aesthetic choices in art lean in these same directions."
Nova Scotia painter Alan Bateman (son of internationally recognized artist, Robert Bateman) credits Canada's iconic realist, the late Alex Colville, with making realism acceptable in an era enraptured with contemporary art.
A 40-year resident of Wolfville, NS, Colville was born in Toronto in 1920, raised in Amherst, NS and educated at Mount Allison University in Sackville, NB. Returning there as a faculty member after serving in the Second World War as a war artist, Colville didn't pursue the Jackson-Pollock style popular at the time. He stuck with realism even in the 1950s and on into the 1960s, when many artists rejected the form in favour of more avant-garde modes of expression.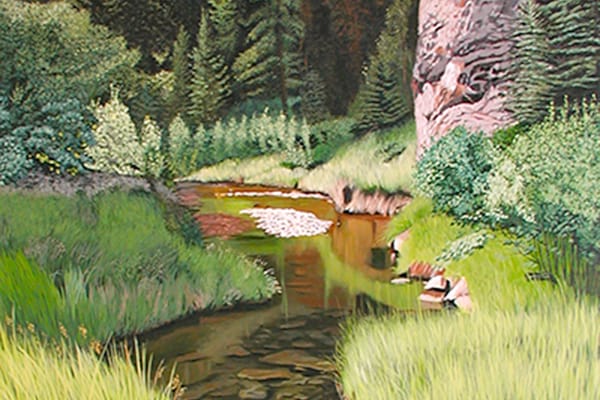 Forsaking the modernist influences of Picasso, a seminal figure in 20th century art, Colville blazed a bold trail for Atlantic realist artists. As a professor at Mount Allison University, he left an indelible mark on many talented art students, including Christopher Pratt, Mary Pratt and Tom Forrestall.
Tom Smart looks to Colville's war experience documenting D-Day and concentration camps as the impetus for his particular brand of magic realism, a style characterized by magical, and sometimes unsettling, imagery. In Colville's most famous piece, "Horse and Train," painted in 1954, a black horse races along a dusky railway track toward the beacon-like light of an advancing train. Similarly disquieting is the vaguely sinister presence of a man behind a woman with binoculars in Colville's 1965 painting "To Prince Edward Island."
"We owe a huge debt to Alex," says Forrestall, a student of Colville's in the late 1950s, and today a major player in the Canadian art scene.
Born and raised in Nova Scotia's Annapolis Valley, Forrestall graduated from Mount Allison and worked briefly as assistant curator of the Beaverbrook Art Gallery in Fredericton, NB. A Canada Council grant, and a painting commissioned by the Province of New Brunswick as a wedding gift for Princess Margaret, paved the way for a full-time career as a painter.
At his studio in Dartmouth, NS, Forrestall adapts realism in his own unique way, working in egg tempera, oils and watercolour to replicate the detail and texture of ordinary subjects such as feathers and spoons. Using a technique described by some as a magic realism, and by Forrestall himself, as "a truer, deeper realism," he pushes the limits of visual reality to infuse everyday objects with great importance and beauty.
In the frozen moment of Forrestall's 2007 egg tempera, "The House at River Bend" (the cover painting of Tom Smart's 2008 book, Tom Forrestall: Paintings. Drawings, Writings), fallen birches obscure the view of Forrestall's boyhood home in Middleton, NS, inviting the viewer to experience the place, as Forrestall now does, in a different way. A similar obstruction is present in a new painting of fire-charred trees on a distant lake near Herring Cove, NS (a work in progress). In this piece, imagination and reality collide in the view through a chain-link fence. That fence was never part of the actual landscape, but added imaginatively by Forrestall to further distance the lake.
Like Germaine Pataki-Thériault, Forrestall maintains that realism has never gone out of style completely, but he has seen it kicked about a bit. "Still," he says, "you could never keep realism down. Alex Colville was so good that he marched through the Pollack and Picasso maelstrom unscathed."
Another of Colville's students, Newfoundland painter, Mary Pratt, has been less fortunate with critical review of her work as a photorealist, a genre in which artists reproduce photographic images using another medium. "I never cottoned on to abstract expressionism," says Pratt, whose 50-year retrospective, which opened in St. John's in 2013, opens at the Art Gallery of Nova Scotia in October. "I thought it was a smart-ass way of looking at things. I wanted to be the one to paint the peaches on the label that goes on the can of peaches, and there are some people who say that's just what I've done."
Pratt uses a camera to capture initial images and preserve light—a technique disavowed by some artists as something akin to cheating, yet embraced by others as the contemporary equivalent to a sketchbook. Under her exacting brush, plates of oysters, bowls of oranges and a trussed turkey are illuminated and shadowed as never in actual life, becoming darkly complex metaphors for domestic relationships. And reality is analyzed, not merely reflected, as an ordinary glass of ginger ale sparkles like a neon marquee in contrast to the lifeless white bread of a tomato sandwich. "It takes a certain type of education and experience to understand the works of Jackson Pollack," says Pratt, "but regular people can like realism."
Inspiration for Tom Smart's road trip came from Professional Living Artists of Nova Scotia (PLANS), a group of eight Nova Scotia artists who have turned up the volume on what has been a quiet conversation about the need to pay more attention to realism—especially in publicly-funded art galleries, where some feel it plays second fiddle to abstract art.
In lining up artists for Capture 2014: Nova Scotian Realism, an exhibit mounted earlier this year at the Dalhousie Art Gallery, Smart collaborated with Peter Dykhuis, curator-director of the gallery, to select thoughtful, intentional pieces that up the ante in the way people think about visual culture. In the end, they chose 28 artists, including Alan Bateman and Tom Forrestall, not for their ability to create well crafted pictures, but for working in fresh new ways. The object of the exhibit was to challenge traditional notions of realism and to determine, for the first time in decades, the relevance of realist painting in contemporary Nova Scotia. "There is no single articulation of the modern language of realism," Dykhuis says. "It looks very different today than it did 50 years ago."
Dykhuis describes one of the paintings in the show—a white goose by Alan Bateman—as looking "deceptively simple," yet says the perspective is uniquely complex. "It was the only painting in the show with no horizon line." Dykhuis also enthuses over the way the uncanny light in the painting reminds him of the haystack series painted in the late 19th century by impressionist artist, Claude Monet.
In his home studio in a heritage house near Canning, NS—a rural area as celebrated in Bateman's paintings as much as the hayfields of Giverny, France are in Monet's—Alan Bateman considers the disconnect between the commercial and critical success of many realist artists, including his father Robert Bateman, an artist whose nature-inspired paintings command top prices in international markets, yet are rarely displayed in Canada's public galleries. "Some people dismiss him as a wildlife artist and compare his works to photographs," says Alan Bateman. "I consider him a realist artist. Anything else discounts his painterly craft."
For Nova Scotia painter, PLANS member and Capture artist, Gordon MacDonald, there's more behind the dismissive attitude toward realism than a failure to appreciate its complexities. "During the last four decades, contemporary galleries have been mostly filled with the obligatory items: the video loop, a pile of rocks or something, neon lights and whatever item can be manufactured on a different scale—usually larger," says MacDonald.
Bridgewater, NS artist, Peter Gough, traces this trend to the 1960s. "In those days, in order to be accepted, you had to be a conceptual artist," he says. "Realism was considered derivative, and the impact of that remains visible in many galleries today." As a painter featured in the Capture show, Gough is riding the wave of what he describes as renewed interest in realism. "It's a good time to be a realist," he says, "and not only in Atlantic Canada, but around the world."
Gough attaches GPS coordinates to each of his paintings. "A well-beloved landscape can change overnight," he says. "My paintings allow the viewer to visit those spots again and bear witness to the way they once existed." Although inspired by his rural surroundings, Gough's paintings have a luminous quality that transcends reality. Borrowing from the romantic landscape tradition, Gough's sprawling acrylics breathe life into images of rural life and landscapes.
Noted Newfoundland painter Barbara Pratt argues that realism is fraught with layers of meaning and social commentary, and must be approached in the same manner as any other form of painting. "Realism can be very difficult," says Pratt, the daughter of two of Canada's most important realist painters, Christopher Pratt and, of course, Mary. "It takes skill developed over years and years of practice to paint realistically. As a realist artist, you have to really look and think hard about colour and shape and how images interact from a thematic and compositional standpoint."
Peter Gough knows that realism is still subject to misperception, yet he's heartened by the critical success of his peers, and by the knowledge that Capture 2014 broke the Dalhousie Art Gallery's records of attendance for the past 60 years. "People have complicated lives," says Gough. "They want to appreciate art, and to participate in it, but they're tired of having to answer so many tough questions. Realism has come into its own again for a very good reason. In these troubled times, it's a kind of tonic."