Authenticity—and mushrooms—at this gem of a restaurant in Newfoundland
Bright orange chanterelle mushrooms seem to light the shaded forest floor before me like the flames of a thousand candles. The trail up Burnt Hill, a 260-foot-high bump at the end of Norris Point, is littered with them. Norris Point is a small seaside town surrounded by Gros Morne National Park, a UNESCO World Heritage Site on Newfoundland's western coast. I'm here for the views of the ancient mountains, the wilderness and the sea all around, so I didn't expect to find such an abundance of the coveted fungi mere steps from the closest houses. They've gone untouched by pickers. And by Vince McCarthy, owner of Chanterelles Restaurant at his Sugar Hill Inn, a modern, sunny structure set in dense evergreen forest on the next hillside. He knows about these, but has his own secret patches.
"Top secret stuff," laughs Vince, when I ask him about his private mushrooming spots. He laughs, but he means it. He's only ever shown two close friends where they are. And no wonder. He's supplying his restaurant with a season of fresh mushrooms. "It's not unusual to pick 20 or 30 pounds at a go," he says. Many of these Vince likes to preserve for later use, but most are used fresh. "We'll probably go through 40 or 50 pounds a week when they're in season."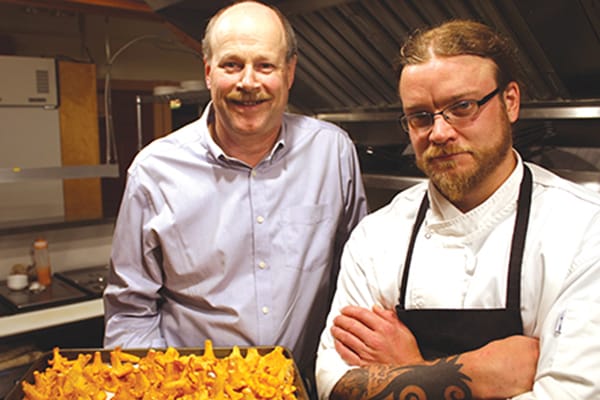 And they're in season. It's mid-August, the peak for chanterelles. In the kitchen, a soft-spoken, almost shy Vince McCarthy—the tall Newfoundlander sports a jovial moustache—proudly presents a baking sheet spread with Cantharellus cibarius. These will star in tonight's chanterelle shrimp risotto that chef Jay Stuckless will prepare as a side for a promising grilled halibut dish, scattering the plate with whole, sautéed chanterelles. "A lot of people don't think of having mushrooms—especially wild mushrooms—with fish," says Vince. The proof, as they say, will be in tonight's pudding.
Out of old Newfoundland kitchens
Vince came by his love of cooking honestly. "I come from a family of 10 children, all with big appetites," says Vince. "My mother was a great cook." Looking back, he says, she was ahead of her time with her interest in local foods, now a global trend. "She had a vegetable man—Fred Fagan—who came around with fresh vegetables he grew himself. His son was a butcher, so she bought meat raised in Newfoundland from him. In the late 60s, she was doing things like curried chicken, a pretty adventurous cook for her day."
The perfect mushroom
There's a bit of mischief in the way Vince surface dries mushrooms—on pans in prominent areas around the inn. "I kinda like to do that. It tweaks people's interest," he says with a twinkle. "There's always conversation." Guests are more familiar with them than they used to be, but still surprised at the abundance that warrants the naming of a restaurant after them and inclusion in so many dishes. For Vince, there's more to it. "It's that aspect of being fairly intense, but being fairly delicate that appeals to me," says Vince. "It's got a woodsy flavour, but it's not overpowering."
Vince pickles and dries the mushrooms for winter use and flavours soups and sauces with them. In fact, his favourite chanterelle recipe is his signature Roast Chicken Chanterelle Wild Rice Soup. Leeks and garlic from his own garden deepen the flavour. The restaurant offers cream of chanterelle soup and a version of beef bourguignon. "And we like to cook them whole and scatter a few around the plate with just about anything. It gives great colour, great texture and great conversation."
The proof
I've worked up an appetite, hiking up Burnt Hill and thinking about wild mushrooms all day, so I'm ready for the evening meal at Chanterelles. Chef Stuckless is in fine form, starting us off with shrimp and chanterelle pasta. Then it's the main course—two generous cuts of locally caught halibut, perfectly grilled and plated with three mounds of risotto, each hiding a shrimp. A stack of vibrant green beans adds contrast. Whole, sautéed chanterelles are tossed about. There's that intense, yet delicate flavour of the chanterelles, their buttery, woodsy flavour, making them an easy but surprising match for the halibut.
Vince and Jay's secret halibut preparation? Brine before grilling. "Halibut is a very delicate fish and easy to overcook," says Vince who's come to check on our table. "I brine to add extra flavour and to induce moisture. It makes it more forgiving, especially on the grill." The meal is made complete with one of Vince's hand-picked white wines from Italy—he travels there himself to stock what he claims is the island's finest wine collection.
And what's for pudding? Light-as-a-cloud puff pastry with blueberry and partridgeberry confiture and Chantilly cream are presented on a raspberry coulis. These berries, like most in the freezer Vince dedicates to them, are from local pickers, but he sometimes picks berries himself. "One is the crowberry," says Vince. "It reminds me of intense black currant. It's a small berry that grows close to salt water and down in the underbrush. You have to really work to pick many of these. I've known it since I was a kid. My grandfather introduced me to these berries."
The proof of Newfoundland culinary excellence—and the abundance of the land—is indeed in the pudding.
Recipes