Moncton's Resurgo Place, where the past meets the future
Resurgo is the Latin motto of the City of Moncton. Translated it means "I rise again" and could not be more applicable to this city which has seen more than its fair share of ups and downs. Established as an Acadian settlement as early as 1735, its first downturn came in 1755 when the British deported the entire population and burned the village known as Le Coude. Ten years later a second settlement was started by transplanted Pennsylvanians, who named it Moncton in honour of Lieutenant-Colonel Robert Monckton, misspelling his name in the process. Moncton became a shipbuilding centre and prospered until 1862, by which time wooden sailing ships were being replaced by iron-hulled steamships. The population crashed and Moncton suffered the embarrassment of having to surrender its town charter.
Down, but not out, Moncton rose a third time when the Intercolonial Railway chose Moncton for its headquarters in 1871. Soon there were thousands of people employed in the 'car shops' and Moncton became known as Hub City. This prosperity lasted over a hundred years, until the 1980s when the CNR closed its massive operation and Moncton once again felt the negative effects of changes in transportation technology.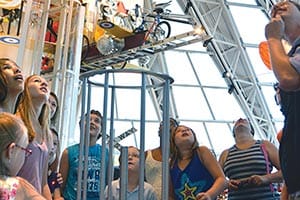 Monctonians, resilient as always, have moved on and some 30 years later Moncton is a vibrant city with a diversified economy that is more likely to be resistant to another economic disaster.
Innovative design
Resurgo Place is Moncton's architectural expression of its past and its future—and a major tourist attraction in a city that already has more than a few, including Tidal Bore Park, Magnetic Hill Zoo and Magic Mountain.
Resurgo Place is now the home of the Transportation Discovery Centre and the Moncton Museum, as well as a community resource for research and education. In a nod to Moncton's history as a railway centre, architect Raven Spanier has designed the exterior to resemble the cowcatcher on an old steam engine, but instead of steel and iron he has used glass. The effect from both the outside and interior is so impressive that Resurgo Place has received numerous awards for its innovative design.
One of the first things you see on entering is the exterior of the old City Hall façade, which has been reconstructed stone by stone and rises up the entire height of the building. On the other side is the colourful entrance to the Transportation Discovery Centre, which has a semi-circular collage of wheels from all the types of transportation used in Moncton over the years. The TDC is unabashedly aimed at children and for them, and probably most adults, it will be the highlight of the visit. During my visit I was told that parents have great difficulty in getting their kids to leave, even after an hour or more of playing—and that's definitely the right word—with the various exhibits.
Interactive exhibits
While there are a few of what might be called 'traditional' methods of presentation, including an interesting short film on the history of Moncton as a transportation hub, most of the TDC exhibits are interactive. Each is intended to teach while at the same time entertaining young and old minds. You can learn to fly a small plane, pilot a submarine and build a boat or a truck. How about rearranging a series of gears to pedal a bike? You'll be surprised how you try it and it becomes addictive. The two most popular exhibits involve nothing more than thin air. In one you make your own little invention from toothpicks and styrofoam balls, something like your own personal molecule, stick it in a cylindrical tube, press a button and see what happens as a torrent of air pushes it skyward. No two creations ever act the same—some twirl, others gyrate wildly and a few just rise gently until exploding out of the top of the cylinder 20 feet high. If that's too complicated you can simply use air pressure to pump up a rocket and fire it off at the touch of a button. Sounds juvenile and it sure is—kids just love it.
Another highlight of the TDC is the model train on display; a real steam engine constructed from scratch by the late Reg Ward, who created every part in his home workshop, using materials salvaged from various Moncton locations including the CN shops where he worked as a car man for 38 years. For many summers Reg would set up the train in Victoria Park and take children for rides on a genuine coal-fired steam engine.
Hanging from the ceiling of the TDC are three whimsical creations by artist Luc Charette that immediately draw the eye. They all appear to be flying devices of one sort or another, but upon closer inspection they are constructed of parts as diverse as a canoe, a ladder and various bicycle parts. The need for closer inspection is a good reason to head up to the second floor of Resurgo Place where these fanciful sculptures can be viewed at eye level.
The first thing you notice after climbing the stairs is that the floor is a giant map of Moncton with a number of bright red starbursts throughout. There are also what appear to be a number of abandoned walkers left on the map. On closer inspection these nifty devices have a screen that comes to life when you walk them over one of the starbursts. Press a button and voila, a video appears showing the history of that particular part of the Moncton area you are currently standing on. This is the first such interactive map in Canada and it is a great way to learn the history of the city while being entertained at the same time.
The rest of the second floor of Resurgo Place contains the Moncton Museum, which is a collection of exhibits and artifacts that relate the story of the city in a more conventional fashion. It is a well thought out presentation well worth visiting. An interpreter can provide more details on any of the hundreds of items on display.
In addition to the TDC and the Moncton Museum, Resurgo Place has a large area dedicated to traveling exhibits. In 2015 the themes were Moncton's 125th anniversary and Canada's Waterscapes produced by the Canadian Museum of Nature.
No visit to Resurgo Place is complete without a quick stop at the Free Meeting House, which sits surrounded by old tombstones just behind the modern building. Built in 1821 as a non-denominational place of worship, it provides a wonderful contrast between the old and new Moncton.
For more information on Resurgo Place go to resurgo.ca