Fun fairs and festivals you won't want to miss
Summer is a great time to visit Maine and to check out some family friendly festivals, events and county fairs. A visit to one or more of these events could easily become a family tradition for years to come. Here are a couple of favourites to plan for this summer.
Windjammer Days
Celebrate the Maine Windjammer fleet in Boothbay Harbor in the last week of June with the annual Windjammer Days. The festival features waterfront concerts, a boat and street parade with local colour, a display of fireworks in the harbor and of course the opportunity to see many of the majestic Maine Windjammer fleet sail into Boothbay Harbor. The outdoor entertainment venues are free to attend, which is great if you are traveling with family on a budget. Boat tours provide the best vantage to photograph the parade of Windjammers under full sail, and are available for a modest fee from Pier 8 aboard the Balmy Days cruise lines, where you will also learn how to capture the best vacation shots.
Fine seafood can be found in Boothbay Harbor restaurants including fresh local fish and, of course, Maine lobster. For those whose tastes are more land-based, there are plenty of other award-winning culinary options on offer, including steaks and barbecue. At the end of the day you may want to check out some of the excellent dessert places that serve locally-made ice creams.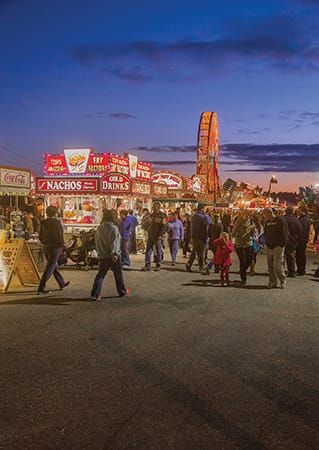 A short drive over to East Boothbay to Ocean Point can be a nice diversion to see the rocky coastline, a lighthouse and some beautiful scenery right from your car. Even in foggy weather the drive is beautiful and taps into many senses with the soft light, the sounds of the ocean and fog horns and the sweet smell of the salt air.
Yarmouth Clam Festival
Clam lovers rejoice! The town of Yarmouth, Maine (one town south of Freeport) throws what is probably the largest festival in the world for a bivalve—the Yarmouth Clam Festival. This annual event is held on the third full weekend in July and you can get clams served in about every type of recipe imaginable—fried in batter or crumbs, steamed, clam cakes, full bodies or necks and chowder. Local chefs provide cooking demonstrations, where you can learn new techniques for preparing clams and other seafood.
The annual Maine State Clam Shucking contest brings out amateurs, professionals and local celebrities to win prizes for the most clams shucked in two-minutes.
A favourite among everyone at the festival are the mascots: 'Steamer' and his smaller cousin 'Little Neck' who are frequently seen flitting about around the events, offering up opportunities for visitors to have photos taken with a clam.
The three-day festival has many free attractions including multiple stages with live music, a firefighters' muster, the longest street parade in Maine—featuring nicely-fashioned community floats as well as antique vehicles—and more.
And don't forget to bring your running shoes! The festival has races and fun runs for all ages—from a Diaper Derby for the really young ones right up to a kids fun run and a classic five-mile foot race. On Sunday morning, the Downeast Classic Bicycle Race takes to the streets with some of the best professional bikers competing from all over the world.
Arts and crafts are as big a part of the festival too, as local artisans sell their one-of-a-kind handmade jewelry and artwork including paintings, sculpture, photography and music to take home as a memento of your visit, or for gifts.
A portion of every purchase made at this festival goes to help sustain local volunteer, educational and non-profit groups in the town. All purchases help the respective group whose major fund-raising for the year often come solely from this one festival.
County fairs
More than two dozen agricultural fairs kick off in July and go until mid-October in Maine. You will find a variety of agrarian displays, livestock demonstrations, exhibitions and contests, petting zoos with farm animals for the kids and exhibition halls filled with arts and crafts displays. The traditional fare of hand-cut French fries, hamburgers, hot dogs and sausages, doughboys and cotton candy will divert your attention away from any diet to which you may be trying to adhere. Just go with it! Carnival rides and live musical entertainment are a common staple at Maine county fairs and some offer harness racing where you can place your bets. In September a big (literally) attraction at the Cumberland County Fair in Cumberland, Maine is the pumpkin-growing contest where people compete for cash prizes for growing the largest pumpkins and squash. Record weigh-ins are often reported and broken at this fair with some of the entries weighing in at well over 1,000 pounds! (That's more than 450 kilograms!)
Visit maine.gov and click on the 'Plan your Trip' link for the latest information of events happening in Maine so you can plan your visit accordingly.
Mike Leonard is a Maine photographer who offers photo guide and education opportunities. Mike can be reached at

This email address is being protected from spambots. You need JavaScript enabled to view it.

.