It may have ears that are furry and short, and a low-set tail that's as rough as a bottle brush, but it's strong, brave, and endlessly forgiving.
There was a time in Newfoundland when ponies were as plentiful as dories and cod—a time when human survival depended on the shaggy, sure-footed descendents of Mountain and Moorland breeds that arrived there as livestock with the first British settlers. But progress put the ponies to pasture, and by the 1980s their numbers had plummeted from more than 12,000 to fewer than 100, as meat trucks carried loads of them to processing plants in Quebec.
"I remember those trucks too well," says Cliff George, an artist who first held the lines of a pony when he was seven years old. Cliff and others have devoted their lives to protecting the Newfoundland pony. Now 63, he has an uncanny ability to chronicle the bloodlines, breeding history and whereabouts of the ponies he has known over the years. "I can tell you stories," he says with a laugh. Don't get me started."
But he does get started.
"The only thing tougher than a Newfound-lander is a Newfoundland pony," he says. "They hauled in wood to build our houses and they hauled in more wood to heat them. They hauled in the cod we caught and anything else we needed. They kept on hauling after another horse would have dropped."
The work that ponies did was seasonal and hay was expensive, so when there were no jobs for them, people released them to forage for themselves—often for months at a time.
"Some knew enough to come home," says Cliff. "Herb March would turn out his pony each spring when he went fishing up to the Labrador. He'd come back in the fall and a few days later his pony would show up. It might have been 10 miles away but somehow it knew to return."
Despite the harsh conditions of life on the land, Newfoundland ponies bred and prospered over the years, adapting to everything that nature and man could throw their way. But as tough as the ponies were, they were no match for machines. Tractors, snowmobiles and ATVs took their jobs, and in the 1970s, communities enacted anti-roaming laws that required ponies to be fenced in, taking away their primary food source. Unable to afford to feed the animals year-round, owners sold them to the highest bidder, which in many cases was a meat truck.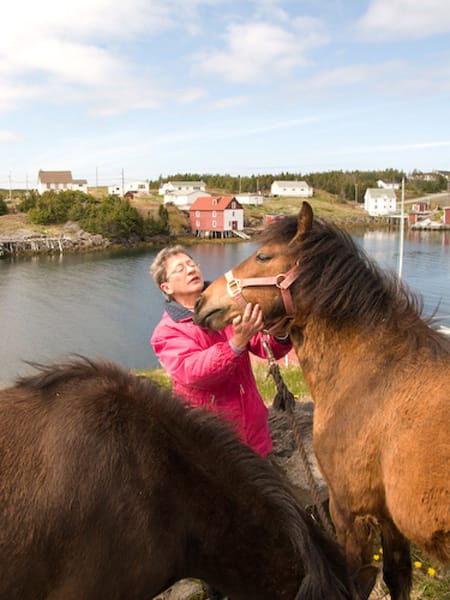 6 characteristics of a Newfoundland pony
A good temperament; docile and easy to work with
Flint-hard hooves and is sure-footed
Stands from 11.0 to 14.2 hands
A body structure that varies from fine-boned to stocky
A heavy coat that sometimes changes colour with the seasons
A thick mane and thick, low set tail
Gary Barnes had a tack shop in St. John's that relied on outfitting ponies for its business. "When I opened in the early 70s there were about 10,000 ponies in Newfoundland," he says. "The meat business discovered them a few years later." He remembers seeing a herd of 38 ponies in a field across the river from his house. "I tried to buy one but the owner wouldn't sell. He was waiting for the meat truck and it wouldn't come until he had 40."
Concerned breeders and animal protection groups took up the cause. In 1980, 50 people attended a public meeting in St. John's to discuss the plight; the Newfoundland Pony Society was soon up and running, with Dr. Andrew Ferguson Fraser as its first president.
A veterinarian who had grown up with horses and ponies on the Isle of Skye, in Scotland, Dr. Fraser was working in Saskatoon in the late 70s when he read an article about hundreds of Newfoundland ponies being shipped to the slaughterhouse. Captivated by the story, Fraser applied for a job in St. John's.
"The first thing I did when I got here was get a car," he recalls. "The next thing I did was get a pony."
With Dr. Fraser at the helm, the society began by finding ponies—saving about a dozen—that were destined for slaughter. The RCMP helped locate a healthy stallion in Marystown, NL, and society members embarked on a breeding campaign. But it wasn't enough to turn back the tides, as Gary Barnes discovered 10 years later when he wanted to surprise his two young children with a Newfoundland pony.
Despite the contacts he had made by running a tack shop for almost 20 years, Gary couldn't find one to purchase.
"If we can't find one, then who can?" asked his wife, Bobbi.
Galvanized by this question, the Barnes led the pony society in a renewed commitment to breeding programs, and started looking for healthy stallions.
"In all Newfoundland we could find only seven," Gary says. "A few others surfaced later but by that time they were too old to breed."
Gary bought a few for himself, including Vinland's Rusty, a stallion that came from the Burin Peninsula. "When I bought him he was just called Rusty," Gary says, laughing. "He'd haul some wood for a few weeks and then his owner would slap him on the behind and send him out."
In time Gary established a breeding pasture where he cared for up to 50 ponies at a time. It was in this pasture that a New Brunswick equine coach named Colleen Carroll-Nisbett spotted a sturdy two-year-old stallion named Vinland's Tiberian Jasper. Colleen had accompanied her husband to a conference in St. John's; while he attended a workshop, she went shopping on Duckworth Street for books about horses.
A chance conversation in Gary Barnes' tack shop took her to a rocky hill in Conception Bay where Gary kept the ponies.
"I had no idea how I was going to get a pony out of that field and onto a trailer," says Colleen. "So I put a halter on a brood mare and lead her across a bog. The rest of the ponies followed me."
Smiling and covered in mud, she returned to the hotel to meet her husband. "We're buying a pony," she told him.
The pony she bought is now known simply as Jasper—and sometimes as Steady Eddy. "He's bomb-proof," Colleen says. "A blast could go off beside him and he wouldn't budge."
Jasper's unshakable composure and good nature make him the perfect mount for therapeutic rides at the pony club equestrian training centre that Colleen runs at Pinehill Stables in Boundary Creek, NB.
Curiously, Newfoundland ponies in other provinces are part of this story's happy ending.
"The Maritime provinces were often the first stopping point for shipments of ponies from Newfoundland," says Barb Brown, a New Brunswick pony breeder who specializes in Welsh Cobs. "Horse dealers here had an eye for the good ones and bought them for resale at livestock auctions."
Twenty-five years ago Barb drove four hours from her home in Nortondale, when she learned that a dealer in Fredericton had a Newfoundland pony for sale. At first glance the approximately 18-year-old mare may not have looked like a "good one"—Belle had a history of infertility, scars from abuse, a suspicious eye, and lumps on her knees. Yet in the space of a year, she became the finest pony companion that Barb has ever owned.
"We did everything together—from farm work and competitive trail rides, to parades and camping trips." In 1995, following Belle's retirement, she was the equine star of a PBS film. Seven years later, with Barb at her side, the mare succumbed to cancer.
By the time of Belle's passing, things had improved considerably for Newfoundland ponies. Dr. Andrew Ferguson Fraser garnered public support in 1992 when he published The Newfoundland Pony, a book promoting the care and preservation of what he describes as North America's lone member of the Moorland family of horses. He also made an impassioned plea for official breed status under the Animal Pedigree Act of Canada (a position that has proved to be a contentious issue that continues to divide today's generation of pony supporters.)
Progress continued in December 1996 when the Newfoundland and Labrador government passed a Heritage Animals Act, recognizing Newfoundland ponies as the province's first heritage animal, a designation that came with strict rules about transporting them off the island.
Yet despite this official protection, the pony remains critically endangered. According to numbers compiled by the Newfoundland Pony Society, there are currently fewer than 400 animals in Canada and the US. Of the approximately 250 that are able to breed, only 75 live in Newfoundland.
Last May a Canada Post stamp that recognizes the Newfoundland pony's contribution to the early settlement of Newfoundland was released. The cancellation site for the first day cover was Change Islands, NL, where the Newfoundland Pony Refuge has been running since 2004. The pony depicted against the rough cliffs of Newfoundland now lives in Ontario as part of the ongoing legacy of Walter Smith, a Cape Breton and longtime Newfoundland pony breeder, who has been rescuing the animals for the past two decades.
"These are heritage animals," Walter says. "They gave it their all for almost four centuries and they deserved better treatment."
Walter's interest in Newfoundland ponies began when a farmer named Angus Nicholson made him an offer: "You buy the ponies and I'll look after them." Since then almost 100 ponies have passed through Walter's Cape Breton property under Nicholson's care. Many, like the pony on the stamp, have gone to horse people in Ontario.
Despite evidence to the contrary, Walter denies being a horse person himself. "To be a horse person you have to be a poor accountant. I just buy them and feed them and find them a good home."
Homes have become easier to find as people recognize the merits of the animal. "They're Canada's best-kept secret," says Gertrude Maxwell, a native Nova Scotian whose family has more than 30 Newfoundland ponies on a farm called Newfmist in Radisson, SK. "We hope that some of the salty air from Newfoundland will blow out to our prairie farm."
Gertrude has been involved in saving ponies since 1993 when she read about them in The Small Farmers Journal. With the help of Dr. Fraser she found her first two ponies the following year.
As numbers increase, Newfoundland's shaggy pony may now be more marketable than other large, popular pony breeds like the prettier Welsh pony. But, as Gary Barnes is quick to point out, "it doesn't matter how Newfoundland ponies compare to this breed or that. They're what developed here over time… "They're what we have."