For 75 years, Northumberland Ferries Limited (NFL) has been connecting Prince Edward Island with the rest of Canada, offering a ferry service between Wood Islands, PEI and Caribou, near Pictou, NS.
Ferry crossings across the Northumberland Strait are steeped in history. Thousands of years ago, PEI was connected to the mainland, but changes in climate and rising tides cut that land bridge at least 5,000 years ago. Mi'kmaq inhabitants of the region crossed from one coast to another in their canoes for generations, and from the mid-18th century onwards European settlers and explorers mimed those crossings as they sought ways to traverse the 14 miles of open water forming the strait between Nova Scotia and what was originally known as St. John's Island.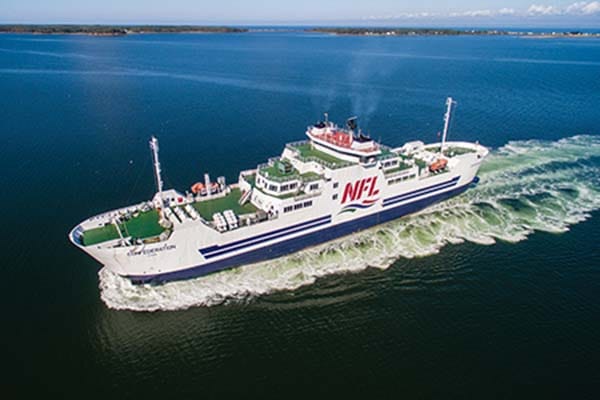 Traversing that 'saltwater road' was fraught with peril in all seasons, with vagaries of wind, ice, and other challenges causing the loss of many lives over the years. In the early- to mid-19th century, mail boats ferried mail, passengers and supplies from Nova Scotia to various ports on the Island, and brought trade and workers from PEI to NS in return. Following Confederation and the formation of Canada, Islanders and mainlanders alike lobbied government tirelessly for a regular and (relatively) quick ferry service between the two provinces. Finally in 1937 it got the green light and on June 28, 1941, Northumberland Ferries Limited's inaugural vessel, MV Prince Nova, was launched.
From May 1 to December 20, you can take a leisurely 75-minute sail across the Northumberland Strait on one of two NFL vessels: MV Holiday Island or the MV Confederation.
Travelling via ferry is a great introduction to your Maritime vacation, and you'll be delighted with Northumberland Ferries Limited's onboard Seaside Experiences program featuring local food, beverages, music and entertainment. Sample products from Nova Scotia and PEI, including chocolate, mussels, wine, beer, shortbreads, preserves, and more! On select dates, enjoy culinary demonstrations by local chefs Ilona Daniel, executive chef and instructor at PEI's Holland College Culinary Institute, and Alain Bossé, the Kilted Chef and Saltscapes magazine's food editor. During July and August enjoy Music on Deck, featuring local musicians on the 1pm and 2:45pm crossings (both directions).
These Seaside Experiences are guaranteed to whet your appetite for even more cultural and culinary events as you travel around PEI or in Nova Scotia.
Northumberland Ferries is waiting to introduce you to your next travel adventure.
Here's to the next 75 years!