Red Bay, Labrador: Canada's newest UNESCO World Heritage Site
Red Bay, Labrador joins the famous pyramids of Egypt and Australia's Great Barrier Reef as a UNESCO World Heritage Site. The Red Bay Basque Whaling Station became Canada's 17th UNESCO site in June 2013, joining the historic Viking site at L'Anse aux Meadows and Gros Morne National Park and its geological wonders with this impressive designation. As Gros Morne and L'Anse aux Meadows are both on Newfoundland's Northern Peninsula and Red Bay is in southern Labrador, it will be relatively easy for visitors to see all three of these UNESCO sites on the same journey.
The mandate of the United Nations Educational, Scientific and Cultural Organization (UNESCO) World Heritage sites is to preserve and protect natural and cultural features that are considered to be of outstanding value to humanity. Red Bay received UNESCO World Heritage status as the largest remaining example of 16th century Basque whaling operations.
Cindy Gibbons is site supervisor at the Red Bay National Historic Site and says Red Bay was the largest and most important whaling station in the world through the 16th century. "This area had an abundance of bowhead and right whales at the time and the Basques knew the value of whale oil. In Red Bay, and other places along this coast, the whale blubber was rendered into oil and then shipped in barrels to light the cities of Europe.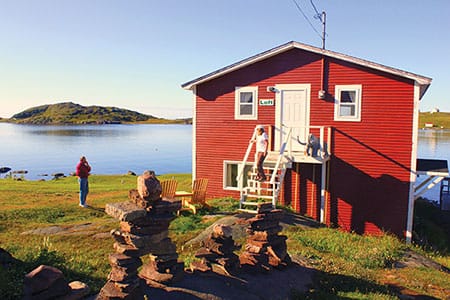 Atlantic Canada's other UNESCO World Heritage sites
Atlantic Canada lays claim to six of the 17 Canadian UNESCO World Heritage sites. Besides Red Bay, there are two others in Newfoundland—Gros Morne National Park and L'Anse aux Meadows National Historic Site, which preserves the only documented Viking site in North America. The other three sites are located in Nova Scotia—Old Town Lunenburg, Joggins Fossil Cliffs and the historic landscape of Grand-Pré, designated in 2012.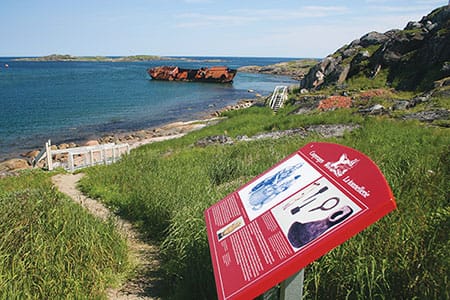 Although the residents of Red Bay had long found pieces of red tile in their gardens and had seen whale bones along the shore, it took the dedicated work of geographer Selma Barkham, working in the Basque archives in Spain, to piece together the story of whaling in Red Bay.
Selma Barkham was living in Ottawa in the 1960s when her husband suddenly died, leaving her with four children to look after. Her husband, Brian Barkham, had an interest in Basque architecture and on a previous trip to the Basque country, made just after they were married, they were told about archival references to Terra Nova—the seed had been planted.
After first moving her family to Mexico for three years to learn Spanish, Selma Barkham arrived in Spain to begin researching the link between the Basques and Newfoundland. Her son, Michael Barkham, has said: "Going back to the Basque Country in 1972 to try to find archival documentation on the Basques in Canada was definitely a link to my father's interest and my father's work and one way of reconnecting with that relationship that my mother and father had had."
Many of the archives were in small villages and it took some time for Selma to piece together where the Basque fishermen had traveled in the New World. The archives were a treasure trove of documents covering insurance policies, wills, provisioning lists and even shipwrecks. Many documents referred to a location called Grand Bay, which Selma Barkham deduced must be in southern Labrador. Finally in 1977 she traveled to southern Labrador with a field party from Memorial University and the Royal Ontario Museum and they began to find support for her research almost immediately.
Barkham's discovery led to many years of archaeological work, both on land and in the ocean.
We visited Red Bay and Parks Canada interpreter Phil Bridle led us on a fascinating tour of Saddle Island where much of the land-based archeology took place. Phil told us that he was part of the early archeological digs on the island and he even discovered a Basque ring now on display in the visitor centre.
"Most of the archeological work was done on Saddle Island since it was not settled and researchers could uncover artifacts more easily than they could in people's gardens and lawns in the community," Phil says.
He showed us the remains of many whale oil rendering stations called tryworks and their adjacent cooperages, where the barrels for holding the whale oil were assembled. "After being harpooned, the whales would be towed to the trywork stations where their blubber would be stripped away and put into large copper pots where it would be rendered to oil."
Along the path are piles of the broken red tiles that the Basques likely used for roofing their trywork stations. Phil also showed us an area where many whalers were buried, their graves marked by rows of rocks.
In Parks Canada's Visitor Orientation Centre, Cindy Gibbons told us about the marine archeology that was done at the site and how researchers found and pieced together a small whale hunting boat called a chalupa, on display at the centre. They also found the wreck of a loaded galleon, likely the San Juan, which was sunk in a fall storm in 1565 just before it was to sail for Spain. Marine archeologists spent eight years excavating the timbers from the fine mud of the harbour and after doing a detailed analysis of how the boat was built they returned the timbers to the sea floor where they lie today. In 2016, a recreation of the San Juan will sail from the Basque city of San Sebastian to Red Bay, Labrador to help celebrate its designation as Europe's cultural capital for that year.