Friendly, relaxing, uncrowded, and culturally rich.
I had travelled through the Acadian Peninsula on business in the past, and had been delighted by what I'd seen and experienced. I'd resolved to return to spend time in Miscou Island, Lamèque Island and Caraquet. Last summer I did just that.
Why? For one thing, the people I met made me feel like I was a long-lost cousin, from the moment I ran out of road on Miscou Island and came to a full stop at a grand old lighthouse situated at the tip.
There, I met Sandra Le Couteur, a well-known songstress who was preparing a series of shows in the lighthouse. She offered to show me her island; we ended up strolling around a handsome boardwalk over the Miscou Plains Peat Bogs, located about seven kilometres from the lighthouse.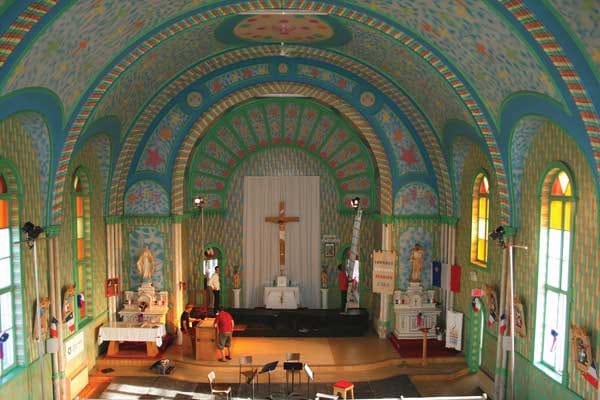 Peat bogs play a significant economic role here. The area is a major producer of peat moss, primarily for garden centres and farms across North America and in Asia. There's an annual Peat Moss Festival on neighbouring Lamèque Island. Both islands, by the way, are connected to each other and to the mainland by causeways.
There are unexpected things happening there-like the Lamèque International Baroque Music Festival, featuring world-class concerts. You'd expect to find an event of this calibre in a major city, not in a rural location. My favourite venue for the concerts is Sainte Cécile. In 1968, Father Gerard Estou decided to paint the inside of his drab little church. He experimented in the back stairwells using cans of pastel spray paints. A few months later, every square inch of church had been painted in coloured crosses, circles, stars and candles. Estou even painted the ceiling with a depiction of his version of heaven-cakes and balloons (which caused some parishioners to worry!). Today, this church is a national treasure; any time spent there feels magical.
Just because a town is small doesn't mean you can't find great food. I had a "wow" seafood pizza at Restaurant au P'tit Mousse, a family restaurant on the outskirts of Lamèque. And in Little Lamèque, Au Vieux Quai dishes out a tasty curry and chanterelle panini. The café is part of Club Wind & Kite-worth a visit just to watch the kiteboarders.
Next, I took in Caraquet, which is famous for many things, including hosting the largest Acadian festival in Atlantic Canada (August 1-15) The festival wraps up on the last day with Tintamarre-a fun-filled parade where more than 30,000 people, led by "grosses têtes" (gigantic paper maché creations), dress up and wield noise makers as they march.
There are many other gems in the region that are not as well known. The Village Historique Acadien offers visitors a brief trip through the history of the Acadian people from 1770 to 1949. The village is home to more than 40 historic buildings, which are brought to life by interpreters in period costumes.
If you like lobster, you'll want to find Ellis Takeout on the Daley Road in Stonehaven, run by Grace Smith. Her husband is a lobster fisherman, so treat yourself to a whole cooked lobster if in season. Otherwise, Grace has a good supply in her freezer and makes the best lobster rolls in New Brunswick-bar none.
On your way back to Caraquet, be on the lookout for David Whelton's farm. He sells organic beef products, fresh veggies and local preserves from his home. His beef jerky was so good I went back the next day for a supply to bring home.
Back in Caraquet you'll find Les Blancs d'Arcadie, where Alberte Doiron and her staff produce wonderful cheeses. Particularly impressive is salty cheese curd that can be used a number of ways or eaten as a finger food. But beware-it's addictive.
In fact, this entire part of the Acadian Peninsula is addictive.