A place where you're a neighbour first and customer second… A place where a week's groceries can be bought on credit… A place that, these days, is on the endangered species list.
We on the East Coast tend to brag a bit about holding the history of Canada in our palms. We have the oldest this, the oldest that-church, university, lighthouse. We hold the oldest Euro-Canadian bones in our cemeteries. We have 400-plus years of Atlantic stories at our tongue-tips.
Some of our European friends giggle when we talk of history, but we defend our territory vigorously. Anyone coming to our shores back then, and staying on our shores since then, has in their marrow a rich blend of the pioneer and entrepreneurial spirit. Our make-up is different. We hold old values and traditions while embracing the new challenges.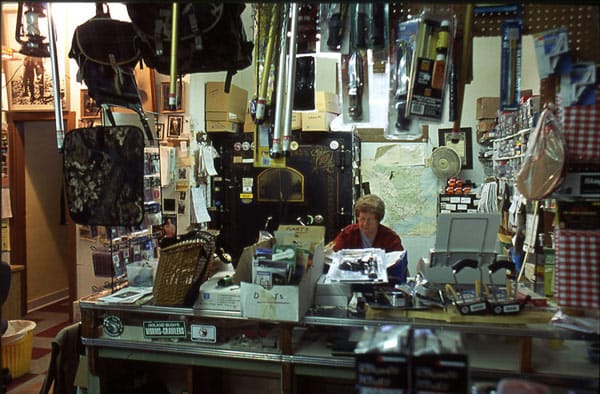 I'm a seventh generation Canadian. My ancestors bounced on the shores of PEI back in the mid-1700s, then to the north shore of New Brunswick. Not one generation followed in the footsteps of the former. Instead they moved from one homestead to another, from one type of work to another-from sailor to land owner to politician, to whatever was greener on the other side of the fence. Mine is a history of roaming from one community to another, always remaining connected to family and roots, but never anchored by a family business.
Not so the McCloskeys of Boiestown on the Miramichi. Back in the early 1800s, young Patrick arrived there from Ireland. He started peddling goods from a backpack carried all the way from the Miramichi to Bathurst and back. Business improved so he built a store in Boiestown. Young Patrick's business was initially attached to his home, but expansion of both business and family meant separate buildings. Another major spurt meant a bigger store constructed on a nearby property. A fire claimed the old building in the mid-1900s so the current store is referred to as the "new store." Its floors and stairs let you know how well it has been patronized. Both are solid and well worn.
The McCloskey store clan started in Boiestown five generations ago. The household heads in order were Patrick, William, and Hedleigh. Darrell and Brian are the next generations. Both now run the store. Throughout the centuries, each son continued the work of his father, providing goods of interest to the area and putting his own touch on the venture. Each also brought into the fold a talented and supportive wife who became as heavily involved with the community and store as her mate. Each woman kept the home fires burning, helped in the store, and a couple, after the death of her husband, continued to run the store until her son was ready to take over. Each mother played a major role in shaping the next owner.
A fine example of the fibre of these women is Hazel McCloskey, wife of current President Darrell. As a young woman, Hazel dreamed of becoming a nurse and moving far afield from her home in Ludlow. She needed to earn enough money to take on the world. A job in the McCloskey store about 10 kilometres from home might be a good first step, she thought, so an application was sent in. She got the job, learned the ropes-and changed her dream, for two years later Hazel married the son of the owner.
Along with her husband, she raised three daughters and Brian, keeping her hand on the helm of the family and the store. There's not a wistful note in her voice as she talks about giving up the nurse dream. Her sweet smile as she talks about it is proof positive that she made the right decision.
The McCloskey store is typical of a number of similar ventures in our Atlantic provinces. Sniff around in any small community and you'll find one-Earltown, Hatchett Lake, Magnetic Hill, Shallow Bay, just about anywhere. They're the places where neighbours get to meet, to share news of local happenings, to let their opinions be known. You can pay next month or next year-whenever your ship comes in. They make their communities welcome and stable. McCloskey's is so much a part of the fabric of the area that one local artist wrote a song about the store and sang it at the Miramichi Festival. A framed copy of the song hangs in the office.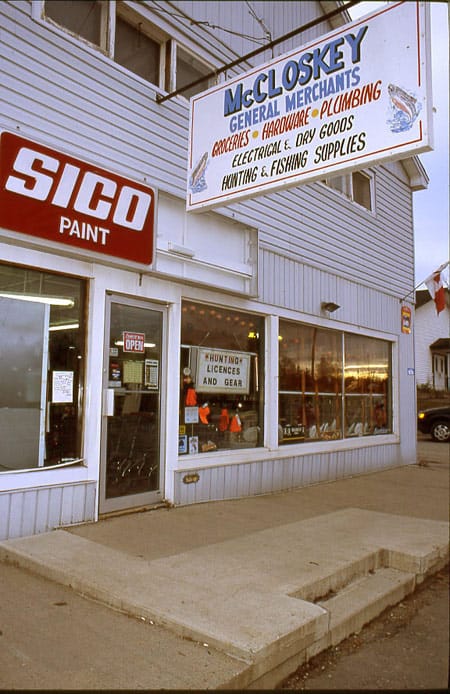 Not all of these stores have the ghosts of generations echoing down their shelves, but all those who run them know the needs and wants of their patrons. Inventory consists of electrical and plumbing supplies, groceries, yard goods, work clothing, fishing, hunting and trapping stuff, dishes, animal feed, gift cards and items, books and boots. You name it, and there's a fair chance it'll be there. The attic of the McCloskey store holds vintage clothing such as bell-bottom trousers and frilly blouses. The saying is that everything old is new again (I'm waiting for those women's brown overboots with the little fur tops and elastic fasteners to come back into style.)
The office corner of the McCloskey store is a study in old values blended with new technology. The filing system hangs on the wall under the family pictures. The new-fangled computer sits on the old oak desk; the old fireproof safe consumes the whole end wall. Hazel tells me that as long as the Underwood typewriter works, she'll use it. It's a meeting place for locals, a place to replenish the larder, buy a lotto ticket, a pair of work pants, or fishin' flies. It's a place where you might be told: "No, don't get that teapot for Myrtle's birthday, Patsy already bought one. Why not get her these placemats?". The most recent addition is the NB Liquor Agency corner where you can pick up a six pack or a bottle.
Visitors are welcome to browse or ask for something special. It's a favourite haunt of hunters and fishermen when they're in the area. There's always something in the store to be added to the cache. Maybe a new jackknife, or a flashlight-some might even be tempted to try that special juice guaranteed to attract fish!
Nobody hovers over you to make sure you aren't shoplifting-that hasn't ever been a problem. If a staff member sticks close to you it's because he or she is curious about where you come from, what brought you here, where you're headed. Like all of us from the East Coast, we're as nosy as we are friendly.
I long ago lost interest in shopping at those big box stores. Next time I need something special I'm going to head to Boiestown, or Earltown, Hatchett Lake, Shallow Bay, or wherever I can find another treasure like the McCloskey's store. Who knows, we might meet there. Be sure to say "How are ya t'day?".