ON JANUARY 18, 1958, Fredericton native Willie O'Ree broke hockey's colour barrier when he laced up for the Boston Bruins, becoming the first black man to play in the National Hockey League. Fifty years later, O'Ree-now based in San Diego, California-is the director of youth for an NHL diversity program, developing inner city hockey programs across the US. Fredericton recently named its new $16 million sports complex Willie O'Ree Place. Saltscapes talked to O'Ree about his childhood in Fredericton, his mentors and about respect.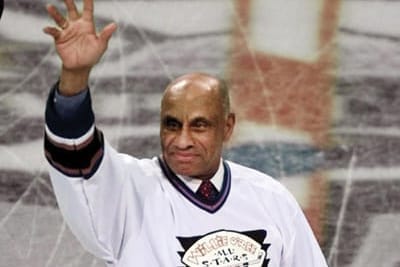 Q Your family was one of just two black families in Fredericton. What was it like growing up there?
A It was good. Ninety-nine percent of my friends were white. Playing rugby, playing baseball, I was the only black player-but I was just another player.
Q You come from a large family, 13 children. What was life like at home?
A Home life was good. I wore hand-me-downs, but I had a good time. My mom and dad were very strict on the education. I had curfews. They knew I was interested in playing hockey. My dad made a rink for me in my backyard.
Q Did your brothers play hockey?
A My older brother Richard was my mentor. He used to take me into the boards quite hard. Sometimes tears would come to my eyes. I'd say, "Brother, why are you hitting me so hard?" He'd say, "If you plan on playing in the NHL, you'll be hit a lot harder than this."
Q Did the two of you think it was possible for you to play in the NHL?
A Richard said, "It's entirely up to you what you want to make of your life."
Q How did your father and mother support such a large family?
A My dad worked for the City. I can't remember being hungry one day.
Q How did you afford hockey equipment?
A Some guys that played gave me equipment. The senior team in Fredericton had equipment from kids that didn't play anymore. Later on I got some for Christmas. I remember once I got a new pair of skates .... They didn't have steel toes. The label said, "Toes reinforced." I ran into the boards and the toes caved right in. I was so disappointed.
Q At 17, you lost sight in one eye when a puck hit you; you faced constant racism throughout your career. What kept you playing hockey until you retired at age 45?
A It was just the love of the game. When I played Junior, I made $60 a week. When I turned pro with the Quebec Aces in 1956, I made four grand. The most money I ever made in 21 years was $17,500.
Q You did some interesting things with that money-for example you bought your parents a house?
A We lived near Mrs. Lawrence, a widow lady. I'd fill her wood box and do little odds and ends. My mom used to go over and visit with her. I remember Mrs. Lawrence telling my mom, "Rosebud, I want you to have this house when I pass on." When the will was read, she wanted $3,500 for the house and property.
Q Today, perhaps 25 black men play in the NHL. How far has hockey really come in 50 years?
A There's more kids coming up in junior, in college. They're going to be drafted and not because of their colour.
Q You played for the Boston Bruins, twice you won the scoring championship in the WHL, the San Diego Gulls retired your number. What's your greatest achievement?
A Being able to give back to the sport and the community what the sport has given me. My parents said, "Willie, always give respect. You may not get respect because of your colour, but always give respect."