I recently met a dear friend's mother in the grocery store. She commented on my coat, and I replied that it was my latest Frenchy's find. Her blue eyes lit up as this five-foot, 80-year-old dynamo pulled a wallet from her purse. She had purchased the wallet at Frenchy's a few weeks earlier. When she got home she discovered something inside—five $20 bills, American! "And that's not all!" She turned and introduced me to a gentleman inspecting vegetables behind us. "This is my boyfriend, Phillipe. I found him there too!"
Leona Hubbard loves to tell the story. She and a friend had gone shopping one Sunday afternoon at the Frenchy's outlet in Meteghan, N.S. "By and by this man was looking at me and he came over with a sheet. He said, 'Do you know what size this sheet is?' And I said, 'What size is your bed?' He said, 'Double.' I said, 'This is twin and it won't fit.' He looked at me straight in the eyes and said: 'Are you married?' I said 'No.' 'Are you a widow?' he asked.  I said 'Yes.' He said, 'Maybe I could come see you sometime.' I said, 'Sure, any time.' Two days later the phone rang. It was him!"
That was five years ago. Leona and Phillipe have been an item ever since.
Not everyone is fortunate enough to find a boyfriend by the bins at Frenchy's, but Nancy Robichaud, a staff member at a store in Yarmouth, N.S., recalls a number of other treasures. "I was dumping purses one day and shortly after I took an armload of them to the table, I heard a lady rush up. She was all excited. She had found a diamond ring fastened to a little clip on the side of a purse!"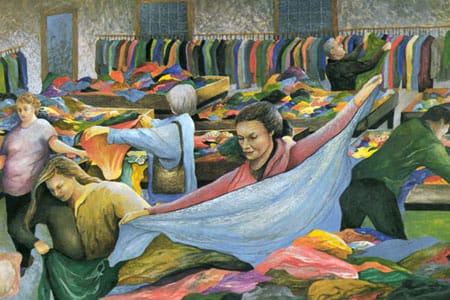 Another customer picked out a long fur jacket. The lining was torn so the customer paid under $10 for it. The woman took it to Halifax, had it repaired and valued. "They told her it was mink and worth around $7,000. She was thrilled! Her coat's worth more than her car," Nancy says.
But Frenchy's is about more than spectacular finds. Nancy believes it also brings out the best in people. "People get in touch with each other here. One person might find the pants to an outfit and they'll bring it to someone who has the top." That feeling of camaraderie extends to the staff, too. Nancy says it's not uncommon for people to bring employees treats such as preserves, cookies, and coffee. Recently an older gentleman brought the staff his favourite Acadian dish—steaming hot rappie pie.
Some people shop regularly at Frenchy's. It's their weekly or monthly "fix." Many Frenchy's customers will tell you that shopping there is therapeutic, an escape from the grind, a place to meet and greet the community.
Others head for Frenchy's out of necessity.
It's a matter of making ends meet for Lois LeBlanc, mother of six children. "If we didn't have Frenchy's, families would suffer," Lois explains. "Shopping at Frenchy's for me is affordability first and foremost and the convenience of finding things that fit. Then there's quality and durability. There's so much variety at Frenchy's that you can't go wrong." She says the range in styles appeals to her children's changing tastes. Currently her teenage daughter is "into grunge, and Frenchy's is perfect for that. Other stores are into the here and now, Frenchy's is into the then and when."
It should come as no surprise that Edwin Theriault, the mastermind behind the Frenchy's phenomenon, comes by a helping-hand philosophy honestly. Born and raised in Somerville, Mass., Edwin remembers that his mother, a Nova Scotian, used to help people who emigrated to Boston from the Maritimes. "It was like a French underground—a stop-off point for a lot of Acadians. She'd help them find clothing and furniture, and help them set up."
Edwin was the only French kid in the neighbourhood, so he was called Frenchy. "I was proud of that name, so I carried it with me wherever I went. It's always been good to me."
Even as a teenager, Edwin displayed a strong entrepreneurial spirit. "I used to go and hang around the ball squares and shine shoes for a nickel. Then I'd go late at night to the bar rooms and I'd tell them I was going to college." He chuckles. "They'd give me a dime or a quarter." He still has his shoe-shine box, replete with wax and brushes and memories.
As a young man, Edwin worked as a mechanical engineer, machinist and toolmaker in different parts of the United States. Later, he wanted to move to Nova Scotia, to be closer to relatives and his Acadian roots. "I used to come up as a child with my siblings on the old boat that used to leave from Boston to Yarmouth. We visited here in the summer when I was little and I always had a love for the place." He moved to the Clare area of Nova Scotia and settled into his mother's camp. The first thing he did was buy some cattle and try his hand at farming.
Shortly afterward, however, while visiting friends back in the U.S., someone started talking about used clothing sales. "I'm a wild, crazy kind of guy and I take chances on anything. So I went to one of the charities, put a bale on back of a pickup truck and came home. I hardly had time to unload it when all the women of the neighbourhood dove into the bale and wanted to buy, buy, buy."
Edwin made a few more quick trips to Boston and set up shop in his uncle's small store in Little Brook. The demand escalated so quickly that he needed a larger quantity to satisfy his growing clientele. He made arrangements with local truckers who delivered fish in Boston, to pick up three and four bales before they headed back home. After a few months, he started to order tractor-trailer loads of goods. Frenchy's moved to a larger location in Meteghan.'
That was 30 years ago.
Today, Edwin imports five million pounds of clothes a year, from a variety of charities in the U.S. This puts money back into the charities and provides Edwin with the materials he needs to operate the various parts of his business. And it is a big business. Most Atlantic Canadians are familiar with the retail end, but there are also less visible businesses behind the scenes, including an enormous industrial rag trade, an export business to Africa, and another recycling endeavour.
Edwin estimates there are some 150 used clothing stores in Atlantic Canada that stem directly or indirectly from his pioneering days. Some use the same name and many others have sprouted with differing names. "That's another story. Basically, I incorporated thinking I was protecting the name but in reality I wasn't. Somebody else registered the name." Currently Edwin owns four stores and supplies more than 20 other Frenchy's in the Maritimes. Most are located in Nova Scotia, a few in New Brunswick and a sprinkling are in Prince Edward Island.
He operates on a loosely-defined franchise basis. "If we like the individual, we just sell to them…if we think they're capable, have a nice building and the supply is right."
The Frenchy's experience has not been all bread and roses for Edwin. Some people have tried to take advantage of him. It's not a subject he is comfortable discussing. "You have to be very careful when you go into business. What appears to be on the surface really isn't so." Although he's not as trusting as he used to be, he says, "You have to be happy and live your life. You don't want to hold any grudges. Live and let live."
His greatest reward is being able to keep his family in the area.
"I have a son and daughter who are in the business and they love it. It's kept the family close together and provided them with quite a bit of stability." He pauses and says quietly, "Family means everything." He repeats: "Family is everything."
When you step into a Frenchy's, you're likely to see prints for sale with the same title. Jennie Morrow painted the original piece. She remembers being in high school when the Frenchy's phenomenon began. She has lots of happy memories of carloads of women going "up the line" for a Frenchy's run. One day, it occurred to her that she would feel a huge sense of loss "if the time ever came when Frenchy's were no more. The painting was my way of both documenting a time in my personal history, and of celebrating the spirit of Frenchy's." Edwin Theriault has the original painting in his living room. Reproductions are sold at various Frenchy's locations…naturally, at a Frenchy's-style price.
"Years ago," says Jennie, "a good grandmother could knit. Now a good grandmother puts in her time at Frenchy's." She says that shopping at Frenchy's is like going to an auction or a flea market. "You go with hope that you'll find something really great. When you do, you congratulate yourself on the good bit of hunting you did and you feel deserving of what you've found. There's no guilt attached."
Jennie figures that Frenchy's has done more for the Atlantic area economy than most government programs, by making good quality clothing available for everyone. "And it's not just people that have to watch their spending that shop there. I once saw three doctors and a lawyer shopping in a Frenchy's at the same time. Everyone likes a bargain."
Jennie fondly recalls her friend, Leta Delaney. "Leta embodies the spirit of Frenchy's. She picked through what life handed her and found good things amongst the junk to celebrate. Leta always said that when she died, she didn't want a funeral. She wanted a Frenchy's party. So two months after her death, at 95 years, we celebrated her life with a party. Everyone wore brightly coloured clothing from Frenchy's, things that we thought she would have liked."
Some people have told Edwin that without Frenchy's, they would have to leave the area to seek jobs with higher pay in order to clothe their families and keep their homes supplied with the basics such as sheets, towels, curtains and drapes. He grins and tucks in: "A cousin out west sent me a tourist brochure. Frenchy's was placed above the churches for things to do in the Maritimes." Indeed, Frenchy's has become a destination for tourists as well as locals. This season, Nova Tours is offering Frenchy's excursions. Two days of touring Nova Scotia with shop-'til-you-drop Frenchy's visits.
Edwin smiles as he accounts for the business' resounding success. "Everything I do seems to work out. I think the secret is don't be too greedy and don't try to make too much money. Try to be right 51 per cent of the time in your decision making." And what would he like his epitaph to read? "Just like Frank Sinatra's old song; I did it my way."