Wild blueberries are an important crop in Atlantic Canada but can growers overcome hurdles?
Standing on a hill in one of his blueberry fields in Sable River, Peter Van Dyk turns this way and that to avoid the wind and speak on his cell phone. The second generation wild blueberry producer's fields are spread across half a dozen counties in southwest Nova Scotia, and visiting some fields from home in Caledonia, Queens County, adds 4 hours to his working day. In a normal year, he would harvest 250 acres, but this year, he'll reduce that number by 50 acres; next year, he plans to harvest only 70 acres.
"As an industry, we're in a stressed situation right now," he says. "We are very likely going to lose some growers and it's going to be hard for the next couple of years."
There are two very unusual facts about wild blueberries. They are not planted but are managed and encouraged to grow by producers, unlike their cousins, the highbush blueberries, which are grown in rows much like an apple orchard. Although wild blueberries are native to North America, the only large commercial operations in the world are in Quebec, Atlantic Canada, and Maine.
The past three years have produced record crops in all areas under commercial production. This would normally be good news except that the market is oversupplied and prices to growers have dropped. The industry, which had been selling its whole crop every year until the big increases started in 2013, has been presented with a problem: market demand is steadily increasing, but not at the same rate as the crop yields have increased. While wild blueberries freeze extremely well—and that's the way the vast majority (about 98 per cent) of the crop is sold, to processors and consumers across the world—longterm storage is very expensive. Processors are also caught in a bind, holding product from previous years while looking for new markets. Some processors are also growers, so they're caught in multiple binds. In some cases, processors have indicated they won't be purchasing any crop this year until the current supply has been sold.
There's another wrinkle in the picture, too. Many people are unaware of the huge difference between wild (lowbush) blueberries and their highbush cousins. Highbush blueberries are grown in many places across the world, including a small industry in Atlantic Canada, and are available as fresh fruit year-round due to the global market bringing fresh produce to the marketplace at any time of year. While highbush blueberries are certainly delicious and nutritious, they aren't the same as wild blueberries in terms of nutritional and health benefits. To add to the issues faced by wild blueberry producers, there has been a significant increase over the past four years in frozen, processed highbush berries available in the marketplace.
Peter Rideout is the executive director of the Wild Blueberry Producers Association of Nova Scotia, where some 1,100 producers manage nearly 45,000 acres of wild blueberries. "Ours is the largest fruit crop grown in Nova Scotia now," he says, although many small producers rely on some of the 300 or so larger players to manage and harvest their crop for them. "Someone might have a five-acre field that's been in the family for several generations, and that field is tended and harvested by one of the commercial producers." He's quick to acknowledge that the boom in productivity has meant challenges for the entire industry, but also says that demand is still increasing, and that the challenges present an opportunity, too.
"We used to have to be very cautious in developing new markets because we weren't sure of a consistent supply to meet such demand, but that's not the case now," he says. "We need to be concerned about the situation but not discouraged—we have an outstanding product that people want, with great health attributes, flavour, and ease of use." Rideout feels education is key to growing markets here at home and internationally, because while we Atlantic Canadians know and love ourwild blueberries—they're the official provincial berry of Nova Scotia—in other markets the product is not well known, or is confused with the highbush berry. Industry associations, including the international Wild Blueberry Association of North America, work with partners to develop new markets; but as with any product, market education and development can be a slow and expensive process that doesn't happen overnight. Rideout says the industry does have a superb product, highly nutritious and tasty as well as easy to use. The challenge is to develop more value-added products and add markets here and abroad.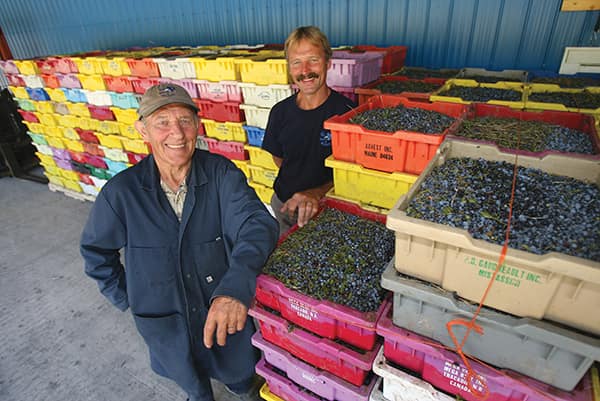 Dr. Eric Albert is the chief science officer with Perennia Food and Agriculture Inc., a not-for-profit corporation that helps provide farmers, fish harvesters and food processors with advice and resources to aid in improving productivity and profitability. The product development team at Perennia is primarily working with wild blueberry producers to help create new value-added and innovative products. "These range from new beverages and beverage flavouring options to new snack foods and ingredient development… all of which are derived from Nova Scotia wild blueberries."
Perennia's research and product development focuses on two market sectors: the health and fitness lifestyle groups, and families with young children, which are ever-growing as more people seek healthy and convenient snack choices. "The wild blueberry sector has a real advantage in that most consumers are already aware that blueberries are a healthy superfood," Dr. Albert says. "What the consumer is looking for is blueberries delivered to them in other convenient ways, especially for consumers in other parts of the world such as Europe and China." His team is also assisting businesses who are seeking new packaging options that can both add convenience and extend shelf life for fresh wild blueberries; again with that lucrative global market in mind.
In a normal year, Peter Van Dyk would harvest close to a million pounds of wild blueberries, about 300,000 pounds of which goes to make the juice that bears his family name and is sold in Canada and internationally. Van Dyk's Pure Wild Blueberry Juice was developed by Peter's father, Case Van Dyk, who immigrated to Nova Scotia in the early 1950s with his wife, Henrika, settled in Caledonia and raised a family of nine children. The Van Dyk harvest is shipped to Oxford Frozen Foods for flash freezing, and back to Caledonia as needed for juice production. That leaves a lot of berries needing markets.
After five years of researching and developing, Peter has started a second company, Van Dyk Speciality Products, and expects to be drying wild blueberries this summer. He says, "We're talking to commercial customers but also looking at small consumer packs; they're easy to store and transport and can be shipped anywhere in the world." He hopes to put the new product into countries where producers can't currently sell frozen berries. Since it takes six pounds of grade A berries to make one pound of dried fruit, if this project takes off it could be a great boost for the industry. Plans are also in the works to make dried blueberry powder from the pomace (pulp) left over from extracting juice for bottling, ideal for smoothies and other recipes.
Last November, the wild blueberry association partnered with Perennia to host a workshop exploring value added product ideas. Peter Rideout says that they expected maybe 20 people would attend, but had more than 60 attendees. Perennia received numerous requests for information and support.
"We tell visitors to our industry that a wild blueberry field is probably the closest thing you can get to forever," he says. "Once it's established with good plant cover, it's there. We have fields that have been in production for over 100 years. We grow a fantastic crop here; we just have to work together to grow markets to match that crop."
Wild blueberry production in the region at a glance (numbers are in millions of pounds):
Maine

2012 - 100.3
2016 - 106.7
% Increase - 6.4%

Quebec

2012 - 60.9
2016 - 120.0
% Increase - 97.0%

New Brunswick

2012 - 35.3
2016 - 82.9
% Increase - 134.8%

Nova Scotia

2012 - 44.9
2016 - 64.9
% Increase - 44.5%

Newfoundland

2012 - 1.1
2016 - 2.2
% Increase - 100%

PEI

2012 - 14.1
2016 - 33.9
% Increase - 140.4%

TOTAL

2012 - 256.6
2016 - 410.6
% Increase - 60.0%