Volunteer efforts undermined by government apathy
The 129-kilometre-long Nepisiguit River flows north and east from Nepisiguit Lakes to New Brunswick's Bay of Chaleur. Today, it is a healthy river with more than 90 salmon pools, abundant gravel for spawning, sufficient flow and rapids that oxygenize the water.
It wasn't always like this.
Back in the 70s, when the Nepisiguit was dead due to acid runoff and toxic waste escaping a nearby mining operation, Bob Baker of Bathurst walked every foot of the shoreline to the impressive Nepisiguit Falls and power dam marking the terminus of the salmon's 28-kilometre journey upriver from the bay. He noted the pools and gravel beds that salmon might frequent.
Years later, after volunteers had cleaned up the river and begun a restocking program, he walked it again, finding salmon right where he thought they should be. He has charted every twist and turn in his mind, and in his heart.
"But no one wants to do that anymore," he says. "They want to be told everything. I tell 'em you gotta earn your own knowing."
As co-founder and long-time president of the Nepisiguit Salmon Association (NSA), 77-year-old Baker is the quintessential volunteer. Since 1981, when the NSA morphed from advocacy to an active enhancement program, he has logged countless hours—all for the love of the fish.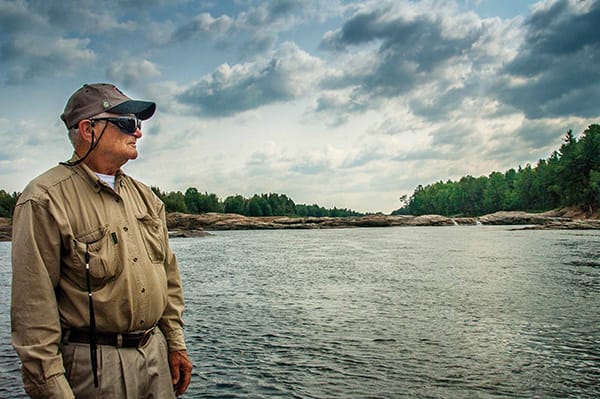 From the tan cap, shirt and pants right down to the leaping salmon belt buckle, he looks like a river warden and has certainly done his share of policing against poachers, polluters and rule-breakers. The bumpers of his black Ford pickup are festooned with fish-shaped decals, its interior coated with dust and its sides scraped from trips along narrow woods roads.
Since 1992, the NSA has collaborated with Pabineau First Nation, which operates a fish counting fence 12 kilometres upstream from the bay. The sturdy net, angled across the river, funnels salmon traveling upstream into counting boxes.
Every morning, from July to October, Chester Sewell rows out to those boxes, counts the salmon inside, then releases them to continue their journey.
"Salmon are not easy to handle because they are fighting all the time, you know; they really snap," he says. "Sometimes there are over 100 fish inside—just like sardines."
In September, Sewell and his crew begin selecting the largest as broodstock destined for the Charlo hatchery where eggs are collected and fertilized, and the adults then returned to the river. Once hatched, the tiny alevins are placed in protective incubation boxes above and below Nepisiguit Falls. After reaching the fry stage, they're released into the river. "If you put them in as soon as they can feed themselves," says Baker, "they are no different than wild salmon."
Since 1981, the NSA has stocked 11.75 million juvenile salmon in this river, six million of them through the incubation boxes. With the data obtained from electro-seining in spring and from the counting fences and angling surveys, NSA determined their stocking program has contributed to the 4,000 to 6,000 adult spawners returning annually from the ocean.
This system works fine, Baker says, but government impeded efforts by closing hatcheries. He cannot abide the lack of common sense. "I'd rather propagate salmon than people."
On a late spring day in 2015, I follow 23-year-old Shelby Dean of the Pictou County Rivers Association (PCRA) and her work crew through the underbrush along 8-Mile Brook (a tributary of the West River) in Pictou County, NS, to do maintenance on a stream restoration project completed the previous year.
Dean was a high school student considering a career in political science before landing a summer job restoring fish habitat. She now has a BSc majoring in Environmental Science.
Travelling through the dappled light of a hardwood forest to reach a submerged "digger log" the crew installed the previous year, Dean explains how such logs are angled across the stream and anchored with rebar to support natural upstream riffles (shallow oxygenated areas) and create a salmon pool below.
The team is here to ensure the log had not loosened over the winter, and to reposition rocks to better direct water toward the middle. "I feel like we are doing something positive and in the right direction. Maybe not fast enough to keep up with the degradation, but it is something," she says.
In an earlier meeting with PCRA president Alfred White and member Roy Parker, White told me his group monitors seven rivers, and builds 30 to 40 stream structures each summer to get important meanders and riffles back in the rivers.
While the group concentrates on instream restoration, they also fundraise, deliver education for future generations and collect data on water temperatures and quality for DFO. "It's not just one thing that will help the salmon," says White.
Erosion and sedimentation caused by deforestation, agricultural development and climate change have had a devastating impact on important salmon spawning streams like 8-Mile Brook. During two intense September 2013 storms, flooding from clear-cuts and a nearby wind farm tore out road culverts and 30 stream structures previously installed on this brook and others.
For Parker, a retired Environment Canada aquatic biologist who brings both his scientific knowledge and his skills in proposal and report writing to the organization, the lack of oversight prior to approving land developments is discouraging. The group writes letters, attends meetings, and requests funding to repair the damage. "Then another big storm comes and we ask ourselves what we are doing," he says.
Downsizing at the local federal fisheries (DFO) office placed a significant burden upon volunteers. "They were instrumental in helping to get us funding, and when people violated the laws, they enforced them. If there were fines, they could allocate these to the associations for repair work," says Parker. "They are gone now. There is no one to call."
"A lot of the habitat protection laws that were made and enforced have disappeared," adds White.
I ask why they continue in the face of such obstacles.
"I'm a salmon fisherman," says Parker. "I want to see our salmon protected with the best chance of thriving. We do a lot of good things to improve salmon habitat, but at the end of the day, I just want to go down to the river with an expectation there will be a fish to catch."
A few kilometres up the road in Tatamagouche, Edward Sampson and Doug Bastow of the North Colchester River Restoration Association (NCRRA) show me the concrete fish ladder that circumvents barrier falls on the Waughs River, opening up more fish spawning habitat. Up until five years ago, no salmon swam beyond these falls.
Such projects require engineering and hydrological expertise once provided by DFO, but now groups must hire consultants for their projects, even though habitat protection and enhancements are the responsibility of the federal government.
"This has been a challenge for us," says Sampson, who has spoken to a recent governmental standing committee on these issues. "We can bring all the passion to the table, but we don't have the support or the technical advice from those who share the responsibilities."
Beyond habitat enhancement activities, volunteers manage their own hatchery and engage the community in positive ways.
Bastow, a retired airline pilot and policy specialist, hires the summer students. "Our students learn about the river and respecting their environment. They may leave for the cities but they take the knowledge of the rivers with them."
Volunteers also give public presentations and maintain an interpretive site and pathways, so walkers and birdwatchers can enjoy the river without trampling the hundreds of saplings the NCRRA planted to enhance bank stability. "We've made the river more accessible," says Sampson. And more eyes on the river, means fewer poachers.
"You are influenced by the people you met on the river," he adds. "When you meet those who feel the same way you do, it clicks. We can put things in place, but we need people to deliver. If we lost the salmon, we've lost a good part of our heritage."
Encouraging future generations is a common theme in all my conversations, but few have put in more hours than Roland LaVallée of Balmoral, NB. LaVallée has been visiting Anglophone, Francophone and First Nations elementary schools in northern New Brunswick for 30 years with Fish Friends, a regional program delivered by volunteers and funded by corporate sponsors. The program places climate-controlled aquariums stocked with fertilized eggs in classrooms in February or March; students are provided ongoing lessons in caring for the young salmon as they hatch and grow. Annually, LaVallée spends 50 to 60 days in a dozen schools. "They see the fish at different stages and I compare the life of the salmon to the life of the child. They understand and remember," he says.
Once the fish are ready for release, the children take their finned friends to the river to send them out into the world. "I explain why we are releasing, and that the fish will live here for two to three more years until leaving for the ocean. This is why we must protect the river. The next generation needs this connection."
One of the most recent success stories is found in Norris Arm, NL, where volunteer efforts opened up 238 kilometres of prime salmon habitat on Rattling Brook, a tributary of the massive Exploits River previously closed to salmon after construction of a hydro-dam and power plant in 1957.
While most viewed the hydro-dam as an impossible obstacle, visionary volunteer Al Paddock, of the Norris Arm and Area Economic Development Committee, saw opportunity.
Maritime Archaic, Paleo Eskimo and Beothuk artifacts uncovered at the site a decade ago led archaeologists to believe once it may have been the largest warm weather salmon processing site in North America.
More recently, "it was not uncommon to get 40-pound salmon here in the 40s and 50s," says Paddock.
This was a heritage worth reviving.
A fish ladder was not feasible, so Paddock put together a group of seven volunteers with project management and fish habitat skills and devised an alternate plan to circumvent the dam.
Through a five-year restocking program, they have annually transferred 400 salmon—original Rattling Brook stock that had been relocated to Great Rattling Brook when the dam was constructed—by helicopter (25 fish at a time) to prime spawning areas above the dam.
When adults begin their seaward migration from May to mid-July, they swim downstream to the reservoir. There, fencing funnels the fish into an underwater pipe that runs 500 metres to a manmade channel. The channel directs the fish into a dry brook bed that empties to the sea. The power company maintains sufficient water flow for this process to take place, and then after the smolt and kelt run is finished in early July, the entrance to the pipe is closed and the brook goes dry again. "It's somewhat of an engineering feat," says Paddock.
Last year, the group counted 252 fish returns, up from seven the year previous. Someday, they hope to exceed 6,000 returns a year and estimate the watershed could actually support an annual run of up to 12,000.
"We're trying to see how fast we can build a sustainable run on the river so we can open it to anglers and generate revenue." A recent study estimated this could generate $3 million in revenue for Norris Arm and neighbouring communities.
The first year they transferred salmon, 12 DFO personnel were involved. "Then we went from 12 to 6 to 3 to zero," says Paddock. "This is an important conservation project and there's no-one to ensure we are doing it properly."
He worries about lack of environmental oversight. Since the closure of the local habitat office, which formerly assessed and monitored projects, industry now polices its own projects. "There is no one checking what is going on; no one is monitoring and there is nothing to comply with."
He also felt the project had federal research potential, but lacked funding. "This was one of the best science projects you could have for recreational salmon: starting from scratch, a self-contained area for salmon spawning, only one way in and out. We could monitor every fish coming and going, sizes and genetics."
"We need DFO, we need science and we need habitat."
Back on the Nepisiguit, Bob Baker takes me to the river estuary and points out Sheep Island, the Merry-Go-Round and Preacher's Rock, where the town's pastor used to stand to bless the spring log drive.
He slides into a natural chair carved from granite. "This is my office," he says, leaning back and stretching his legs. "I can come here in the morning and watch the fish roll out and jump just over there."
This river is the most beautiful of any Baker knows. "When you come to the river, you leave your cares behind."