A beautiful setting and great partnerships between town and university are working in Antigonish
EVERY September, the small town of Antigonish (population 5,195) doubles in size with the arrival of the students excited to start their new year at St. Francis Xavier University. Renowned for its campus spirit, its strong international reputation, top ratings by students in Maclean's university rankings, and, of course, the X-ring, StFX easily attracts students and faculty from all over the world.
Established in 1853, in Arichat, St. Francis Xavier University moved its campus to Antigonish in 1855.
The Xperience
The X-ring is said to be the third most recognized ring in the world, after the Super Bowl and papal rings. There's a palpable excitement in town leading up to the annual December 3rd presentation of rings. Student houses sport the countdown of days in their windows.
But X-spirit comes in many different varieties as Asia Van Buuren, from Vancouver, BC, found out. Starting out in the sciences, before taking part in StFX Service Learning in Guatemala, and later L'Arche Antigonish Hearts and Hands, Asia discovered a love of community service work. "Service Learning was a turning point, from science-based learning to community leadership and working directly with people."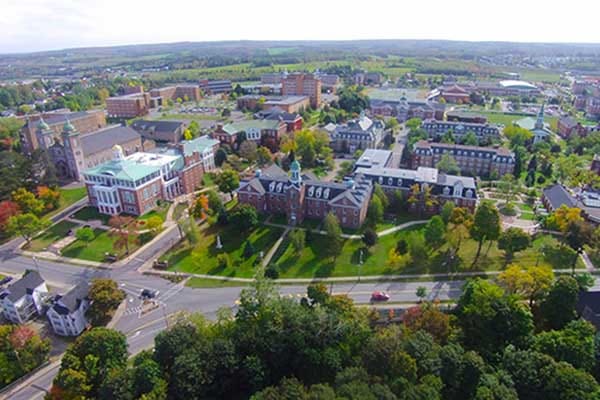 Natalie Cameron, homes co-ordinator with L'Arche, says students who come for Service Learning often choose a different life path after working with L'Arche.
Steve Scannell, now special projects co-ordinator for the Town of Antigonish, came to StFX in 2004 from Ohio on the recommendation of friends in Toronto. StFX had been ranked by Maclean's for several years as one of the top universities in Canada—and that factored in for him—but he was also looking for outdoor adventure and quality of life. "When I started looking into the area, it had everything I was interested in. I like hiking. I had never seen the ocean," he says. When he attended StFX, he and a small group of friends would get together every Saturday for an "Adventure Day" to go hiking and even rappelling in the Pomquet area and Cape George.
Blessed with natural beauty, outdoor enthusiasts have a lot to choose from in the Antigonish area—from beaches along the Northumberland shore to hiking through rolling countryside, coastal trails and woodlands.
Keppoch Mountain has recently been re-vamped from an alpine ski hill to a four-season recreation area for mountain biking, hiking, snow shoeing and tobogganing. The Lochaber Community Centre, just 20 minutes from Antigonish, hosts the Antigonish Rowing Club and StFX Rowing Club for recreational and competitive rowing on the lake. The Antigonish Golf and Country Club, with its 18-hole course, is also a popular destination.
Well-known for its strong varsity sports and athletics program, especially for football, soccer and basketball, the university plays an integral role in the community's recreational life as well, says Laurie Boucher, recreation and aquatics co-ordinator at StFX. "On any given day after school, or Saturday, the Oland Centre at StFX fills up with young dancers, martial arts students, swimmers, basketball players, runners and hockey players," she says.
The Oland Centre, the area's major recreational facility, operates as a partnership between Antigonish and StFX. Everyone benefits, Laurie says. "The town, county and university would not be what they are without the other."
International connections
Walking down Main Street you may meet and greet people from Nigeria, India or Bhutan. The Coady International Institute, which was established in 1959, now reaches out through more than 6,000 graduates in 130 countries, and attracts people to its leadership and development programs. Its unique community-based approach grew out of the Antigonish Movement, a co-operative economic and social justice initiative begun by Dr. Moses Coady in the 1920s.
Through the Coady Neighbours program, local volunteers are matched with international participants to go on outings or join in a family meal. Many life-long connections are formed and the personal connections stretch around the globe—one such leading to the founding of the Wishing Wells Society that provinces financial assistance for building sustainable water systems in India, Africa and Haiti.
StFX currently has international students from 67 countries enrolled in undergraduate programs. Antigonish Cultural Connections, a community initiative, creates opportunities for international students and community members to meet and share food. The People's Place Library, the Antigonish County Adult Learning Association (ACALA) and the ESL (English as a Second Language) Friendship Café all offer support to international students. This past year, community groups and StFX raised funds to welcome several Syrian refugee families.
Small town charm
Antigonish (the 'Nish as it's often called by locals), feels bigger than it is, says Steve Scannell. "The town is compact and really interesting; it's a hub of activity. You get these crazy opportunities that in any other place would be so hard to come by."
There's a small town charm about Antigonish that acts as a powerful draw, says Janet Stark, who first came to StFX from New Jersey as a student in 1961 and eventually made her career at the university. "I wouldn't live anywhere else."
Unique shops, such as the Antigonish 5¢ to $1 Store, which started in 1934, The Made in Nova Scotia Store, purveyors of locally hand-crafted items and Camerons Jewellery, home of the famous X ring, add to the town's charm.
So does the People's Place Library, which won the Canada Great Places award for Great Public Space in 2014 and has played a key role in community life since it opened in 2011.
Arts and culture
Art galleries and artist spaces are lively with exhibitions and installations throughout the year. Art events bring the community together for Art in the Park, Antigonight Art After Dark Festival, the GoArts juried exhibition, the Antigonish International Film Festival, book launches and exhibits at the People's Place Library.
No matter your taste in music, you will find everything from a Scottish ceilidh at the Antigonish Heritage Museum, Irish tunes at The Townhouse Brewpub, classical music at the Performing Arts Series held at Immaculata Auditorium on campus and several local choirs and musical groups.
Antigonish was the 2015 recipient of the Community Arts and Culture Recognition Award for its commitment to the development of a truly creative community.
The Antigonish Highland Games, established in 1863 and the oldest highland games held outside of Scotland, is a major international attraction, with Scottish athletic events, pipe bands, highland dance competitions, live music in the tents and the popular Concert Under the Stars.
Richard Perry, media and communications officer with the Coady Institute, loves the vibrant culture of the town. "There is always something going on in music, dance, art and other activities. After living in Halifax, there is something to be said about working in a town where you are five minutes away from everything."
Economic impact
The university is a major economic driver and the student population is a big part of the town's economy, says Carl Chisholm, mayor of Antigonish.
The recently formed economic enterprise partnership, the Eastern Strait Regional Economic Network (ESREN), is made up of members from five municipalities and StFX. The university is "an economic generator for spinoff businesses," Mayor Chisholm says.
Laurie Boucher, a town councillor as well as head of recreation and aquatics at StFX, says the town benefits from the expertise at StFX. "For example Dr. Dave Risk, an earth scientist collaborates with local groups such as Antigonish Community Energy and Antigonish Energy Co-op," she says.
Entrepreneurship and innovation
Community and entrepreneurial spirit is behind things such as the revitalizing of Keppoch Mountain to an all-season outdoor recreation centre that will eventually employ 10 full and part-time staff. It's also the driver behind The Townhouse Brewpub, which used an innovative model for building their business through community buy-in, and the Awesome Antigonish foundation that provides jumpstart funding to get community projects off the ground.
James Smeaton, an information systems graduate of StFX ('01) and originally from Newfoundland and Labrador, built his Highland Media web business, now in its 13th year, in Antigonish. He's also busy creating new businesses with online platforms. "I realized that I can apply myself through the creative knowledge that I have and earn an income to sustain myself in this supportive business community,"James says.
The StFX Innovation and Enterprise Centre aims to foster innovation and social enterprise development efforts within the university as well as the region as a whole, says Phil Davison, director, StFX extension department and the StFX Innovation and Enterprise Centre.
"It offers students, faculty and staff at StFX unique opportunities to partner with communities, businesses and other post-secondary institutions on innovation, incubation and social enterprise projects that benefit communities throughout Nova Scotia."