Some New Brunswick families are exploring a new branch of learning at Tír na nÓg Forest School
Ben Whalen kneels in the long grass by a clear-running creek, alongside five-year-old Ava Miller. Ava is disappointed she hasn't yet caught a fish, so Ben, who is project manager with the Kennebecasis Watershed Restoration Committee, shares some of his grandfather's sage fishing advice. "If you're having a bad-luck day," he says, "then Grampy Brown's secret is to spit on the worm." Ben spits on the earthworm coiled around Ava's hook, then guides her hands as she casts her line upon the water. Moments later, the rod bends and Ava's eyes widen.
"See?" says Ben, as he helps her reel in a small trout. "Grampy Brown said it always works."
Ava is a student at the Tír na nÓg Forest School, an outdoor preschool in Roachville, NB, and the first of its kind in Atlantic Canada. Today, Ben is teaching the children how to fish—a typical school-day activity for a classroom set against the canvas of forests and fields, meadows and hills.
Lisa Brown, Tír na nÓg's founder and director, rounds up the children, who have been fishing and exploring nearby. "Hey, everybody! Ava has caught a fish and Ben has something cool to show us!"
The children gather in a semi-circle while Ben stands in the shallows of the creek. First, he demonstrates how to pluck and spear fish eyes on the hook for bait, and then how to clean the fish. He points out the different organs and tells them that by leaving the fish innards in the creek, they make up for what they have taken. "It's a gift for the fish gods," he says.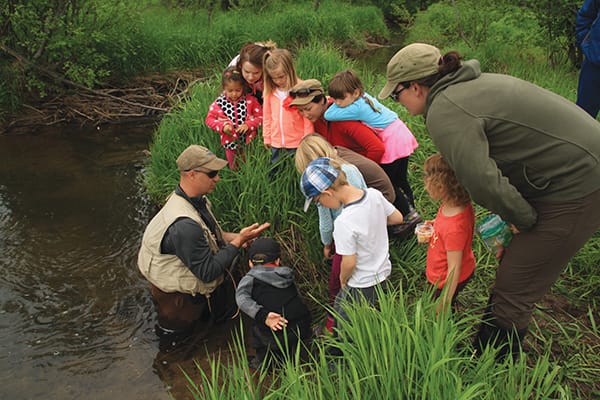 One of the children suggests that Céilidh (pronounced kay-lee), the camp cat, might like the innards. "Is that what you want to do?" asks Lisa. The children all chorus, "Yes!" So, fish guts go in a doggie bag for the cat, and the fish gods go hungry.
Ben spears the cleaned trout on an alder switch and returns it to Ava, who poses with her catch for a photo.
"It's just sweet," says Lisa, who is all smiles as her students scamper along the creek bed with their fishing rods. "These kids experience what we did—climbing trees, fishing, falling in the brook, picking fiddleheads, finding strawberry blossoms and being excited that there will be berries to pick. Yes, they get muddy. Knee deep if they want to. It's a free-range program and I just love it."
At Tír na nÓg, three- to five-year-olds spend their entire day outside, using their imaginations and discovering nature. The forest school has become so popular, in fact, that Lisa expanded the program to Saint John last fall.
"The first time I saw a forest school, I was blown away," says Sarah Glinz, one of the school's educators, a mom and beginning farmer with a degree in forestry. "Lisa makes things happen. She's changing things… [She's] a rebel. The good kind."
A lifelong dream
Tír na nÓg is Irish for "land of the young." For Lisa, Tír na nÓg also represents a dream come true. After operating a home daycare in Scarborough, Ont. for five years, the young mom and nature-lover returned to her New Brunswick roots in 2002, and started working as a high school educational assistant in Sussex. In 2007, she opened a traditional daycare called Lisa's Playhouse, hoping one day to start a forest preschool similar to those she had read about in Europe. "I have always had a keen interest in outdoor learning for children," she says.
Then in 2009, Lisa read an article about Marlene Powers, founder of both Canada's first forest school in Ontario and the organization, Forest School Canada. She contacted Powers to learn more about the resources and training available. She was still getting Lisa's Playhouse established, so the time wasn't quite right, but Lisa now felt confident she would have solid guidance when she was ready to open her forest school.
Plans for Tír na nÓg began in earnest three years ago when Lisa flew to Ottawa to meet with Powers; she accepted her first students into Tír na nÓg in September 2013. Lisa was breaking new ground as New Brunswick did not have any policies for outdoor preschools. (The province is now working on a policy.) But since she had an existing daycare licence, Lisa was able to make the adjustments required to meet the regulations. "One problem was how to supply hot water for hand-washing," says Lisa. "My father rigged up a lobster pot with a spout on a propane burner. It warms the water and works just fine."
Both Lisa's Playhouse and Tír na nÓg are situated on her 100-acre family property near Sussex. "The children who attend our programs visit the same special places I used to when I was their age," says Lisa.
Her own childhood was filled with family and friends piling into her dad's pickup and setting out for clam digging excursions on the Bay of Fundy, picking berries, or trout fishing in a brook. "We were close-knit and did a lot of things outdoors. I want the children to experience this same sense of family."
Lisa's aim is to nurture a strong connection between the child and nature so the child learns his or her place within it. "The forest school allows them to see the familiar landscape in all the seasons of change so they learn to love it," she says. "If they can call it their own, and have a sense of ownership, then they are going to be more respectful and take care of it."
Natural learners
The original 19th century concept of a kindergarten (which means "children's garden") was nature-based play and learning. The current forest school model emerged in Scandinavia in the 1950s, but it wasn't until the mid-90s that it gained widespread momentum. There are now thousands of such outdoor classrooms throughout the world.
In his seminal book, Last Child in the Woods: Saving our Children from Nature-Deficit Disorder, author Richard Louv explores the environmental, social, psychological and spiritual implications of the increasing alienation of children from the natural world. "Nature inspires creativity in a child by demanding visualization and full use of the senses," he writes.
An accumulating body of research reveals that nature-based play reduces stress and encourages more fantasy. One such study, comparing children in outdoor and indoor classrooms, found that children in the nature kindergarten were more mentally alert and physically adept, and significantly more likely to create their own games.
While forest and nature schools are as diverse as the landscapes and cultures on which they are based, they have two main features: regular and repeated access to the same natural space, and child-directed learning based on each child's area of interest. Spending their days outside in various weather conditions allows the children to learn about and appreciate the diversity of nature. They also learn to work together.
"Problem-solving is huge at forest school," says Lisa. "We don't step in and do it for them. They have to figure it out. At the end of the day, we want them to make their own decisions."
Beyond the field trip
A typical morning at Tír na nÓg begins at base camp—a makeshift kitchen shelter at the edge of a mature softwood forest. Kid-sized benches and picnic tables with umbrellas provide work stations; hammocks, tree-stump chairs and tire swings provide resting areas. Four logs surround a campfire pit and a chalkboard hangs from a tree. Slack lines run between tree trunks for the children to practise balancing and a number of aged trees are designated for climbing, their limbs worn smooth by small hands and sneakered feet. Activities like balancing and tree climbing help children gain agility, assess risk and build confidence.
The "classroom" is delineated by ribbons on trees. The only formal structure is a log cabin with a woodstove, built by Lisa's husband, Seamus, for cold or wet days. But despite last year's frigid winter, she says the children used it only briefly to warm up, then they were anxious to be back outside again.
The school operates four days a week with 20 children divided into two groups of 10 (five students for each of the two practitioners) attending either two mornings or two full days per week. The small number creates the atmosphere of a family outing. Some days are loosely structured, like today, with fishing in the morning and making dandelion jam in the afternoon. But other days are left to chance and the children. They may hunt for mayflowers or fiddleheads, build a lean-to, start a fire with a flint, play games or go on a hike. They are guided and monitored, but not restricted.
"We know that children need long chunks of free time in order to learn," says Lisa. "When interrupted, it takes them 15 to 20 minutes to get back into meaningful play. So to get into really rich learning, we allow them to eat when they are hungry. The only rule is to wash their hands first."
It's not all about rambunctious activity and fun, though. Quiet time is also important. "The kids find their own 'magic spot' where they can be alone," says Lisa. The children can go anywhere within their ribboned boundary, as long as they can see another classmate.
It is now 11:30am, and the children have been at the creek for about two hours. Three are sitting on the ground with their lunch bags swapping food, some are fishing, others are looking at raccoon tracks in the mud.
Ava stands alone, lost in a daydream, still holding her fish, her hand idly caressing it over and over again, as if it were a braid of hair. Jenah Jones sidles up to her, "Ava do you want to play Mom and Dad with your fish? I can be the mom."
Jenah's dad, Tim Jones, has been so impressed by the changes in his daughter's creativity, confidence levels, physical endurance and sleeping habits, he partnered with Lisa to open a second forest school location at Cherry Brook Zoo in Saint John last fall. Like Tír na nÓg, the teachers are accredited forest school practitioners. (Another forest school—Wild Child Forest School—is set to open this spring in Kearney Lake area, near Halifax, NS.)
"Jenah goes non-stop at forest school, then comes home and is in bed by eight," says Tim. "She has no pent-up energy from being inside four walls all day."
Their relationship and the activities they do together have been enriched by her forest school experiences. Jenah taught her father to recognize the chickadee's call—"It sounds like cheeez-burger, Dad"—how to build a squirrel-proof bird feeder and where to locate wild strawberries on their property. She now prefers making her own toys from natural, found objects.
When Tim made plans for a backyard treehouse built around the trunk of a shade tree, Jenah had other ideas. "She didn't want to do it my way because the rainwater would run down the trunk and into her camp. She was able to look at my suggestion, see a problem and find a solution for it."
Reading, writing and counting spruce cones
Lisa's next goal is to encourage a collaborative partnership with elementary schools in her community, so school children can enjoy regular excursions to the forest school setting, and Tír na nÓg graduates can attend a school that shares similar values of stewardship.
"These kids are learning lifelong skills. They are more than ready for life. They will learn their numbers by counting spruce cones, measuring the diameter of a tree, boring into a tree to count the rings," says Lisa. "Although there may be an adjustment when they go to school, they will have had this time to be free that they will never have again. That is what I am trying to protect."
Later, on the walk back to base camp, young Gabriel Jesso catches a frog. Lisa's assistant, Sarah, allows him to carry it carefully, then asks him what he should call it. 'Frog!' he says.
Avery Sharma, a shy four-year-old in pink, walks alongside Gabriel. "I hope we find another frog so we can have a mommy and daddy," she says quietly.
They talk about making a house for the frog. Gabriel says it should have lots of grass and some water. Avery thinks flowers would be nice. She gathers a handful of dandelions.
On arrival at base camp, at Sarah's suggestion, Gabriel lets the frog go. It makes a beeline for a space beneath the roots of a tree.
The kids gather around peering in the hollow. They determine that the tree makes a pretty good frog house. Avery arranges her dandelions at the door.