Adventures on the water remain etched in the memory for years to come—here, a rough guide to navigating Atlantic Canada's coasts, and inland waterways
When I was kid in the '50s, Mom inherited a small sum of money. At the time we were living in the Yukon. She purchased a 10-foot white fibreglass dinghy from British Columbia, had it delivered to Whitehorse, and dubbed it the Queen Mary.
Our squat little boat, with oars and an outboard, allowed my parents, my brothers and me—and the dog—to roam, discover and enjoy nature on waterways ranging from BC to the Great Lakes, from the Ottawa River to New Brunswick's St. John River, and finally to Nova Scotia.
Messing around in small craft on the water and, for me, casting or trolling for fish, are treasured activities. Many of the early excursions remain etched in my memory, setting the stage for a lifetime of adventure on the water.
Small watercraft can be an excellent investment. Like Mom's boat, quality canoes, kayaks, small outboard and sailboats will last decades, or a lifetime, with proper maintenance and off-season storage. One canoe has taken me down Texas/Mexico's Rio Grande River, along Florida's Intracoastal Waterway, and around New Brunswick's Grand Lake for more than 40 years.
Now, when the woods at home in Nova Scotia become bug-infested, my wife, Alice, and I prepare our small, fishing-style boat, dubbed the Kingfisher, with its fuel-efficient outboard.(One day while we cruised home into Pomquet Harbour, a kingfisher landed on the rail of the bow, looking like a figurehead—hence our boat's name.)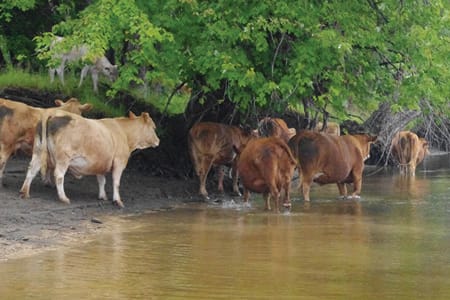 The cuddy cabin sleeps two; the pilot house is equipped with a galley, which has a fridge, stove, sink and running water. This allows us to gunkhole—explore bays and shorelines—for days, swimming off the platform at the stern to keep cool, and anchoring overnight in secluded coves with eagles, shorebirds and white-tailed deer as company.
And as for the Queen Mary, it's in my basement after almost 60 years of service, waiting for summer beside newer canoes, kayaks and a zodiac. You sure started something, Mom.
Boating by nature
Boating in Atlantic Canada takes many forms, depending on the extent of currents, tides, wind and waves. A cruising guide, nautical charts, compass and GPS go a long way to ensure a safe return home. Don't forget to pack binoculars and nature identification books; cruise slowly in remote, wild places, giving wildlife plenty of space.
Coasts & Bays
Saltwater estuaries, shorelines, bays and islands abound in our region. Day trips are an easy way to enjoy coastal adventures in small boats like canoes, kayaks, open outboards and sailboats. Local harbours with commercial fishing fleets usually have launch ramps; marinas cater to recreational boaters.
Sometimes you can simply park by the side of the road and carry a small boat to water.
A healthy respect for wind, tide and weather is essential. Get tide tables from the Internet, newspapers, or boating stores—places like the Minas Basin offer a long, muddy slog back to shore if the tide is out when you return.
Be mindful that some coastal regions of Atlantic Canada, like the Bay of Fundy, the Atlantic Coast of Nova Scotia and some shores of Newfoundland are intermittently cloaked in fog during summer. Other coasts, such as the Northumberland Strait and the Gulf of St. Lawrence, are less prone to fog. As climate change warms coastal waters, these occurrences may evolve.
In salt water, you might see porpoises, seals, tuna, whales, gannets, dovekies, crabs, lobsters and much more. During spring and summer, many islands host nesting seabird colonies in trees and on the ground. They can be fascinating to watch, but stay offshore.
Lakes (called "Ponds" in Newfoundland)
One of my favourite lakes to canoe requires two portages to access a 100-year-old cabin on an island. From there, I can watch the sun go down in a burst of red, gold and silver over the water, while loons call and dance.
Tens of thousands of lakes are dotted across Atlantic Canada. Along their shorelines you may catch glimpses of great blue herons, mink and otter. If you approach quietly in the spring, you can sometimes hear young beavers in their lodges.
Public access can be an issue on some lakes surrounded by private property, but governments generally recognize boating as an important recreational activity—public launch ramps can often be found in local tourist literature.
Beware of rocks or stumps that may be just under the water's surface.
Rivers
As a teenager, I helped build a sailing pram that Dad intended to launch in the St. John River, at Fredericton. Winds in the same direction as the flow proved too strong for the boat; it could not steer (tack) upstream. Mom's dinghy with its motor was the answer, and the pram went to Washademoak Lake, where it functioned well in all directions.
Bigger sailboats come equipped with motors for good reason!
Most rivers are charted; their channels are marked with buoys for small craft travel—with areas of challenging navigation noted—as well as having launch and camping sites. Cruising guides or route maps are available through 
watersport companies and outdoor stores.
Recreational river travel by paddle is usually downstream. This can require two vehicles; one left where you launch and another waiting at the end of the paddle. We often take a v-stern canoe with a small motor, put it in downstream, motor upstream, then spend the day paddling back down.
PEI and Nova Scotia (with exceptions like the Shubenacadie and Annapolis Rivers) have small, short rivers best suited to canoes, kayaks, zodiacs or small powerboats. PEI has rivers fed by groundwater sources that tend to stay cool and flowing over the summer season.
Nova Scotia's rivers, by nature and assisted by 300 years of poor land use, usually dry up significantly over the summer. Once spring runoff disappears downstream, summer canoe trips in NS often require prior rain, or hull bottoms become prone to scraping.
Newfoundland has many large rivers where travel by boat is feasible, although propellers get nicked regularly while negotiating waterways like the Gander.
New Brunswick is the only Atlantic province blessed with large, glorious rivers that are deep and well-suited for extended boat travel.
Two top spots: St. John River and Bras d'Or Lakes
Last July we spent more than three fascinating weeks travelling on the lower reaches of the St. John River—the Gagetown Marina became home base.
Gagetown offers the services and amenities necessary for extended stays on the water; local folks helped us plan river trips, and even invited us to a strawberry social.
On the river we were frequently startled by sturgeon the size of humans that rocketed, head-up, out of the water near the boat. The occasional black tern sculled by on the wing; bald eagles, ospreys and ducks tended to young families as we cruised along. I even caught a muskellunge!
At the Rothesay Yacht Club, after admiring a 1937 Chester C class sailboat in the next berth, I met its owner and was soon invited home to dinner.
Ryan Green, commodore of the Rothesay Yacht Club, considers the Bras d'Or Lakes, Cape Breton, one of the best cruising destinations in eastern North America (along with the St. John River, of course.) I concur. Wind-driven waves are usually limited to a chop on this inland sea. On a good day you can launch on the Bras d'Or Lakes from just about any gentle-sloping shore, with friendly, helpful marinas and boat yards to be found at Baddeck, Dundee and St. Peter's for cruising boats.
The scenery is gorgeous, from looming highlands to gypsum cliffs, offset by turquoise water; you can watch oysters and starfish below, while bald eagles soar overhead.
What a vacation!