How did Saltscapes get started? Journalist Eleanor Beaton looks behind the scenes.
For more than 200 years, Atlantic Canada has been a promised land for many, including oppressed Scots. Of course, oppression comes in many forms—in his youth in Edinburgh, Jim Gourlay may not have endured the religious and economic oppression experienced by his forbears who settled here. But as a young, passionate angler, he was routinely chased off private waters by gamekeepers, which ignited a smarting sense of injustice. By the time he was 20, he had decided he would fish where he wished, come hell or high water.
He would have to relocate, to an English-speaking country—with good fly fishing opportunity and open waters. Unable to choose between Canada and New Zealand, he flipped a coin. And so it was that Jim Gourlay and his fishing gear landed at the Halifax International Airport on January 4, 1968, but with neither funds nor connections to recommend him.
Forty-two years later, on the eve of the 10th anniversary issue of Saltscapes, which he launched with his Nova Scotia-born wife, Linda, Jim recalls the beginning of his love affair with the region. He particularly values the remoteness of Labrador, where he has actually spent time all alone.
"To be able to stand in a place where the closest human being is 80 miles away; where there are more black bears than people—it's a uniquely Canadian experience. And for a kid from Europe, it was almost inconceivable."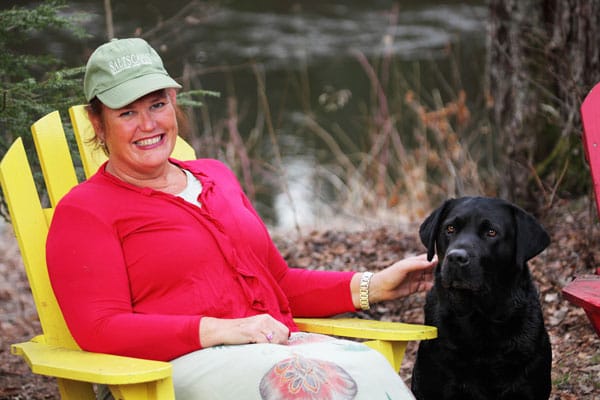 Years passed: he built a career as a journalist and raised a family. The more he fished and travelled, the more deeply he fell in love with his new home—and the more passionate he became about wildlife conservation.
He and former business partner (now Progress publisher) Neville Gilfoy launched a conservation-based hunting and fishing magazine for Atlantic Canada, Eastern Woods & Waters, back in 1985. It was an immediate success.
In the late 90s, another big dream took hold: to launch a regional lifestyle magazine, celebrating the people, traditions and natural environment of Atlantic Canada.
At the time, Jim had 30 years in the media business, with stints as a reporter and editor with the Chronicle Herald, and later as the editor of his own magazine.
Linda Gourlay, on the other hand, was an experienced and competitive professional who had cut her teeth in tourism and marketing, and was at the time assisting Halifax developer Ben McCrea market his iconic downtown development, Historic Properties, as well as the Dartmouth Ramada hotel.
"He taught me to be tough in business," Linda says.
But while Linda was a tough negotiator and a talented marketer, she admittedly knew nothing about publishing.
Magazine circulation guru Faith Drinnan, who has worked with Jim for 25 years, recalls: "She would come up with these outlandish ideas for building readership and marketing the magazine that shocked Jim and me. We were skeptical—sometimes we even laughed at her, but some of her ideas actually worked."
With Jim's skill in editorial content, Linda's finesse in sales and marketing, and Faith's experience in circulation, the fledgling publication had its primary pillars in place. But if the Gourlays and Faith were confident in their skills and their ability to produce, market and sell a general-interest East Coast magazine, lenders were wary.
"After the collapse of a high-profile magazine (Atlantic Insight)," Linda says, "we had to prove our business case beyond a reasonable doubt."
By this time, Linda had quit her job with the development firm and had turned her attention to the new magazine full-time. At home, with a combined family of four kids, the Gourlays economized, reducing their salaries and plowing money back into the business instead.
Eventually, they secured funding to conduct a landmark market research project in which Atlantic Canadians were surveyed about their willingness to read and support a lifestyle magazine that celebrated the region. The response was overwhelming, and the Gourlays and a new staff group launched their premiere issue in spring 2000.
Sipping a glass of water in the boardroom of their Bedford, NS, office, Linda reflects on the journey that has unfolded between the magazine's first issue and the company's position today, with six publications and a successful consumer show to its credit.
Saltscapes is also in the process of partnering to expand its brand into commercial real estate, with plans to launch highway-located restaurants and gift shops, as well as inns, in locations across Atlantic Canada over the next few years.
It's been an exercise in focus, sacrifice and in Linda Gourlay's case, an abiding commitment to support. "I saw in Jim a fiercely talented man with a mission who needed a person with my strengths to propel him toward a really strong business model," she says. "He's the jaded journalist and I'm the people person. We make a good team."
A former competitive swimmer whose brisk, upbeat demeanor belies a steely business resolve, Linda's instincts have been one of the driving factors behind the magazine's popularity.
"We're always looking at new ways to build a critical mass to support our editorial mission," she says.
In addition to the specialty publications, the company launched its consumer show, Saltscapes Expo (Linda's initiative), in 2006. That year the show attracted 110 exhibitors and 7,000 visitors. Today, there are approximately 380 exhibitors and 20,000 visitors.
It hasn't been easy, Linda says. Bi-monthly trips to Toronto to woo national advertisers, forging relationships with Atlantic Canadian firms to create custom publications, and a constant focus on building a flagship publication that serves and connects with almost 300,000 readers, have all played an important role.
But if the Gourlays have focused on being loyal to the interests and tastes of their readers, their loyalty hasn't stopped there, says production and creative director Shawn Dalton, who has worked for Saltscapes for the past six years.
"There's a genuine feeling of support for the people who work here," says Shawn, who juggles design, production and scheduling for all the firm's publications. He points out that the best reader letters are circulated to the 14 full-time staff members, who feel, he says, that they too have a stake in the company. "It's not only about how well we are serving our readers, but how well we are serving each other."
A few years back, the Gourlays built a riverside retreat a 40-minute drive from their Bedford office. A one-time woodsy cottage that has been expanded, the home has become a refuge for the couple.
"Living where we do, we feel a powerful sense of connection to place," says Linda. In the mornings, she rises early and walks their three dogs, then spends a quiet hour in the home office until Jim, a night owl and late riser, is ready for the office. After work, Jim may take his boat out on the river for a cast or two before dinner, which they share with their neighbours a few nights a week.
This simple, unpretentious home life, underpinned by a connection to nature and community, grounds the Gourlays, firmly linking them to the lifestyle the Saltscapes team illustrates in each issue.
"Our relationship to our readers is not only our main focus, but also our competitive advantage," says Linda.
And while the company seems most definitely the Gourlays' baby, one gets the impression that for Jim Gourlay in particular, each issue is a love letter of sorts, composed to the people of his adopted home who have enabled the Scottish transplant to make a life, raise a family, grow a business—and fly fish in peace.