A living legend of harness racing looks back on the heyday of his sport
Clark Smith has been around race horses his whole life. His father was a trainer and driver, and all of his five brothers were involved in the racing business in one way or another. Clark started out in PEI, then was based in Sackville, NS, Saint John, NB, and Hamilton, Ont, before returning to PEI in the 1990s.
By the time he stopped racing, in 2008, Clark had racked up more than 2,200 career wins—and had seen a few changes to Island harness racing along the way. It was once a hobby, a friendly competition between friends and neighbours for bragging rights, dating back to the 1850s; in winter, race lanes were cleared on frozen rivers for organized events.
Today it's big business, but its future is uncertain: there are more costs involved in keeping and racing horses and, while harness racing and bingo used to be the only games in town, the betting public now have more and more options.
Although Clark is now retired from driving, he still owns one horse and trains six others on his farm in Oyster Bed Bridge. His home is filled with racing memorabilia, and during our conversation he would frequently point to a photo, or ask his wife, Dottie, to pull one off the wall so we could get a better look at it.
Clark and Dottie both grew up in Hunter River, PEI, and met in Grade 2 (he used to sit behind her and poke her through her sweater with a sharp pencil). Although she's married to one of the Maritimes' greatest harness racers—a member of the PEI Sport Hall of Fame—Dottie says she "wasn't a horse lover at all."
MY FATHER, CYRIL, trained and drove horses. I worked with him for three years and then, in 1952, I went to work for a fellow named Stanley Mayhew, who had one of the biggest outfits in the Maritimes. I think at one time he had 100 horses, but I didn't take care of all of them. I had one of his stables. It was my job to train horses and race them and do as good as we could do with them.
When I worked with Stanley Mayhew, I worked for wages, and it got so the wages wasn't good enough to make a living. So after seven years, I went out on my own and opened what you call a public stable. That's when I started making a good living. At one time I had 15 horses and 12 owners.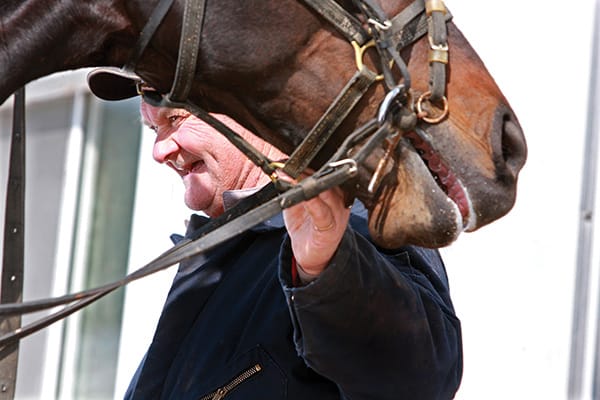 My father would give me tips, probably right up to the last day he lived. If he saw me doing something wrong in a race he had no trouble telling me. If he'd see me out training a horse and the horse wasn't doing things right, he could pick it out. He would come down and say, "Look, Clarkie, that horse is hitting himself and you'd better change his shoes, let his harness out, or take his head up or down." Dad had a great knack at picking up on what a horse really needed, and I think it passed on some to me and my brother Elmer. [Elmer Smith spent most of his career in the US and was inducted into the New England Harness Racing Wall of Fame in 2009.]
When I started out with my dad, there were racetracks in Charlottetown, Summerside, Covehead, Montague, and Vernon River—it was known as Riverside. There were five tracks where you could race a horse once a week. Now there's just two: Charlottetown and Summerside.
It used to be that when you went to Covehead it would be so dusty that you couldn't see the horses probably for a quarter of a mile. Any country racetrack was always dusty back then, but I would have to think that the dustiest racetrack I ever drove on was Riverside. Oh God, the dust.
I also remember racing on the ice in North River, right on the causeway. Just a quarter of a mile straight ahead. It would be cold, and people would bet a total of $8,000-$10,000 just on a quarter mile straight race. Anybody that would go out and stand on ice for a whole afternoon and watch quarter of a mile races, they had to love it.
Elmer and I tried to beat Dad as much as we could, and that wasn't easy. I don't know how many races he won in his lifetime, but I'd say half of them he never carried a whip. He didn't believe in it.
If you were driving a person's horse and used the whip too much, you heard about it. Not just from the judges but the owners too. Nowadays if you don't whip them the owners think you're not trying.
Back in the '50s and the '60s, I had owners—like a doctor or a dentist or a lawyer—who had a horse for a hobby. And if they came close to making their expenses back, that's all they wanted. They never had a horse to make money. Today the expenses have gone so high it's not a hobby no more. Fuel, vets, feed, harness, transportation: it's all just gone out of sight.
Here's a photo from August 14, 1959, during Old Home Week in Charlottetown. That's my brother there winning, and that's me finishing second, and that's my father finishing third. We always had good luck at Old Home Week. It was a thrill, because you drove against all the best drivers and the best horses. I was the leading driver in Old Home Week seven times, and I must have raced in at least 14 Gold Cup and Saucers [one of the top harness racing events in Eastern Canada]. I came awful close a few times, but never could win it. And I had lots of chances.
The biggest thrill I had was when I won my 2,000th race. That was a pretty big deal. And it took me at least 10 races to get from 1,997 to 2,000. It seemed the more I tried, the harder it got. After I got to 1,999 I had three more races to go on the same day. The next two were disasters. Then I had a horse I didn't think had a chance at all, his name was Regal Time N, and I ended up winning with him.
I was in the business 50 years, and I probably spent half that time at the racetrack. We had a tack room with bunk beds in it and there'd be two people staying overnight: one of your workers and yourself. I would stay there during the week and come home on weekends.
I spent seven years in Ontario, running a stable out of Flamboro Downs, in Hamilton. But I couldn't take the travelling anymore. You'd be on the road either going to a race or coming back four nights a week. It started to get on my nerves, and the more travelling I done the worse it got.
I had a good owner too. He coaxed me and coaxed me to stay. I said, "Charlie, money's got nothing to do with it. I'm going home." And I'm not sorry I did. Not sorry one bit. I think we've been home 15 years now.
I haven't driven for four years now. I'm 74. I had colon cancer and had chemo and radiation treatment for it. I came back and drove a little bit after that. Then I had a second tumour, and I haven't drove a horse since.
During my career I had about four operations—broken rotator cuff, three broken vertebrae in my back—and a couple of bad, bad accidents. I just thought I was getting too old. When you start thinking about yourself and worry about getting hurt, you can't drive as good as you used to. Years ago, the older drivers, they didn't want to get hurt. They drove a lot more carefully—like giving one another lots of room and making sure they didn't cause an accident. Sometimes I wonder if the drivers today aren't making too many careless moves.
After I had my cancer treatment, knowing that I wasn't able to drive a horse like I used to, I just made up my mind one night: I'm not going to drive no more. And that was it.
Sometimes I wonder if we had done something different what it would have been like, but Dottie says, "You wouldn't have done anything different."