Baseball has been very good to PEI's Vern Handrahan—who got off to a swinging start back in the day when kids just got a bat, chose sides and had fun
Vern Handrahan started playing baseball in 1954—a time when the game was popular in the Maritimes. A tall, lanky right-handed pitcher, he played professional baseball for a dozen years, including two stints in the big leagues—from April to June 1964 and August to September 1966—with the Kansas City Athletics (now the Oakland A's), as shown above.
Handrahan was one of the first people inducted into the PEI Sports Hall of Fame when it opened in 1968, but he didn't attend the ceremony—he was busy pitching for the AAA Vancouver Mounties team.
Now 75, Handrahan lives in Charlottetown with his wife, Ann, his daughter Amy, and his granddaughter Kennedy (whose school principal he once coached).
When I was a teenager, it was all pickup games. You'd get a bunch of guys together and play your own sports. We just had a glove and played. I was excited to have my first uniform when I played midget.
In Charlottetown, there were a lot of intense rivalries, but we had fun. There was an East End team, there was a West End team and there was a North End team. I was a North Ender. Playing was quite a lot of fun, but boy, was it serious. If your pitcher knocked one of their guys down, they would knock one of your guys down, too.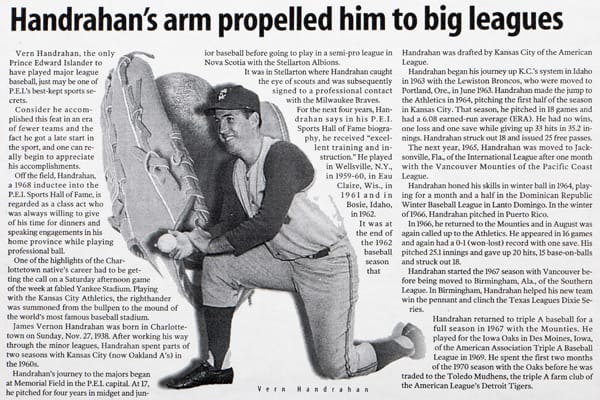 They wouldn't throw at anyone's head or anything, though. That's one thing I don't like about the major leagues today—too many pitches up and in.
The organization they have today, they had nothing like that back then. You'd get a team together and have some playoff games—a three-game series. That was about it as far as organized games went.
We had a city league here, and that's where I got a chance to pitch; I didn't start off as a pitcher, though. When I was 15, there was a guy from Boston up here running a program, and his name was Randy Edwards. We were going to have a practice game at Victoria Park, but we only had one pitcher. Three guys didn't show up. After practice, Edwards came up to me and said, "Why don't you try pitching?" and I thought, why not?
Until then, I'd played left field. The left field out at Victoria Park didn't have a fence in those days. During the practice, a fellow hit one down the line, and I went to pick it up and missed it. I went back, picked up the ball and I let her go. It went over home plate, over the screen, over the backstop. Edwards saw my arm and I guess that's why he asked if I wanted to try pitching, and that was it.
During the game, I was just laying it in there and nobody was hitting it. The rest is history, I guess.
In 1954, Charlie Ryan—he was a baseball man here—invited me, Don MacLeod and two guys from Summerside to a Brooklyn Dodgers tryout in Moncton. I worked in the outfield, pitched and hit and that was about it. The Dodgers kept in touch with me for a few years after that.
In the winter of '57-'58 I wrote letters to teams in the Halifax and District Baseball League to see if I could play for one of them. There was Stellarton, Kentville, Dartmouth and Truro [there were also teams in Middleton, Halifax, and Liverpool]. A lot of the players were American—the teams would bring young fellows up from the States. I got a letter back from Stellarton saying they were interested in local talent, so I went over to Stellarton. Bobby Lund and I and another fella—left-hand pitcher Roger Macleod—tried out. They ended up keeping me. I must have been throwing all right.
Fans really enjoyed the Halifax and District League. There were a few hundred fans at each game, and the teams all had their supporters. The players would get paid so much per month for expenses; that kept us amateurs. Back then if you got paid, you weren't an amateur and couldn't play college ball. That's how they got around it: they just gave us expenses—rent and food.
At the end of the season, we were playing the final game in Kentville. The manager and his crew didn't show up because of a flat tire, so we started the game. We were ahead 6 or 7-1, and in came the manager. I was playing right field, another pitcher was in left field, another pitcher at first base. He took us all out of the game, and we lost 9-7.
After the game, Jeff Jones, who was the scout for the Milwaukee Braves [now the Atlanta Braves], came over to talk to me. I thought he was going to give me some tips on what to do pitching-wise. The first thing he said was, "How would you like to sign with the Milwaukee Braves organization?" He didn't have to twist my arm.
After I signed with the Milwaukee scout, I got a letter from Cincinnati and one from Cleveland, but I think I made the right choice, because the Braves had a great organization then.
Once I got to spring training with the Braves—holy cow, they started from square one. All the training, all the fundamentals.
I went to spring training in 1959. They had 450 people at camp. By the end of it, we were down to 250. They hung onto me, though, and I played for them in the minor leagues.
In 1964, Kansas City invited me to spring training. April 5—I always remember these numbers—I was pitching a game against the Detroit Tigers, and we were leading, 6-1. I pitched five innings. They brought in the relief, and we got slaughtered. They sent the other four pitchers down to the minors, but they kept me.
That was one of the bigger thrills of my career—going to the Majors. I was a relief pitcher for them until June, and then they shipped me down to play AAA in Rochester, New York.
We had no union then. We didn't have agents. What they told you, that was it. Now, you walk in off the street and get $500,000 a year. I got $7,000 in 1964.
I worked hard, but still, it always surprised me that every year, somebody wanted me to play for them. I played professionally for 12 years.
Over time, managers would get fired and you'd lose your contacts. At spring training in 1971, I didn't know anybody. The team was in the middle of a youth movement, and I was in my 30s and married. I thought I should look for something else.
I'd been working off and on in the post office in Charlottetown during the off-season so I put in for a job there; I worked 30 years for them. Delivering the mail kept me in shape; you'd average 10, 15, 20 miles a day.
After I came home in '71, I was a baseball instructor down in Sherwood that summer. It was great. Two hundred some-odd kids. They used to come to the door: "Mr. Handrahan, are we going to play today?" It was cute.
Broke my heart one day when I was delivering mail over in Bunbury. There were 10 or 12 kids, just hanging around. I said, "Why don't you guys get a bat and a ball and just play a game?" One of them answered, "We have to be supervised." Just tore me apart.
When we were young, we'd get a bat and a ball and a bunch of kids, choose up sides and have fun. There was a lot of arguing, but no fighting or anything. But the kids can't do that today.
There's still a strong baseball culture in the Maritimes. We have a local team that did well in the New Brunswick league. They have a Kings County League that's flourishing on PEI, too. We have a couple of local teams—one from Sherwood and one from Charlottetown. They're pretty competitive.
There were a few guys from the Island who probably could have played professional ball. I hope there'll be another in the Major Leagues. The two kids that got killed out West, they had the potential. [Two promising players from PEI, both in their 20s, were shot and killed in Alberta in December 2011.]
You asked if I have a favourite team. Oh yeah—the Braves. I originally signed with them, see. I follow Oakland a bit, too. I used to cheer for the Yankees when Joe Torre was their manager, because he'd been my catcher one year in the minors. But mostly the Braves, and Red Sox.