"One thing I learned is never try to pressure a woman to buy something"
It's been said that the formula for living is quite simple: wake up in the morning, go to bed at night, and occupy yourself as best as you can in between.
Isadore Fine, of Moncton, has spent a lifetime occupying himself as best as he can during his waking hours—from adapting to a traumatic childhood experience, to serving his country during the war, to falling in love, and creating lasting legacies.
Pull up a chair; please meet Isadore Fine.
I was born in Rozana in Poland. Father came over to Canada in 1921; my mother and I came over shortly after. We lived in Peterborough, Ontario, in a cold-water flat, over Braund's grocery store. My dad went out to peddle. He had a bicycle and he'd buy a pack of cigarettes and would sell them one at a time for a penny or two.
In those days, they had a habit in Europe of stuffing the firebox with newspaper, putting a few pieces of wood on top, then pouring kerosene over to set it afire. My mother had long hair and one day, it caught on fire. She grabbed me, protected me in a cuddle, and ran down the outside stairs. She was engulfed in flames and died.
I was a year and seven months old. I did not know this; it was told to me much later.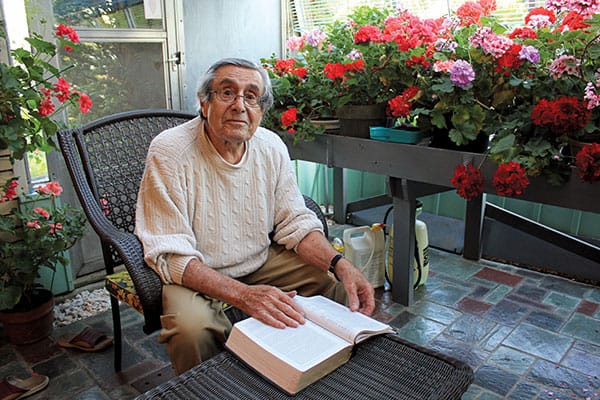 Eventually my father got married again, and along came six sisters, but my stepmother was the kind you read about in books. So I was left to myself. It was tough times; troubling times.
My father took me out of high school when I was 16 to work in his used furniture store. He said, "Isadore, I'm paying George Lustik $7 a week. He's got three kids and I hate to let him go but I don't have the money. You come with me, and I'll pay you $3 a week." This wasn't an invitation; I had to go. I'm still waiting for the first cheque!
Then the Second World War came along and, at 21, I received my call. I couldn't picture myself carrying a bayonet but there was an opening in the air force to join the radar corps. I entered the war in 1940 and was posted to Clinton, Ontario, a little village close to London where we learned how radar worked. They outfitted me with a uniform and gave me $1.30 a day. Hallelujah! I passed the course and joined the radar corps.
After a year or two, the Royal Air Force Ferry Command needed five radar experts. By this time I was stationed in Scoudouc, New Brunswick, and I was one of the five. I was sent to Elizabeth City in North Carolina. My landlady was Mrs. Williams and I lived there with her family for two years. Every morning I was picked up and driven out to the air base where we installed and serviced radar units. This was all very secretive work.
One day, I got a handwritten letter from New York. It didn't make any sense, so I took it to Mrs. Williams. She said, "Did you know you had an Aunt Rose?" I said, "No." We read the letter together. Aunt Rose had found out where I was; we agreed to meet in Norfolk, Virginia. In those days, Norfolk was like Halifax during the war—an embarkation point.
So I got time off and wore my air force uniform. She took the ferry from Cape Charles over to Norfolk. It was a sea of servicemen but this little dark-haired lady came towards me, started to cry, and threw her arms around me. That opened up a great new life for me.
I discovered that I had six uncles who were born in Poland, and my grandfather was one of the aristocrats of the village. If you had family troubles or were poor, he would help you. >
At the end of the war, I was earning only $2.10 a day but my room and board were paid for so I saved my money. One of my father's sisters, who had known my mother, said: "Remember, Isadore, to put a stone on your mother's grave," as she knew that my mother had been buried in the pauper's cemetery in Toronto. One day, my dad asked, "Would you let me pay for half?" That was the only time he ever admitted that my mother had been his wife. We put the tombstone on the grave in 1944 when I came home on furlough.
Before going to the United States, while I was stationed in New Brunswick, I read a notice saying the Jewish Community in Moncton would be entertaining service people the upcoming Friday night at the synagogue. So I went. They had a nickelodeon going in the basement and that's where I spotted this girl. She was only 16 but there was something about her; we danced. She told me later that she said to her aunt sitting next to her, "He seems awfully nice." Her aunt replied, "Hang on to him."
She went off to study at Dalhousie University but we promised to write one another, and we did—for over two years. When I came back we spent more time with one another, became engaged, and got married in Moncton in 1946.
We then moved to Peterborough and I went to work for my dad's furniture store but he still wasn't making much; I knew we had to get out on our own. At that time my father-in-law owned a building on Main Street in Moncton and it was empty. So we came back in 1947. I paid him $200 a month rent and started Fine's Limited, selling men's and women's clothing. Eventually I opened three more clothing stores, and introduced marked-down prices.
One thing I learned is never try to pressure a woman to buy something, and never go out of the way to make a sale for the sake of the commission. I also learned to hire staff who were bilingual and who had warmth towards customers. So we built up a good history of satisfied customers.
Of course, we had family—three boys and one girl. Children are everything. Ich krign naches. That's an old Yiddish saying that means "I gather pleasure—or receive good things—from my children." And, now, there are three grandchildren!
Back when I had the stores, I went to Montreal every season to buy clothes. This particular day I went by a narrow little shop, the Canadian Guild of Crafts, with windows full of cobwebs, where I could see small pieces of carved stone about the size of my fist. Inside, I picked up a little soapstone fish. It had a nice feel to it so I asked: "How much does it cost?" The sales clerk said, "Fifteen dollars." That was half a week's wages, so it wasn't peanuts. I tried to get into that store as often as I could.
Eventually the curator Virginia Watt—who knew the Inuit sculptors in the north and used her knowledge to buy with care—and I became friends. She set aside the best things to show me. So I learned and accumulated for over 20 years. It was a passion—and an addiction! These pieces were packed like sardines everywhere.
In 1990 we decided to donate the collection to the University of Moncton. We wanted to keep the collection here, and I admired what the university has done to help the Acadians. It took five years before it was approved, as it needed a security system, a proper display place and insurance.
My stipulations were that the sculptures had to have English and French names; they couldn't be taken off the grounds; the collection had to be on display at regular hours; and there could not be a viewing fee.
And I wanted my wife's name to be on the collection so it's officially called the "Esther and Isadore Fine Collection of Inuit Art." You know, not once did she ever say to me, "Isadore, I think that's enough." I loved her for that.
You see, I fell in love with my wife the first time we met; she died in my arms 60 years later. We had our ups and downs—even some arguments—but the core of our relationship was strong. When you have a marriage like that, it's just short of a miracle.