A Newfoundland engineer's key role in the historic expedition to the Earth's deepest reaches
Adam Gobi has always been fascinated by the ocean. That fascination ultimately led him to the doctoral program in ocean engineering at Memorial University, where he is now working toward a PhD in underwater robotics.
In the process, Gobi, who grew up in Grand Falls-Windsor, NL, has had a hand in one of the most high-profile underwater explorations in recent memory: film director James Cameron's solo submarine dive to the bottom of the Mariana Trench, east of the Philippines and north of Australia in the western Pacific Ocean, to explore the deepest part of the world's oceans.
A collaboration born over a beer
It all came about rather by chance. In September 2010, Gobi had travelled to the Australian Centre for Field Robotics (ACFR) at Sydney University to carry out collaborative research related to his doctorate.
Gobi's doctoral research focuses on developing artificial intelligence in the form of cameras that can interpret and "understand" what they see. With a particular interest in underwater applications, he has tailored his research to ocean-based industry.
"I envision my work being an important component of advanced ocean environmental monitoring programs," says Gobi. "There's a lot of potential for the technology to help protect the world's oceans."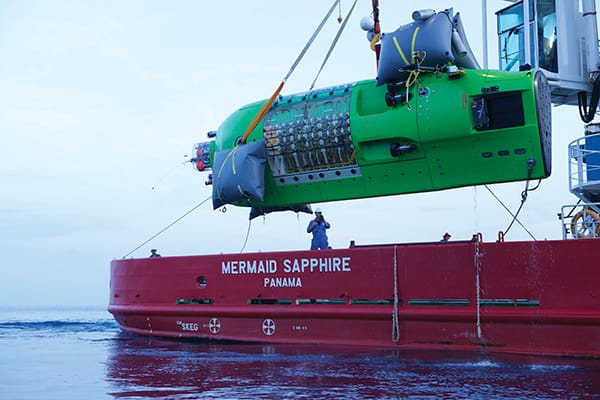 One evening, while having a beer with colleague Stefan Williams, he learned of a project that needed a collaborator with just his skill set.
James Cameron—Canadian-born producer, writer and Academy-Award winning director of films like Titanic and Avatar—was in hot pursuit of his dream to be the first person to complete a solo dive to the planet's deepest point: the Challenger Deep, part of the Mariana Trench. In 2005, his company, known as Acheron Project, began to work toward achieving his groundbreaking goal; the team of highly specialized people was based in Sydney, Australia.
Around the end of 2010, Cameron had reached a point where he felt confident in the submarine's mechanical design; the time was right to start developing the additional components needed for the dive. This included the full-ocean-depth high-definition 3-D camera systems, the world's first, that would be integrated into the submarine.
Gobi would manage the design, development and manufacturing programs to make this happen.
Williams knew Ron Allum, the managing director of Acheron Project, and on Williams' recommendation, Gobi met with Allum and his contracts manager; they agreed he was a good fit, Cameron approved their recommendation, and he was hired to join the team.
The camera systems were in fact key components of the submarine—called Deepsea Challenger—helping to pilot the vessel through the Mariana Trench, and to provide a scientific record. As well, Cameron had always intended to film his dive in 3-D, in order to share with the world the mysteries of this relatively unexplored part of the ocean.
"I felt very strongly that this was to be my next step in life," says Gobi. "It sounded incredible—a small group of maverick engineers building an advanced submarine out of an unassuming workshop in the middle of the city. It was right up my alley."
A key component
As Gobi worked, he had the pressure of a high-profile multimillion dollar project weighing on him. National Geographic had come on board as an expedition partner, with the intention that they would use the footage obtained to produce a 3-D feature film on the submarine's expedition to the Mariana Trench. Gobi knew it was imperative that his cameras function flawlessly.
"The cameras are an integral component of the sub," says Gobi. "Not only are they used to pilot the sub, but there is no other way to share what the pilot sees with other human eyes. The sub is primarily an imaging vehicle, with the intent to take the world into the deepest parts of the ocean and show, in full 3-D, what it's like down there. It's the most realistic experience you can get, without actually going there yourself."
Working closely with Cameron, Gobi designed the entire imaging pathway, which included cameras inside and outside the vessel, the internal imaging systems and displays, touch-based camera control systems, and a high-density recording system. On some dives, as many as 11 of Gobi's cameras were operating at once.
"During sea trials, which made up most of the expedition, they were just as much of a work-in-progress as the rest of the sub," says Gobi.
Making history
On March 26, 2012, Cameron made his successful record-setting dive in the western Pacific Ocean aboard Deepsea Challenger.
The team had been awake, waiting for a window in the weather, for two days. Pre-dive checks began shortly after midnight, with Deepsea Challenger beginning its dive at 5:15am. Cameron's 11-kilometre descent into the Mariana Trench took about two and a half hours; after spending another two and a half hours on the bottom, the sub made a quick ascent, in just 70 minutes.
While he was underwater, Cameron recorded important 2-D and 3-D imagery using Gobi's cameras, collected scientific data and specimens for research purposes, and set his groundbreaking record.
Meanwhile, his team, including Gobi, waited expectantly for him in a ship on the surface.
"It was amazing to know he was down there, using the technology we created, actually flying the submarine that we all, including Cameron himself, worked so hard to design and build," says Gobi. "You could feel it in the air—we were making history, it was happening as we lived and breathed. That's an extraordinary feeling."
Newfoundland work ethic
Gobi admits he owes a large part of his success to his upbringing in Newfoundland and Labrador, where a strong work ethic is de rigueur.
"It's something we're well known for," he says. "Being a smart engineer is one thing, but without that [tenaciousness] ingrained in me as a Newfoundlander, I never would have been able to push my limits as far as I did. Combine that with a deep connection to the ocean that I think all Newfoundlanders feel—the saltwater is in our veins—and I can't help but think I was born for projects like this."
Gobi returned home this past summer to put the finishing touches on his doctoral dissertation at Memorial University, which he expects to have completed early this year.
"He is very clearly motivated by his real passion to make a contribution here," says Dr. Ray Gosine, Memorial's associate vice-president (research), and one of Gobi's supervisors. "I think when he had the opportunity to go to Australia and to get involved in this broader initiative, it was all a part of a plan to return here, to bring opportunity here, and to raise the profile here."
For his part, Gobi's glad to be home. "St. John's has an exploding ocean technology industry, fully backed by the provincial government and our new-found prosperity," he says. "I hope to find opportunity here, and also to create it for others, doing what I can to bring the world to Newfoundland—and vice versa."
He reflects on the past two years, and says that the most rewarding aspects of the experience with Cameron were "making science-fiction into reality, rising to the challenge and doing something that's never been done before on a grand scale—making history.
"Deepsea Challenger was not only able to visit the Mariana Trench, but to film it in full, high-definition 3-D for the whole world to experience."
National Geographic Channel aired a half-hour television special based on this expedition entitled "James Cameron: Voyage to the Bottom of the Earth" in April 2012. A full-length 3-D feature film from National Geographic and Earthship Productions is currently in the works for release this year.