Winters in Atlantic Canada can be brutish and long, but then summer comes and we remember what keeps us here
Undated notebook entry, re. The Hardship Post
On summer mornings we'd meet in a place we called the Purple Passion, a middle-of-nowhere bridge that crosses the upper Kennebecasis River near Sussex, NB. We were the only ones who called it that. My father's friend, Len Cunningham, named it for the purple curtains in the window of a cabin beside the stream where he imagined passionate things happened. Why else would a person hang curtains that colour?
We would meet Len there to fish brook trout. The river didn't look like much with alder thickets hanging down over the banks, but when we got down in the water, there were deep pools and big trout. Len was a war veteran who fished in patched hip waders, and always chose to go downstream from the bridge by himself, even though the fishing there was tough and the walking treacherous.
After a particularly successful morning, sitting under an apple tree during a picnic lunch that involved seafood chowder and cold beer, Len brought a saying into our family that goes something like this: "Life is hell in a have-not province." Over the years, we've repeated that many times, always during the sublime summers in Atlantic Canada.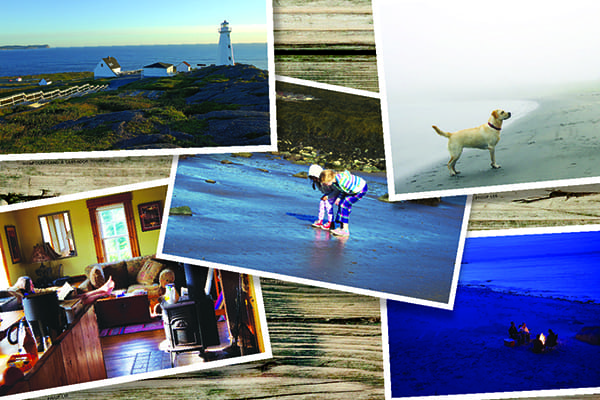 It's used, for example, after my daughter Lucy wanders into a raspberry patch, picks a bowl of berries and delivers them to our friend Jen, who makes a pie that tastes like an explosion of sweet and sour, summer sun and sky. And as I wipe my mouth and ask for another piece, I say, "Life is hell in a have-not province."
Last summer, during our usual family tour of Atlantic Canada, I started thinking about how our way of living in this season shapes us. What follows are dispatches from one summer of magical days, when time slowed down, and we found the gifts of summer all around us.
July 13, Georgestown, NL
My wife Deb, my daughter Lucy and I fly to St. John's to visit our friends Doug Cartwright and Christine Legere, who used to live next door to us in Fredericton. They moved to a neighbourhood in St. John's called Georgestown—a collection of clapboard houses perched on a hill above the intersection called Rawlins Cross. They live across the street from the Georgestown Bakery, where you can buy a warm Belgian loaf in a paper bag at dawn, and a block away from the Georgetown Pub, where you can sip a cold pint with the regulars at noon.
We arrive the morning of the annual Georgestown block party and meander down the street, which has been transformed into a flea market. Every second home has set out tables of crafts and household items for sale. Christine buys an antique high-backed armchair that we carry back and set in her living room where it belongs. My wife Deb buys knitted socks and brass candle holders. Lucy finds a set of plastic bowling pins and balls. Back on the front porch, Lucy watches Doug and Christine's friend Dave perform card tricks.
Later, we assemble in nearby Century Park, where the Georgestown Neighbourhood Association is hosting a barbecue. We pull on sweaters, sit on blankets and eat plates of barbecued chicken and salads, listening to fiddlers play, and young women sing, then walk home to sleep in an upstairs bedroom with the windows flung open to the salty night air.
July 14, Flatrock, NL
The next morning, we drive to a village called Flatrock. Many years ago when I was learning to be a newspaper reporter, I lived here, a short walk from the Our Lady of Lourdes Grotto, a shrine carved into the cliff behind the Catholic church. Pope John Paul II blessed the fishing fleet here in 1984. Today, the boats that arranged themselves in the shape of a cross in the harbour below are gone; the inshore fleet disappeared after the collapse of the northern cod, and Flatrock has become a bedroom community for St. John's.
We pull into the church parking lot, where St. Michael's Parish is hosting its annual garden party, always held during the second weekend in July, and part of the fun is raising money with gambling wheels. The crowd buys paper tickets to win prizes and cash, and the ground is littered with spent tickets. We join the game but can't buy a winner. Inside the community hall they're serving tea at tables draped with white linens. For $10 you can eat your fill of a home-baked dinner and sweets, or buy a boxed lunch to go.
We drive further down the coast to Pouch Cove, where Deb once lived in a cottage built on an edge-of-the-world bluff, and walk out on the cliffs to watch the big seas crash into the shore.
We conclude that everything, and nothing, has changed.
July 15 and 16, Bay Bulls and Cape Spear, NL
The next day, we drive south to Bay Bulls and climb aboard the Mullowney's Puffin and Whale Tours boat. Ours is first of the whale-watching fleet that afternoon to find a pod of humpbacks that dance for us, flipping their tails and waving white dappled flippers as they roll. When other tour boats arrive, we retreat behind an island to watch puffins dive into the blue-green water chasing silver capelin, flapping their stubby wings to splash back out of the waves.
On our last morning on the island, we wake up early and I dash across the street to the bakery and buy a bag of warm chocolate croissants. Christine pours coffees into travel mugs and Doug drives us to Cape Spear, the most eastern point in North America, where the wind is howling a gale, bending the tall grasses and kicking up white caps.
We watch a brave sailor in a catamaran with only a jib reefed tight, riding the waves around the corner. Lucy throws out her arms to see if the wind will lift her into the sky.
July 21, Nashwaak River, NB
Back in Fredericton, my two nephews and my niece, who live in Nashville, and my brother, who lives in Toronto, have arrived for the weekend. We're deep into summer and it's hot, the kind of brain-melting heat that settles in the St. John River valley every July. We suggest a day of tubing on the Nashwaak River. The Nashville cousins claim they have been tubing before, but we discover they mean being towed at high speeds by a power boat. We mean tubing New Brunswick style.
I telephone my friend Marty Stewart, a fishing and hunting guide who runs a summer business called Taymouth Tubing, and reserve our tubes. My daughter Gabby and her partner Brendan are coming with us and want regular tubes, which are basic black inner tubes. I reserve some regular, and some deluxe tubes, which have back rests and cup holders, and a cooler tube. We arrive at Marty's home, strip to our bathing suits and layer on sunscreen while Marty loads the tubes on a trailer. We pile into his van and drive upstream where he lashes our cooler filled with sandwiches, chips, beer and cold drinks to a tube, and offers instructions about river flows. We push off.
For the next four hours we float, pulled by the current and July breezes, cool for the first time in days, gratefully off the clock. We'll get there when the river decides it's time.
August 3, Kingsburg Beach, NS
We leave Fredericton in the morning, the car loaded for fun, and by late afternoon arrive at a cottage we've rented at Kingsburg Beach on the south shore of Nova Scotia. Kingsburg is an old fishing and farming community near Riverport, about 20 minutes from Lunenburg. The cottage was once a one-room schoolhouse that was renovated years ago by its now-owner John Duckworth, who lives next door. It has a kitchen and loft, a wood stove and shelves filled with books we want to read. There's no lock on the door.
We'll spend two weeks exploring the shore. The beach out the back door most days is deserted, except for a Labrador retriever we call 'the mayor,' who supervises our walks. We have bonfires and swim in warm saltwater ponds. In the back of the cottage is an old graveyard that casts long shadows at sunrise.
August 10, Lunenburg, NS
A crowd has gathered on the wharf in Lunenburg where the PEI trio, Ten Strings and a Goat Skin, are roaring through a set. Jesse Périard, and brothers Rowen and Caleb Gallant are playing "Vive La Rose," an 18th century French folksong about unrequited love. We've been coming to the Folk Harbour Festival for years, and listening to great music at the wharf concerts, while the sail boats slip by, creaking in the wind, are what I look forward to most. Ten Strings and a Goat Skin is a favourite this year, and Lucy has her photograph taken with the band. We walk up to Salt Shaker Deli, where we sit on the patio and eat steamed mussels and fish cakes. We meet another performer named Rob Lutes, a wonderful singer from Saint John, by way of Montreal. Deb and I take turns holding his baby girl while he and his wife eat dinner.
On our last night in Nova Scotia, we leave the Kingsburg cottage in search of dinner and stop at the Rose Bay General Store, which rents DVDs, sells good wine and has a small diner. The chef (yes, there is a chef in whites in the back) has ratatouille on special. He emerges from the cold room with an armload of local vegetables and begins chopping. The results, served with a side of bread from the nearby LaHave Bakery, are sublime.
August 25, Mac's Beach, NB
We know summer is slipping away, so we make a last dash to the sea. Four decades ago, my grandfather, a railway man from Alabama, bought a white two-story fisherman's house beside the Bay of Fundy and gave it to my mother and father. I've been spending summers there since I was a child, and it's here that we will close this season. My daughter Gabrielle, who is now in her mid-20s, was the one who started the tradition of beach walks in our pajamas. She would wake up, inform us that the tide was low and that we needed to walk when the beachcombing was at its best. She told us to stay in our pajamas, that we had no time to waste.
On this morning in late summer we wake up to low tide, and Deb, Lucy, her friend Josie, and I, accompanied by our old mutt Joey, strike out across the rocky shore in our pajamas. Lucy and Josie discover golden sand dollars on the flats and then a small cave on the cliff where they huddle to play imaginative games while Deb and Joey nap on the warm stones. When the tide turns, we reluctantly return to the old house for breakfast in wet PJs. The air has already turned and we mourn the end of another Atlantic summer.
Undated notebook entry, re. The Hardship Post
A problem in our have-not, Hardship-Post world is that with all the talk of what we need, we too often forget to see what's in front of us. Len Cunningham reminded us of this, and so we say, "Life is hell in a have-not province," and think of him.
When Len died, my father, a Presbyterian minister, gave the sermon at his funeral. He chose John 21, the story of how Jesus tells his disciples, who were fishermen, to cast their nets on the other side of the boat. When they do, they fill nets that have been empty all day. With apologies to my father and the theology of John's Gospel, it seems to me that summers in this Hardship Post are about casting our depleted nets on the other side of the boat and filling them up again. Then we're ready for the change of seasons, and whatever else life throws at us.
I remember that my father closed his sermon for Len by noting that when the disciples came to shore, Jesus was there with a fire burning, grilling fish. My father suggested that Len was on his way to this shore. I would add only this: If there is a heaven, it probably looked familiar to Len when he arrived—a lot like a summer morning downstream from the bridge at the Purple Passion.
Philip Lee is a New Brunswick writer and professor at St. Thomas University in Fredericton. He has lived in Atlantic Canada for more than four decades.