Great gadgets for gift-giving
It's that time of the year again when our favourite foodies are tucked into bed with visions of kitchen gadgets dancing in their heads. And if the kitchen section at your favourite store makes you go glassy eyed; fear not! This list takes you from the lux through to the low-end in culinary gadgetry; whichever way you decide to go these items will make the queen of your cuisine or the king of your kitchen very happy on Christmas morning.
Sous Vide, which is French for "under vacuum" is a method of cooking embraced by both experienced and novice cooks. This method involves placing food in a sealed plastic bag, adding it to a pot filled with water with the precision cooker attached. This process locks in both flavour and moisture and presents amazing textures. Your foodie may not be a professional but now he or she can cook like one! Available at Home Hardware $130.
2. Cheese Wire
A cheese wire, sometimes called a harp, is a great gift for your favourite cheese lover. It is ideal for soft cheese such as gorgonzola or brie. Once the rind of the cheese is scored with a knife, the cheese wire is used to give a beautiful clean cut. Unlike a knife it won't place undue pressure on the surface, ensuring that the cheese retains its full height and volume. Fine retailers $12.
3. The Acadian Kitchen by Alain Bossé
It's my pleasure to invite you along on a nostalgic trip where we will visit not only my mother's Acadian kitchen by my grandmother's as well. Growing up I thought that the food that my mother cooked wasn't on par with what my friends were eating—they had pizza, take-out chicken and spaghetti from a can! It wasn't until years later that I realized the home-cooked meals that my mom prepared each day were an act of love and a gift to be treasured. This cookbook contains some of those recipes along with many others that are influenced by the Acadian deportation. Acadians show their resilience and pride in vibrant culture by adapting their well-loved foods to the new and often unknown ingredients that they were forced to work with. Available online in the Saltscapes store, amazon.ca, Chapters and Indigo $35.From our homes to yours, we offer a few Christmas recipes, and we wish you joy, rest, and time to read...and eat and drink!
4. Mini Green Egg
This gift is for the apartment-dwelling foodie who has long coveted an iconic Big Green Egg but simply didn't have the space for it. The Green Egg Mini is a table-top version that offers space saving without sacrificing any of the features that have made this product a long-time favourite with anyone serious about their grilling! Available at Green Egg retailers (for a complete list visit www.biggreenegg.ca) 39lb Mini $699/76lb Mini Max $899.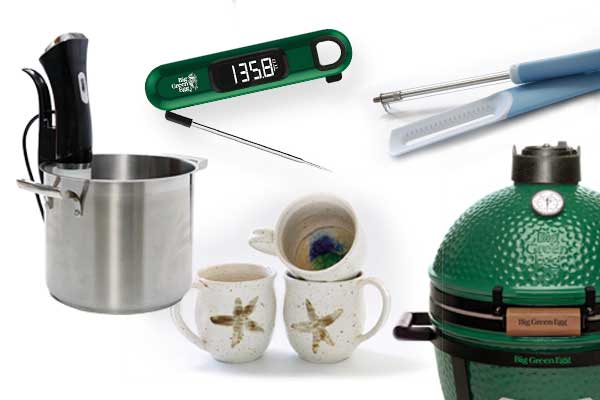 5. Cake Tester
It's true that cake testers aren't new to the market. You might not think there's anything exciting about this one; unless like me, you've been found rummaging through an overcrowded utensil drawer trying to find one while the oven timer screams in the background. This cake tester from Trudeau is one of those "why didn't they think of that sooner" items. What I like about this one is that it folds into a fairly substantial, hard plastic sleeve, making it easy to locate in the drawer. I also plan on popping one into my MIL's stocking as the larger grip surface would be perfect for someone with limited finger mobility. Available at kitchen retailers $5.
6. Big Green Egg Thermometer
If your favourite foodie is one of the many already enjoying a Big Green Egg, then consider an official Big Green Egg accessory such as their new instant-read thermometer. This quick-read thermometer allows you to accurately measure internal temperatures in seconds and comes with an extensive chart of temp guide so that you will never over- or undercook food again! It has a fold away stainless-steel probe, easily switches from Fahrenheit to Celsius, and comes with a storage case. Available at Big Green Egg retailers (for a complete list visit www.biggreenegg.ca) $158.
7. Pottery Mugs by Sara Bonnyman
My wife declares, "These mugs make my beachy soul happy." The beautiful hand-thrown pottery mugs are embellished with a starfish on the side, but the real surprise is inside. Potter Sara Bonnyman adds finely ground beach glass to the bottom of each mug before glazing and firing them in her kiln. The result is a unique and lovely pop of colour, making each mug a little different. Available in taupe or blue, these can be purchased at various retailers throughout the province or at Sara's studio in Tatamagouche, by appointment during fall and winter. $32 each.
8. Espro Coffee Press
How many reasons are there for loving this coffee press? To begin with, it brews fabulous coffee, mainly due to the double filtration system. It's a thing of beauty with its simplistic and streamlined appearance in stainless steel. While it is priced at around $150 this press is a lifetime investment—no shoddy workmanship or cheap materials here! It's also insulated to keep coffee warm long enough for you to enjoy every delicious drop. It's also made in Vancouver. Available locally from Mack Restaurant Equipment in Stellarton, NS or online at www.thebay.com.
9. Gravy Separator
No more standing over a hot pot trying to ladle the fat from your gravies, stocks or sauces. Simply pour your finished product into the separator, allow the contents to sit for 5 to 10 minutes, and once the fat has risen to the top, simply pour it off. The separator will ensure that the fat (and calories) stay behind leaving you a high quality, flavourful product. Available at kitchen retailers for around $10.
10. Rondeau Pan
The rondeau has long been a favorite of chefs, but its versatility makes it perfect for home use as well. This pan is sometimes referred to as a brazier and has a wide bottom with shallow sides. It can be used for almost any task such as searing, braising, poaching, boiling and oven roasting. Look for one made from stainless steel with a heavy bottom. Starting at $79.