For many Atlantic Canadians, Ganong candies are a cherished Christmas tradition
When you think of Christmas candy, what comes to mind? Chocolates may be the obvious one but many people in Atlantic Canada associate Christmas with colourful, glass-like ribbons of candy that rival most tree ornaments for their incandescent beauty. Or maybe you preferred the long-lasting animal suckers (the lamb was always my favourite). Then there are the addictive "thank goodness we were only allowed to eat them at Christmastime or I might never stop" candies, otherwise known as Chicken Bones. These will always hold sentimental value for me, as they were also my late mother's favourite candies.
Chances are, if you've had any of these delicious confections they came from the Ganong Bros. Limited chocolate factory in St. Stephen, New Brunswick. I've seen many imitators emerge over the years but none come close to what's produced in this magical place.
Rich Heritage
Started in 1873 by brothers James and Gilbert Ganong, the factory has the distinction of being Canada's longest operating independent chocolatier. In the tiny town of St. Stephen, the factory's iconic steam whistle still sounds twice a day.
The factory has a rich and innovative legacy; they were the curators of many "firsts" in Canadian history. They were the first chocolatiers to emboss their chocolates with their company name, using a process that was patented by Gilbert Ganong. They were also the first company to market their suckers on wooden stick—in fact the first stickers were actually butcher's skewers—and they were also the first company in Canada that was able to produce lozenges after they purchased a lozenge machine from Europe and had it shipped to their factory. This turned out to be a good investment and demand even warranted the company having a dedicated lozenge maker. I'm sure readers are familiar with the iconic "pink peppermint," which is what Ganong referred to as a lozenge, and they are another personal favourite.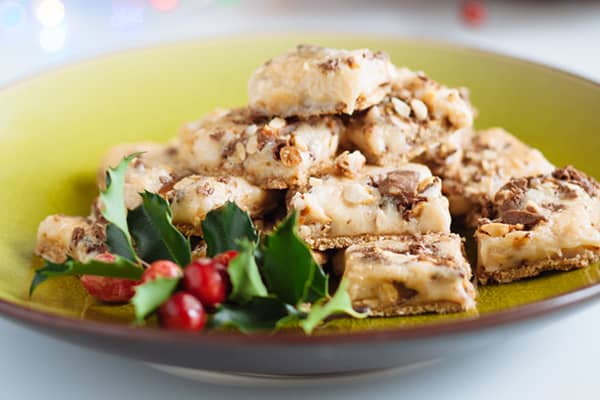 In 1885 Ganong candy maker Frank Sparhawk came up with a combination that customers found irresistible: a delightful blend of cinnamon-flavoured candy surrounding a bittersweet chocolate centre. In the 1800s Ganong candy makers were introducing candies every month that had unique names. Sparhawk decided to call this particular candy "Chicken Bones." The exact reason why it's called that remains a mystery but it's thought that it is because the candy resembles a 'bone' filled with chocolate marrow. Ganong stayed true to the candy's sweet roots and has continued to use its whimsical name for more than 130 years. The delightful candy with the unique name has been a long-standing favourite with most people, so much so that more than 700 million of them have been produced. (I have to say they're a favourite with 'most people' because there seems to be strong opinion on both sides: Chicken Bones are either fervently loved or strongly disliked. Either way, these confections are uniquely Canadian and we can be proud.)
In 1917, the company began marketing their line of chocolates under the brand name Delecto and while the packaging has varied over the years (Ganong was the first to package their chocolates in the iconic heart-shaped box) these chocolates, along with Chicken Bones, have withstood the test of time and are synonymous with the Ganong brand. Today the most popular chocolates are milk caramels, peppermint creams and peanut clusters.
Mail order has become an important part of the growth of the Ganong legacy and it means that these sweet treats are accessible all around the world; in fact Chicken Bones have been sent as far away as Australia! And for those traveling to St. Stephen, I encourage you to visit their chocolate shop at 73 Milltown Boulevard.
Christmas Tradition
My wife Johanne and I were reminiscing the other day about how special these treats were, because they were associated with special occasions and holidays. While you can now buy Chicken Bones any time of the year, for me they are a Christmas candy and seem to taste best during the holidays. Johanne pointed out that grapes were another treat that in her home were only ever associated with Christmas, or if someone was in the hospital.
I think that in today's "click today for delivery tomorrow" world, chocolate- covered cherries and Chicken Bones will, for me at least, remain a special holiday tradition.
Besides no matter how hard I try, Chicken Bones at the beach just doesn't compute.
Recipes