OpenEats, PEI
Megan Beairsto spent much of her formative years in her grandmother's kitchen, while her parents worked. Even as a child, Megan had a love affair with food, something she totally credits her grandparents for. Her maternal grandfather was a fisherman, so supper at their house was fresh seafood, new potatoes; her nanny's fresh biscuits with good cheese and molasses. Her paternal grandmother is from Newfoundland, so Megan was eating partridgeberry jam and Jiggs dinner at the age of six. To this day, Newfoundland style salt beef often appears on her menus.
After graduation Megan still hadn't decided on a career path so she took a job cooking at a diner. The food was less than glamourous, but it was homemade and Megan discovered that she really enjoyed cooking. A year later she enrolled in the Culinary Institute of Canada. As part of her education she did an internship at Domaine de Grand Pré in Wolfville, apprenticing under chef Jason Lynch. She says, "It was the first place I ever worked where ingredients just showed up in the morning from farmers and got transformed into beautiful things that people paid a lot of money for that night for dinner."
Her apprenticeship completed, Megan and her partner Edward spent close to five years working in Newfoundland but returned to Prince Edward Island with the birth of their son Frederick. As maternity leave was ending Megan responded to a vaguely-worded ad on social media from Alex Clark, who was opening a small restaurant in Summerside's downtown core. Megan has been executive chef at his restaurant, OpenEats, ever since. She says that there's not one day where she wakes up and thinks, "I wish I didn't have to go to work today."
Q What inspired you to become a chef?
A Not having the attention span to sit behind a desk all day. A general fear of monotony. Maybe sprinkle in a little self-loathing; pretty much an ideal candidate for the industry.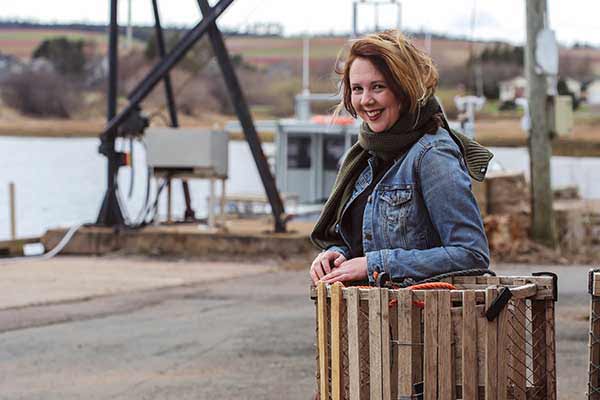 Q What's your favorite meal?
A Is cheese a meal? I don't care if it is—my answer is cheese. "Cheese" could probably be my answer to every one of these questions.
Q Who do you look up to?
A I think chefs who are also parents are the backbone of our industry. Feeding mouths for a living at work and then feeding mouths at home, there's no down-time. Our brains aren't just bogged down with "what do I need to order from my fish guy today?" but also "how am I gonna slip out for an hour before service tonight to take my kid to his dentist appointment?" Finding a good balance can be rewarding, but difficult.
Q What accomplishment are you most proud of?
A I always feel very honoured when an intern wants to apprentice with me. This season I have an intern working really closely with me as well as an awesome high school student who's been accepted into the CIC next semester.
Q What is your favourite ingredient to work with?
A Tomatoes! Nice, sunshine-grown August tomatoes. Not depressing imported middle-of-winter tomatoes. And mushrooms. There are so many cool mushrooms that grow here in the fall.
Q What do you see as upcoming trends in food?
A Food-wise, I think fermentation will be a big thing; kombuchas, yogourts. Restaurant-wise, I think we're going to continue to see a lot of pop-up restaurants. Beverage-wise, I don't think there is an end in sight for craft beer, and I'm A-okay with that.
Q Do you have any cooking tips you could share with us?
A Buy from local farmers—they keep us fed, so it's only fair that we keep them fed. It's gonna taste better if it's coming from an hour away as opposed to across an entire continent.
Q Do you have a favourite cookbook?
A Any vintage Women's Institute cookbook. There are recipes in them from women who had to use the most basic ingredients and stretch them to feed huge families; that's inspiring!
Q What do you like to do when not in the kitchen?
A I have a 3-year-old who keeps me pretty occupied, so typical mom stuff: Disney movies, evenings at the park. I also love being sassy on the Internet.
Q What is the most embarrassing thing that has ever happened to you in the kitchen?
A When I was in 8th grade home economics, I made pancakes for one of my assignments. The spatula I used was not heat resistant. My classmates ate plastic-y pancakes.
Q What do you not like, food-wise?
A I don't LOVE cilantro; a little in a fresh pico, yeah, delicious. A big handful just thrown on top of a fish taco? NO. Stop doing that.