Laura Calder. Have you heard the name? No? Well, you're going to. If you have any interest at all in food and its preparation; if you tune in to the Food Network and hear promos on the upcoming series, French Food at Home; if you hail from Saint John, NB, and keep in touch with your neighbours, chances are good that the name Laura Calder will come up in conversation.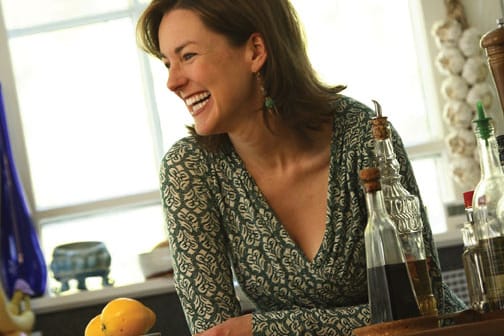 This witty, multitalented 36-year-old has already been called "the next Julia Child." And her career in the culinary world is just getting started. The secret to her budding success? Marrying two of her passions-communications and food-to create a winning combination.
Laura has degrees in liberal arts, linguistics, social psychology and cross-cultural communications. She is fluent in English and French, speaks Italian and German well, and knows some Spanish. Her writing career began as a reporter for her hometown newspaper, The Telegraph Journal. Later, she broadened her writing and editing skills in corporate communications.
Then began the next phase of her career. After receiving her LaVarenne graduate culinary diploma in Burgundy, France (1999), she became an editorial associate for Anne Willan, founder of the famous cooking school. As a contributor to Gourmet magazine, Gastronomica, The Times of London, the Wine Journal and Flare magazine, and Paris correspondent for Vogue Entertaining + Travel, of Sydney, Australia, it was inevitable that she should write her own cookbook. The result was French Food at Home (Harper Collins, New York, 2003).
Like Laura herself, her book tones down the sometimes intimidating attitude toward classical French cuisine. It takes fresh local ingredients and adds a bit of flair to produce "easy to less so" dishes to suit modern tastes.
Using recipes she collected while living in France, she added her own twitches and "personal expressions," to either simplify or dress them up to impress.
From appetizers ("I figure all guests really want is a salty nibble so that their heads don't spin from drinking on an empty stomach") to exposing the secrets of tarte Tatin ("It's better to learn tarte Tatin standing at the stove with someone walking you through it: then you catch all the tricks. So let's do it that way"), she claims some of the recipes are "so easy it's almost embarrassing."
Take Blue Cheese Pasta, for instance. While the pasta is cooking (one pound/500 g of fettuccine), melt eight ounces (250 g) of broken up blue cheese in a frying pan and whisk in a half cup (125 mL) of cream. Grind on black pepper and serve. What could be easier to satisfy four people?
Laura is also a proponent of substitution. For example, when bread crumbs are called for, she sometimes replaces half with ground almonds.
She likes playing with leftovers, too, transforming excess vegetables into flans, soufflés, and creamy soups. If she has any leftover carrot juice when cooking Carrot Juice Chicken (recipe on opposite page), it gets tossed into the pot the next time she cooks carrots.
Among other neat tricks, she adds a pinch of sugar when she seasons meat before cooking. This makes "the most beautifully browned and juicy chop you've ever tasted." And, when the mayonnaise sauce separates, she revives it by putting a tablespoon of cold water into a clean bowl and slowly, dribble by dribble, whisking it into the water. It will come together.
So, how does a young woman from the Maritimes end up in France studying and writing about French cuisine? Some of it may be due to an inborn passion for food. According to her mother, Doris, Laura first showed an interest in food preparation long before she started school.
"When she was just two or three years old I would set her up on the counter and she would sift or stir. When making bread, I would give her some dough and she would knead it into a small loaf," Doris says.
Laura remembers winning first prize in a baking contest at a Loyalist Days celebration in Saint John, when she was six years old. ?In childish handwriting, the recipe for the winning Never Fail Chocolate Cake with Peanut Butter Icing is still in one of her recipe-filled notebooks.
>"I won a bag of Hostess potato chips and a Coke can radio. I thought I'd died and gone to heaven," she says.
Today, the rewards are greater, but the work is harder. After two months of 14-hour days and six-day weeks, the filming of 26 episodes of French Food at Home, for the Food Network has just finished.
"Nobody realizes how much work goes into producing a television show. I had to come up with ideas for 26 shows, four recipes per show, kitchen tips, serving ideas, field segments, scenes of France and much more," she says.
Then there are the rewrites, the hair styling and the choice of clothes. Throw in another trip to France to do some shooting, as well as to help run summer programs at LaVarenne. She says writing the book was a cinch in comparison!
I'm ready to stick my neck out and say the Food Network has another winner. You may have to wait until January 2007 to watch your first episode, but I've seen the pilot. So I know. And what was that name? Julia who? Laura Calder is a name you will remember and trust.
All recipes are from Laura Calder's cookbook, French Food at Home (Harper Collins, 2003).
Recipes featured in this article: