Winter is a great time to put chowder on the menu, and if you live anywhere in the Atlantic provinces, it's a good bet there will be several choices of shellfish available to go into the pot. As was indicated at the Prince Edward Island International Shellfish Festival held on the Charlottetown Waterfront in September, variations of this favourite menu item are endless.
Three days of chowder competition brought out the best efforts of both local and CFA (come-from-away) chefs who donned their spanking clean whites and aprons, and very carefully dished up their entries for the judges to sample. A drop on the rim of the bowl, a smudge or a fingerprint would catch the discerning eyes of the judges who mercilessly deducted points for sloppiness, no matter how delicious was the chowder.

The Paderno Prince Edward Island Chowder Championship was open only to cooks and chefs of PEI restaurants, but attracted so many entries that it had to be held in two heats. Its popularity was probably enhanced by the fact that the winning entry would advance to the International Championship, held on the final day of the festival.

Jeff McCourt, executive chef at the Courtyard Café, Confederation Centre of the Arts, Charlottetown, took first prize with the chowder that appears regularly on the Courtyard's menu.

"I focus everything on shellfish-lobster, clams (both soft shell and quahogs), scallops, oysters, mussels and crab, and I use a potato purée to thicken it," he said after the competition. But, since people eat with their eyes first, he also puts emphasis on garnishing.

"I let the seafood come through on its own, but I add a little lobster roe, chopped chives and lemon zest and I garnish with chive essence oil, which make it appealing to the eye," he said.

Runners-up in the Paderno Chowder Championship were Darius Martin of Stanley Bridge Country Resort and Bill Allen of Peake's Quay, Charlottetown.

Judges for this event included Dr. Carolanne Nelson, of the University of PEI's Family and Nutritional Sciences, well-known chowder-maker Ken Judson, Shediac, NB, journalist Bill LaPlante, of Naples, Florida, Chef Eric King, Stephenville, NL, and your Saltscapes food editor.

And then it was Sunday, the festival's final day. Tension had mounted among the eight chefs entered in the PEI International Chowder Championship. New judges were in place with sharpened pencils and palates. As the plates were set before them, they tasted for flavour, and then considered the consistency, appearance and overall appeal of each entry. With a top prize of $2,000, responsibility lay heavily on the panel.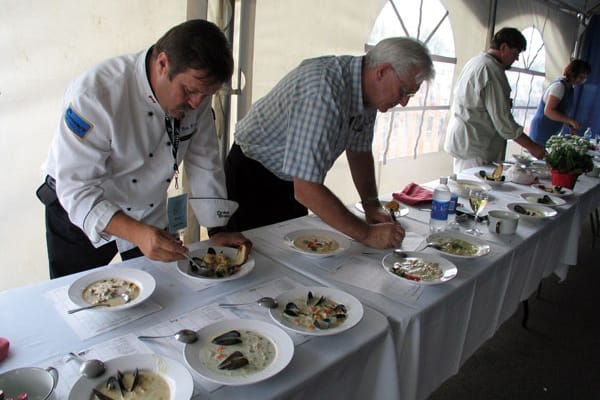 And the winner was …

John Petcoff, of Oyster Boy Restaurant, Toronto.

This come-from-away can be forgiven for capturing a Maritime prize because everything he knows about shellfish he learned during the three years he operated a small oyster bar in Cavendish, PEI.

"I make my chowders the way I learned to do it in PEI. Sometimes I use mussels and clams. I cook off the mussels and clams, fuse the clam stock and mussel broth, remove the meat from the shells, then cover the meat with the broth so it doesn't shrink up. Then I cook off the onions and celery and add a teaspoon of already prepared curry paste, which blends in easily," he explained after he was declared the winner. Potatoes give the chowder body and when he wants a sweet taste he adds a finely chopped leek and canned corn kernels. "This chowder is designed to be assembled just before it is served, and is very effectively done, either in a restaurant or in the home kitchen," he said.

Taking second place in the international competition was the Maritime Seafood Chowder prepared by Austin Clement, a chef instructor at the Culinary Institute of Canada, Charlottetown. No stranger to these competitions, Austin's chowder captured first place in the Paderno Chowder Championship, both in 2001 and 2002, and was the overall winner in the 2002 international competition. "It is the same chowder I have used for the past 10 years, in four restaurants. It competed only four times but has done very well," Austin said.

Any white fish works well in this chowder, but he advises against stirring too much after the fish is added, or it will break up and lose its texture. "For a richer chowder, finish the recipe by adding another four ounces of butter just before serving. Then enjoy, with some fresh bread and great company!"

Tim McRoberts, a chef instructor at the Culinary Institute, and head judge of the international competition, was impressed with the high caliber of the entries. "It's nice to see people coming from the United States to participate, and I hope it will eventually become global," he said. Although the competition is a lot of fun, he said contestants are very serious about the $2,000 prize.
 
"The winning chowder has a lot to be said about it. It received a very thorough judging," he said.

Other judges for the International Championship were Elizabeth Baird, food editor for Canadian Living Magazine, Dr. Jennifer Taylor, of the University of PEI's Family and Nutritional Sciences, and your Saltscapes food editor.
Oyster Boy Curried Mussel Chowder
Recipe by chef John Petcoff
Oyster Bay Restaurant, Toronto
5     pounds (2.5 kg) mussels
1     cup (250 mL) butter
1     medium onion, finely chopped
3     ribs celery, finely chopped
1/2     cup (125 mL) flour
4     cups (1 L) heavy cream
4     cups (1 L) whole milk
1     large leek
2     medium potatoes
2     cups (500 mL) canned corn kernels
2     tablespoons (30 mL) butter
2     tablespoons (30 mL) olive oil
1     tablespoon (15 mL) medium-hot curry paste (or curry powder)
1     pound (500 g) scallops

Garnish:
Sprig of fresh cilantro

First, cook off the mussels in a little white wine or water until they open. Separate the cooked mussels from the broth. Pour the broth into a deep bowl and let settle. Shuck mussels, placing meat into another deep bowl. When broth has settled, pour it over shucked mussels, being careful to avoid sediment that has settled in the bottom.

In a large pot, melt 1 cup (250 mL) butter; add chopped onion and celery and cook over medium heat for five minutes. Stir in flour, mix well and cook five minutes more. Add cream, whisking all the while, then add milk. Cook on low heat for 30 minutes, whisking every five minutes or so while base is cooking.

Trim leek, split lengthwise, wash carefully and slice thinly. Peel potatoes and cut into small cubes. In a frying pan, blend two tablespoons (30 mL) each of butter and oil. Add leek, potato and corn; cook for three minutes. Add curry paste, mix well and cook for five more minutes. (If using curry powder, cook for at least 10 minutes.) Add this mixture to the milk base and blend well.

In same frying pan, add a bit more oil and sear the scallops for one minute on each side (cut larger scallops in half first) and set aside. Add mussels and broth to hot base. Stir well.

To serve, place two or three scallops in each bowl and ladle hot chowder around them.

The chowder will finish cooking the scallops. Garnish with a sprig of fresh cilantro. Makes 10 to 12 servings.
Austin's Maritime Seafood Chowder
Recipe by chef instructor Austin Clement
Culinary Institute of Canada, Charlottetown
8     ounces (250 g) lobster meat
8     ounces (250 g) cooked scallops
8     ounces (250 g) cooked haddock, cut in large dice
8     ounces (250 g) cooked shrimp, cut in medium dice
8     ounces (250 g) cooked mussel meat, left whole
2     bay leaves
2     star anise pods
3     peppercorns
3     parsley stems
1/3     cup (75 mL) butter
1     cup (250 mL) chopped onion
1     cup (250 mL) chopped celery
1/2     cup (125 mL) chopped sweet red pepper
1/2     cup (125 mL) flour
4     cups (1 L) fish stock (used to poach the fish)
4     cups (1 L) potatoes, cut in medium dice
4     cups (1 L) heavy cream, scalded
Salt and white pepper, to taste

Poach all seafood in fish stock for about two minutes until it is just cooked; set aside, but keep warm. Make a sachet from bay leaves, star anise, peppercorns and parsley; set aside.

In a heavy-bottomed six-quart (6 L) pot, melt butter, add onions, celery and peppers and cook until limp. Add flour and cook to make a blond roux. Gradually add fish stock, whisking to work out any lumps. Bring to a simmer. Add the sachet and cook for 10 minutes. Add potatoes and continue to simmer until potatoes are tender, about 15 minutes.

Add scalded cream and seafood and stir just to combine.

Simmer five minutes more. Remove and discard the sachet and adjust seasoning with salt and pepper. Let sit for 20 minutes. Check seasoning one last time. Serve. Makes eight servings.
Jeff's PEI Shellfish Chowder
Recipe by executive chef Jeff McCourt
Courtyard Café, Confederation Centre of the Arts, Charlottetown
1     cup (250 mL) butter
2     medium onions
2     cloves garlic
2     cups grated peeled potatoes
1/4     cup (50 mL) vermouth
2     cups (500 m L) milk
2     cups (500 mL) heavy cream
2     cups (500 mL) shellfish (choice of lobster, oysters, clams, mussels, scallops, and/or crab)
1 1/2    cups (375 mL) diced potato, steamed
Salt and pepper, to taste
Tabasco sauce, to taste

Garnish:
Mixture of lobster roe, minced lemon zest and chopped chives
Chive oil (optional)
Crab potato cake (optional)

Melt butter in a large pot over medium heat, add onions and sauté until translucent. Stir in garlic and continue to sauté until onions are golden brown. Add grated potato, vermouth, milk and cream. Cook over medium heat, stirring often to prevent scorching, until potato is cooked, about 20 minutes.

In a blender, purée chowder base in batches, then return to chowder pot and season with salt and pepper.

Cook whatever shellfish you want to add to the chowder, retaining all liquid from the cooking process. Shuck and set seafood aside. Add cooking liquid to the chowder base. Add diced, cooked potato for texture. Add seafood, and check for seasoning one last time. Finish with chopped chives.  Makes 8 to 10 servings.
 

CREDIT: Bass River Chairs, Halifax Shopping Centre for china, linens and other accessories used in these photographs.