Multiple Sclerosis has put some physical limits on his daily routines, but he works out at the gym five days a week to build his upper body strength and endurance. Still, he says, he was missing some of the life skills he needed to cope with his condition, until his gym buddies recommended something called "conductive education."
Conducting life's every move
by Donna D'Amour
A big step: Keith Sherwood, who has MS, does his walking exercises with the help of Beth Brydon from the March of Dimes Conductive Education program. Brydon says one of the biggest benefits that people get from the program is improved confidence." title="A big step: Keith Sherwood, who has MS, does his walking exercises with the help of Beth Brydon from the March of Dimes Conductive Education program. Brydon says one of the biggest benefits that people get from the program is improved confidence.
Multiple Sclerosis has put some physical limits on his daily routines, but he works out at the gym five days a week to build his upper body strength and endurance. Still, he says, he was missing some of the life skills he needed to cope with his condition, until his gym buddies recommended something called "conductive education."

Conductive Education, a program of the March of Dimes Canada, offers an educational approach to rehabilitation for adults and children with neurologically based motor disorders-Multiple Sclerosis, Cerebral Palsy, Parkinson's Disease-as well as for stroke survivors, people with acquired brain injury, and children with developmental delays and a movement disorder known as apraxia, says Beth Brydon, progam leader in Halifax.

"One of the biggest benefits that individuals report is improved confidence," says Brydon. "There are also physical gains. We help people learn to walk, to roll over in bed, to develop fine manipulation skills, to reduce a Parkinson's tremor, to improve speech. It is very specific to the individual."

Sherwood says that because he had been using a power chair, he had essentially forgotten how to walk; with the help of "conductors"-specially trained rehabilitation educators-who broke the movements down into tiny parts, Sherwood can now walk for short bursts with a walker.

His first lessons involved lying on a wooden cot and doing movements that simulated the movements necessary for standing or walking. He also learned to shift his weight, roll over in bed and improve his balance. "I had difficulty rolling over in bed, so that really worked for me," he says.

He knows he will never walk like he used to, but he wants to learn to do transfers from his wheelchair safely. He adds, "If I get to the point where I can transfer to some of the exercise machines at the gym as well, that's a bonus."

He also finds the group dynamic motivating. "For an adult with MS, you've got to keep slugging, but you also have to have direction and a focus. I am getting that from this program-and the rest is up to me."

The Nova Scotia program is the only Conductive Education program offered in Atlantic Canada. To join, call Beth Brydon at (902) 444-1090. The March of Dimes covers 75 per cent of the class fee.

The March of Dimes is a not-for-profit organization celebrating its 60th anniversary this year. Support the March of Dimes Conductive Education program and have a blast at the annual Rock for Dimes on Nov. 18 at the World Trade & Convention Centre, Halifax. Information: rockfordimes.ca/rfd/halifax.


Prescription for efficiency
by Carol Moreira

Your doctor's famously bad handwriting may soon be less of a problem for your pharmacist, thanks to a new electronic prescription system that's designed to make patients safer and to save time for both doctors and patients.

MedRunner, a web-based electronic prescription platform developed in Saint John, NB, is being rolled out across New Brunswick and will be introduced in Nova Scotia by the end of the year. It allows physicians and pharmacies to send and receive electronic prescriptions, and to communicate in real time.

CEO Todd Murphy says MedRunner's technology-which was designed in consultation with a team of 12 doctors and with input from pharmacies and medical insurers-allows a physician to instantly call up a patient's file on his or her computer and view what has been prescribed for that patient in the past. The doctor can access a database of drugs to see if that medicine is compatible with other drugs the patient is taking. He or she can then order the prescription from the patient's pharmacy at the push of a button-or the click of a mouse.

Dr. Andrea Garland, a surgeon at the Saint John Regional Hospital, says the fact that doctors had input into the system has helped to make it user-friendly. She points out that the system brings up alternative medications and gives information about pricing. "So, if a patient is paying out of pocket, we can check the alternative meds and the cost."

Murphy says the program protects patients if, for example, they are hospitalized and can't speak for themselves. He adds that MedRunner will reduce prescription errors, especially when refills are being ordered, or when a patient is taking multiple drugs.
Creating a cocoon of immunization against whooping cough
by Carol Moreira

A new campaign to protect infants from the threat of whooping cough, also known as pertussis, is being launched in Nova Scotia. The focus is on immunizing parents, families and caregivers of newborns so that a protective "cocoon" can be created around the very young, who are more likely to be severely affected by the disease.

Whooping cough is a highly infectious bacterial infection that attacks the respiratory system. It can be passed on from coughing, sneezing or from simply being near an infected person.

Adults often don't realize that they need to have at least one booster immunization in adulthood in order to stay protected, says Dee Mombourquette, immunization coordinator at Nova Scotia's Department of Health and Wellness.
"Adults are often not immunized or are under-immunized, and can have the disease without knowing it, so it's easy for whooping cough to be passed on to the most vulnerable," Mombourquette explains. Seventy-five per cent of infants who become ill will have caught the infection from their caregivers.

Mombourquette says infants are at risk because when older people get whooping cough they may not get very sick; often, they don't develop the signature whoop, so they may assume they just have a bad cold.

But infants have little or no immunity. Children receive the first of five childhood vaccinations against the disease at the age of two months.

"To prevent serious illness in the youngest children, we're encouraging everyone to be properly immunized," she says.

Mombourquette says Nova Scotia's campaign is in response to outbreaks of the disease among infants in other North American communities, including in Manitoba and Saskatchewan, where five infants have died and many others have been hospitalized since 2007.

The vaccine is free for everyone in Nova Scotia.
New heart rhythm lab to benefit cardiology patients
Cardiology patients across Nova Scotia received good news in June with the announcement of a new heart rhythm lab, expected to help shorten wait times for patients with heart rhythm problems, and to help advance and support research.

The Beth Medjuck Heart Rhythm Laboratory, located at the Halifax Infirmary site of the QEII Health Sciences Centre, is made possible by a $1 million gift to the QEII Foundation from Ralph and Shirlee Medjuck. The lab is named in honour of their daughter, Beth, who was born with congenital heart difficulties, and who died in 2004.

"Heart rhythm problems can strike anybody-from young people with healthy hearts, to those with some of the most severe forms of heart disease," says Dr. John Sapp, director of Heart Rhythm Service and Laboratory at Capital Health's Division of Cardiology.

"Facilities such as our new heart rhythm lab will help us treat more people, and do it better."
Learning to live with COPD
by Donna D'Amour

Gasping for breath is an unnerving experience-and when panic sets in, it can become even more difficult to breathe.
For people with COPD (Chronic Obstructive Pulmonary Disease) this is a common scenario that often results in a call to 911; that call can then lead to an emergency room visit and a hospital admission that keeps them away from home for days or weeks.

COPD is an umbrella term that encompasses chronic respiratory illnesses such as chronic bronchitis and emphysema. It is a progressive condition, mostly caused by smoking-related injury to the lungs, in which the tiny air sacs in the lungs (alveoli) lose their elasticity. People with COPD cannot fully exhale all the stale air in their lungs, so they struggle to fill their lungs with fresh air.

Dr. Graeme Rocker is head of the division of respirology at the QEII Health Sciences Centre in Halifax, and medical director of INSPIRED, a new outreach service at Capital Health that is making a dramatic difference in the lives of patients and families with advanced COPD.

INSPIRED, which is an acronym for "Implementing a Novel and Supportive outreach Program of Individualized care for patients and families living with Respiratory Disease," educates patients and families about how to manage COPD. One of the program's goals is to help people recognize the early signs of an impending flare-up. "I help them to recognize their own particular warning signs, so they can get started on appropriate medications before they are so sick that they end up in hospital," says respiratory therapist Joanne Young.

Patients are referred to the program after they have been released from hospital following an acute exacerbation or flare-up. The 20-week program includes four home visits, two weeks apart, and three follow-up phone calls at monthly intervals.

The team also helps patients and families living with advanced COPD to plan for the future, particularly for crises that might require life support. Team members offer opportunities for patients to explore their hopes and expectations and to make careful decisions about their wishes.

Dr. Rocker says that patients with COPD sometimes become isolated because of their shortness of breath and lack of mobility. "They lose a lot of things that make life enjoyable for them," he says. "So it's a downward spiral-and while we might not be able to reverse that spiral, we try to give them some supports to provide a sense of hope for the future."

The program has already resulted in substantial reductions in emergency room visits and hospital admissions.

COPD sufferer David Smith, who has just completed the program, says that without it, he would have had to visit the emergency department at least a couple of times in the past several months. Now, he's learned to take his medications more effectively and to recognize signs of a flare-up. He also credits the INSPIRED team with giving him some control over his life again.

"This year I can go up on my roof and clean my skylights. I can cut my grass, go to the grocery store," he says. "Mentally, you cope with it better because it's been explained. Once you get the mental part beat, the physical will start to come back too."
Breast health centre advancing
Development continues toward the creation of a breast health centre at the IWK Health Centre in Halifax, thanks in large part to the efforts of more than 1,000 participants and volunteers at the 2011 Bust a Move for Breast Health event, held this past spring.

Statistics indicate that one out of every nine women in Nova Scotia will develop breast cancer. The centre, which is a joint project of Capital Health and the IWK, will enhance breast care so patients can receive services and treatment in a comforting environment.

Bust a Move, held jointly by the QEII Foundation and the IWK Foundation, got its start in 2010, and raised funds for the purchase of new digital mammography equipment. The $741,500 raised by Bust a Move 2011 will aid in the consolidation of diagnostic mammography at the IWK. A $122,000 gift from Telus's "Go Pink" campaign has brought the total funds raised for the centre in 2011 to $863,500.
Network expands to aid chronic pain sufferers
The nearly one in five Nova Scotians suffering from chronic pain will continue to benefit from a provincial network of trained primary care providers, thanks, in part, to generous donations from Purdue Pharma Canada and Pfizer Canada Inc. Each company contributed $130,000, for a total of $260,000.

The Nova Scotia Chronic Pain Collaborative Care Network (NSCPCCN), which began as a pilot program in July 2008, brings together skilled pain and addiction practitioners and a group of primary care providers for the purposes of education and clinical support. The goal of the network is to improve patient care and to reduce wait times for chronic pain patients.

"Some patients are now able to receive treatment from their family physician and not need to visit the pain management centre at the QEII," explains Dr. Peter MacDougall, physician at Capital Health and director of the NSCPCCN. "Others still need the referral, but now they are receiving immediate care and attention before they visit the centre."

The funds will also be used to expand the NSCPCCN across Nova Scotia and into other Maritime provinces.
IWK patients score big with new teen lounge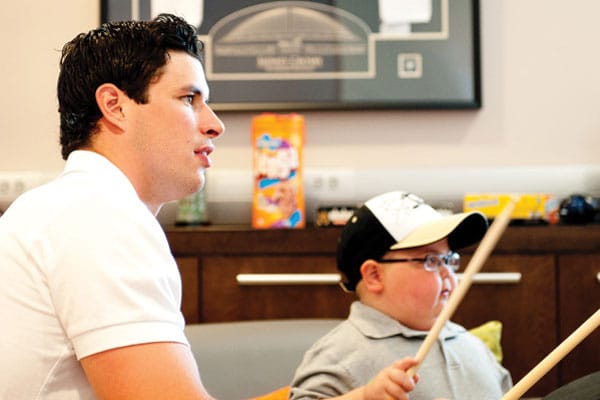 Teenaged patients at the IWK Health Centre in Halifax have a new teen lounge to enjoy, thanks to a generous donation from the Sidney Crosby Foundation.

The teen lounge is a gathering space designed to meet the unique needs of patients 12 years and older, and is a safe haven where youth can enjoy and experience some of the same social interactions and fun that their peers enjoy. It is a place for group activities that include crafts and games, and for special events like birthdays and holiday parties. It's also a place for special visitors - like Sidney Crosby, who recently came to the redeveloped teen lounge and spent some time hanging out with the patients

Teens at the IWK played a crucial role in the design of the lounge by offering ideas-through focus groups arranged by the designers-about what they thought would create a fun and comfortable environment. Suggestions included a bigger cooking area and a window bench, both of which can now be found in the new space.

The new teen lounge will greatly improve the experiences of teens during their time at the Health Centre. This project was also made possible thanks to the generous support of the IWK Auxiliary-a longstanding advocate of the Child Life program-which supplied funding for the furniture and other special touches in the room.