For a while now, I've been on a mission to find foods that are indigenous to Southwest Nova Scotia, or foods with deep cultural roots to the area. One of the foods I've discovered is râpure, also known as rappie pie. This is an Acadian dish, often served in restaurants between Pubnico and Clare in Southwest Nova. (Clare is a region made up of several Acadian villages, stretching from Salmon River to St. Bernard.)
In spite of being called "rappie pie," râpure is neither a pie nor a dessert. It's a main-course dish with a weird texture that looks rather drab. For rappie pie fans, however, the visual aspect is nothing to fuss about. We think of it as soul food.
Rappie pie is made from potato pulp (grated potatoes with the liquid squeezed out). The pulp is then mixed with hot chicken broth, onion, salt and pepper, then layered with cooked chicken in a large pan and dotted with bits of pork fat. After the dish bakes for two to three hours, the top turns brown and crispy. Râpure is usually served with butter, and can be accompanied by chow-chow, cranberry sauce or molasses.
Farther along the South Shore, sauerkraut, Lunenburg sausage and Lunenburg pudding take centre stage. A popular variety of sauerkraut is Krispi Kraut, made by the Rhodenizer family at a plant near their third-generation dairy and cabbage farm in Lunenburg. They got the recipe in 1975 from 83-year-old Hovey Slauenwhite who wanted to retire, but who would only do so if someone would promise to carry on making sauerkraut using his method.
The Rhodenizers accepted the invitation and went from growing 10,000 cabbages a year to 70,000-which they start from seed! There are no additives or preservatives in their sauerkraut: just cabbage, salt and water. And because it's not pasteurized, fermentation takes place, which means that probiotics (good bacteria) are produced. You can find Krispi Kraut at most farm markets and some grocery stores on the South Shore, in the Annapolis Valley and in Halifax. It's also sold directly from their plant in Lunenburg.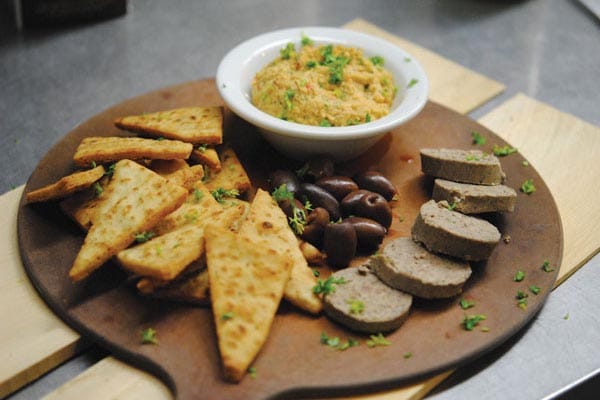 Lunenburg sausage and Lunenburg pudding are made at Foodland in Lunenburg, and at Victor Greek's Meat Market in Bridgewater. Lunenburg sausage is usually barbecued or fried, but can be prepared like a boiled dinner with cabbage, carrots, potatoes, and turnip. Lunenburg pudding is a coil of cooked beef, pork and animal organs and is much spicier than Lunenburg sausage. This "pudding" resembles a cross between a firm paté and liverwurst. It can be fried, served as an hors-d'oeuvre with crackers or eaten with bread and molasses.
Several restaurants and pubs in Lunenburg County feature sauerkraut, Lunenburg sausage and Lunenburg pudding on their menus. It's worth asking the locals who's dishing out these delectables.
My next stop is over in Gullivers Cove (close to Digby) where Calvin and Wanda VanTassel operate Fundy Adventures, a series of eco-tours with names like "Dulsing We Will Go" and "Land the Lobster."
When a friend of mine signed up for an eco-tour, she learned how periwinkles were harvested. She was so impressed with her first Fundy Adventure, she signed up for a second course.
"Wanda is able to connect food consumers with food providers, which is an enriching, fulfilling and educational experience," says Courtenay. "She's a traditional harvester who recognizes the need to share these types of experiences. She also has the gift to organize them." A bonus to the "Clam Digging Adventure" is dining on steamed clams, right on the beach.
Part of the traditional fishery in Southwest Nova is for lobster, and most restaurants serve it in some fashion. A popular menu item is the Hot Lobster Sandwich, invented by Clara Harris, who co-owned Harris' Seafood in Dayton, just outside of Yarmouth. The restaurant was world-famous during the '50s and '60s. One day, a customer asked Clara if she would prepare her usual Nova Scotia-Style Creamed Lobster, but serve it on toast. That recipe eventually morphed into Clara's famous Hot Lobster Sandwich. Now, it's a popular restaurant item for miles around.
Cold lobster sandwiches are also a big hit. (Growing up, I remember some kids who were embarrassed to bring lobster sandwiches to school because it was considered a poor folks' food. But I was happy to swap my bologna sandwich, knowing full well I was getting the better part of the deal.) For the definitive cold lobster sandwich, drive to the Yarmouth Lighthouse where fresh lobsters are cooked, shucked, cooled, then turned into hefty sandwiches like the ones I remember from my childhood.
The Mi'kmaq have used herbs and other plants here for hundreds of years to prevent illness, heal wounds and provide nourishment. Bear River First Nation Heritage and Cultural Centre has a unique medicine trail that includes plants such as Yellow Birch (known in Mi'kmaq as Nimnoq.) Its inner bark smells and tastes like wintergreen, and can be chewed for nourishment and extra energy, or used to make tea.
As you can see, my mission to find foods that are indigenous to this region has turned up plenty. May your taste buds dance for many moons.