Although economical and abundant, this fuel is not available on demand like gas or electricity
Pellet stoves appeal to many homeowners who wish to break free from the high financial and environmental costs of heating with fossil fuels. But if you were to invest in one of these stoves and then find yourself unable to purchase pellets, you would not be enjoying the liberating feeling of energy independence. On the contrary, you would feel as if you were shackled to a cold and useless household appliance.
The fear of fuel supply problems was one of the greatest barriers the wood pellet industry had to overcome as it inched into the mainstream over the past 20 years or so. At first, many people likely wondered if this technology could just be a fad; without a critical mass on the supply side, pellets might be subject to scarcity or inflation.
Growing popularity
As it turned out, pellet heating proved to have staying power. Stove designs continued to improve, offering reliability, efficiency, and an ever-expanding range of attractive designs. As their popularity continued to increase in North America and Europe, supplies of this relatively new fuel were generally reliable, and prices reasonably stable. But pellet stove owners in the Atlantic provinces got a shock last winter when they found many stores fresh out of pellets. Suddenly, everyone was scrambling, trying to find out which local retailer would be receiving the next truckload.
Last year's shortage has been attributed to increased local demand—partly due to the exceptionally severe winter weather—and also increased exports. The key question for stove owners, and prospective stove owners, is whether it is likely to happen again.
People in the pellet industry say it will not. Manufacturers and retailers alike will be motivated to restore consumer confidence, so they will be working together to ensure a sufficient supply.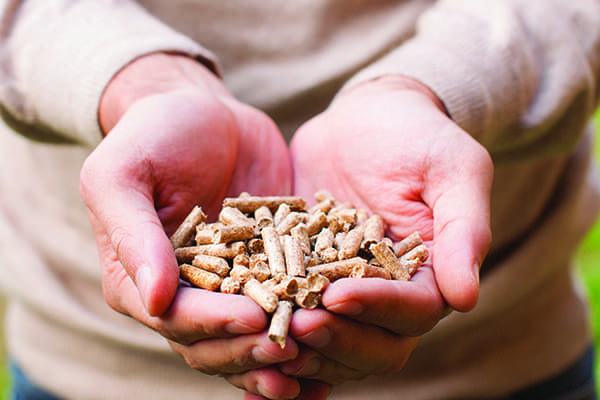 Supply and demand
Canada produces almost two million tonnes of pellets annually, but most of that output is exported. Although pellets currently account for only 0.3 per cent of home heating nationally, pellet stove sales have increased in recent years, and the Atlantic provinces represent a key market. Natural gas is not widely available in this region, and electricity is relatively expensive, so the economics of pellet heating are favourable here.
There is plenty of pellet production capacity in the Atlantic provinces. If a supply problem arises, it's due to the seasonality of the market. Pellets are produced continuously through the year, but consumed mostly during the winter. Manufacturers typically do not have much storage capacity, and in any case they need steady revenue, so if exports offer a means of smoothing out sales, that's the route they will go. Some manufacturers produce industrial-grade pellets expressly for export, entering into supply contracts with large power plants in Europe, so those pellets cannot simply be diverted to meet local demand.
Buy in advance
In this age of just-in-time delivery, retailers have little appetite for warehousing pellets, although—especially this year—they will be trying to create a bit of a buffer in their supply. What stove owners can do is create their own buffer by buying at least part of their winter supply well in advance of heating season. Some people like to maintain a considerable stockpile, buying bags of pellets week by week without dipping into the reserve. Pellets do not go bad; as long as they are stored in a dry place, there's no reason not to carry the reserve over for next heating season.
You can lay in an advance supply by buying a couple 40-pound bags every time you go shopping; or by getting a couple loads with a pick-up truck; or by arranging for delivery of a pallet, which would hold 50-75 bags. They can be stored in the garage or in the basement, but should not be placed directly on a concrete floor; stack the bags on a pallet to ensure they stay dry.
It should be noted that while large volumes of loose pellets represent a possible off-gassing risk (which is 
why bulk storage hoppers are properly vented), this is not the case with bagged pellets, so it is perfectly safe to store them indoors. Knowing you have lots on hand will provide peace of mind.