Introduction: Wild Roses in Atlantic Canada
What would summer be without wild roses? A stroll down a quiet country road, across an old pasture, or along the ocean shore surely wouldn't be the same. Roses that grow untended in out-of-the-way, rough and tumble places are always a pleasure to discover.
Over eons, the rose has developed into the most highly prized of garden flowers, but even before mankind made an appearance on this earth, roses were brightening the pre-historic scenery. In fact, fossilized roses many millions of years old have been found in Colorado and Oregon in the U.S. and evidence shows that the ancient Greeks and Romans treasured the rose, putting it to myriad medicinal, cosmetic and esthetic uses.
One needn't look far to find wild roses (a common term used to describe both native species and old garden varieties that have escaped and naturalized, decorating the Maritime scenery). Ranging in colour from white to deep pink, wild roses exude a delicately sweet scent, and are blessed with an important survival strategy—an armour of thorns, so guard your nose when tempted to sniff!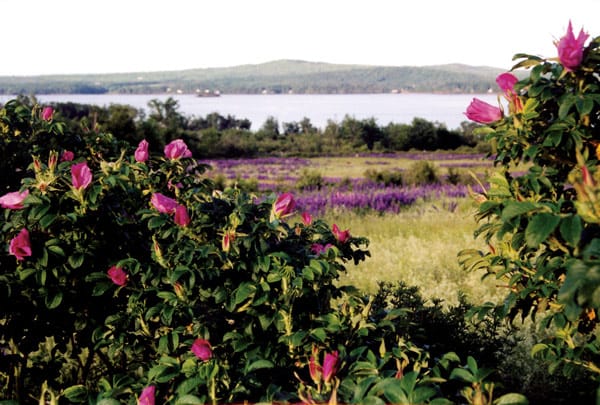 Native Roses of Nova Scotia
In Nova Scotia, there are about a dozen different species growing in wild abandon in fields, sparse woodlands, mossy swamps, wet thickets, bogs, marshes, and salt-splashed seashores. Four of these—Rosa carolina, Rosa palustris, Rosa nitida, and Rosa virginiana—are true native species.
"These native roses are among the 1,500 or so species of flowering wild plants that gradually recolonized after the ice that completely covered what is now Nova Scotia roughly 16,000 years ago finally melted away," says Alex Wilson, manager of collections and curator of botany for the Museum of Natural History in Halifax.
Over time, ancient roses around the world were crossed and crossed again in search of greater beauty and richer scent. Near the latter part of the 18th century, the China rose (R. Chinensis) arrived in Europe. Hybridizers capitalized on this longer-blooming species. Rose breeding flourished and led to the development of different classes of modern roses such as the Hybrid Perpetuals, Hybrid Teas, Floribundas and Grandifloras.
A little rose history in Atlantic Canada
Roses were among the plants valued by Atlantic Canada's early settlers. Evidence suggests that the Acadians, New England Planters, English, Scottish, and United Empire Loyalists brought roses from their homelands and planted them in versatile kitchen gardens. These old garden roses are also called antique or heritage roses.
Like everything else a century or two ago, the roses were put to good use. Not only were they beautiful and fragrant, the petals and foliage were edible. In fall, the brilliant red hips, so rich in vitamin C, beta-carotene and vitamins E, B and K, were used to flavour tea, make jellies and jam. They were also eaten right off the bush or dried for winter, to ward off scurvy and other ailments. Naturalist and author Laurie Lacey, who lives on the South Shore of Nova Scotia near Bridgewater, says "native people used the roots and leaves to brew a healthful spring tonic," while settlers treated colds by steeping young rose shoots. "Petals and leaves were also dried, chopped and made into medicinal tea."
Early gardeners shared or traded favourite specimens, but roses from gardens that fell victim to neglect or abandonment "escaped" and spread to the countryside to grow on their own. In other cases, wild roses may have made their way from more exotic locations. "Over the past 400 years, ship ballast is one of the main ways in which non-native plants, including roses, have made their appearance in Atlantic Canada," says Alex Wilson. Some roses also grow wild after being used as rootstock. "Many of the choice roses of the last century and a half have been grafted on to hardy rootstock," adds Wilson. "The Rosa multiflora was introduced quite purposely as rootstock and now millions are growing on their own."
In Search of Old Roses
Searching out wild roses in old gardens, cemeteries, farms and homesteads, identifying and replanting them, then nurturing them to former glory has become a popular pastime. Gallica, Alba, Sweetbrier and Moss are just some of the old roses that Kentville, NS, lawyer Allison Magee has rescued from oblivion and planted at the
family farm in Welsford, a small rural community in Nova Scotia's fertile Annapolis Valley.
Magee admits it's an ideal way to indulge his passion for history and gardening. "Wild roses are part of our history, our culture," he explains. Hunting out the ones that strike his fancy, the ones with the most beautiful flowers and the showiest rose hips, helps reinforce his Loyalist and Planter roots. "My ancestors could have been the ones to bring these plants," he muses.
And heritage planting goes along with an appreciation for heritage homes. Magee calls it "a natural progression." Heritage rose associations and nurseries are helping to revive interest in, and contributing to the survival of roses from the past. In Halifax, Heirloom Roses owner Peggy-Anne Pineo says more and more people are seeking out ways to include heritage roses in home gardens.
Bob Osborne, an authority and author on roses, comes into contact with plenty of antique rose enthusiasts at his nursery in Corn Hill, NB, and many other folks who are looking for help identifying wild roses they have found. "There is an unbelievable interest in old roses," confirms Osborne. "Part of it is a nostalgia thing; people are interested in their heritage. People will bring in an old rose they found growing on their grandmother's farm and want to know what it is."
Planting Old Roses
Osborne says transplanting wild roses is easy, as long as the plant is dormant. He recommends transplanting in late fall or early spring. If the plant is in leaf, he recommends "cutting it right back to the ground."  And be aware that even the sparsest-looking specimen can flourish with the right care, including "lots of sun, adequate moisture, good drainage and a reasonably good fertility system."
Today's luxuriant, multi-layered Modern Rose bears little resemblance to its ancient ancestor, with its single row of five simple petals, but the link is as undeniable as our passion for this thrilling and sensual flower.
As botanist Alex Wilson smartly points out; "Of all the cultivated and wild plants, roses do seem to rise to the top."
In old field habitats and on the landward side of the famous north shore sand dunes on Prince Edward Island, wild roses add a welcome blush of colour. Kate MacQuarrie, executive director of Island Nature Trust, says Charlottetown is blessed with patches of "really fragrant old double roses" here and there around the city.
Identifying Wild and Old Roses
So how does a person tell one wild rose from another? Acadia University botanist Ruth Newell, who is especially fond of the huge, shoulder-high stretches of Rosa rugosa that thrive in her husband's home town of Clarks Harbour on Cape Sable Island, says patience and determination can pay off when trying to identify a rose. Tried and true references are essential. She suggests Roland's Flora of Nova Scotia, which features detailed identification keys, and is available in some bookstores and through the public library.
The Historic Gardens in Annapolis Royal, NS, is a great place to see and smell one of the largest collections of old roses in Canada. Horticulturist Karen Achenbach notes that the collection, which depicts the evolution of the rose on a world scale, "is probably the most popular part of the Gardens." It features 2,000 individual plants representing over 200 varieties, dating back to before 1500, when Rose gallica was first introduced into cultivation.