Managing a mortgage - for better or worse
JERRY MAGUIRE may have been able to simply scream "Show me the money!" and get what he wanted, but if you're looking for money in the form of a mortgage—whether you're a veteran homeowner or a first time buyer—it's not going to be quite that easy.
A binding agreement
After selling their home in Truro, NS, Steve and Deborah Proctor met with four different lenders as they searched for the best possible mortgage agreement for a new home in Halifax. As the former business editor of a daily newspaper, Steve had a distinct edge when it came to finessing a deal that hinged on rates set by the Bank of Canada, yet the process was challenging, even for him.
There's no secret to getting a great mortgage," he says. "A lot of very smart people got caught in the '70s when rates spiraled out of control. The best approach is to get some good advice—but in the end, you have to decide for yourself."
Next to a marriage, a mortgage is the most important binding agreement that many Canadians will enter into. And while there's no requirement for love, there is an obligation to honour and obey for what often amounts to 25 years. With so much at stake, it only makes sense to approach a mortgage in the same way you would a marriage—by knowing what you want, understanding what you need and finding a good partner.
More than a feeling
The Financial Consumer Agency of Canada encourages prospective home buyers to familiarize themselves with the fundamentals of financing a home: mortgage requirements, terms, rates and amortization periods.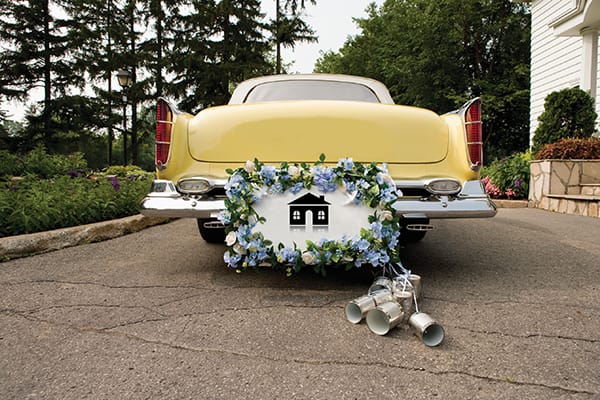 But first, you'd better do the math. Looking for a house without knowing what you can afford is like shopping for new boots without knowing your shoe size. Sure, the tall purple numbers look fabulous on the shelf, but do they fit?
According to Robert McLister, editor of CanadianMortgageTrends.com and a mortgage columnist for The Globe and Mail, lenders use two ratios to determine the maximum size of a prime mortgage: the gross debt service (GDS) ratio, which is based on the percentage of gross income needed to cover regular costs such as principal, interest, taxes and heating costs; and the TDS, or total debt service, which is the same as the GDS, but also includes monthly expenditures such as payments for cars, credit cards and lines of credit.
If you're putting down less than 20 per cent, the maximum GDS ratio is generally 39 per cent. For mortgages with at least 20 per cent down, 32 per cent is more common, but some lenders have no GDS limit at all. The maximum TDS ratio is 40-44 per cent.
Not an accounting whiz? No worries. Online calculators (see "Do the Math," page 81) can give you a good indication of what's affordable for you. Plug in a five-year fixed interest rate - that's what lenders typically use for these calculations—to see the cost per month, based on your down payment and amount borrowed.
Shop around
Some mortgages outlast marriages—and in any case, it pays to play the field before making a long-term mortgage commitment.
There are plenty of fish in the sea these days, and many alternatives to the local bank. The best place to begin is to compare the rates, features, restrictions and penalties offered by banks, credit unions, mortgage companies and independent mortgage brokers.
"Brokers tend to be highly competitive on rates because they have a large pool of lenders to choose from," says McLister. "Look for well-established brokers or brokers doing high volumes with a good online presence. The latter generally have status with the most lenders, which most often means the best rates."
Just knowing what other lenders are offering can help you leverage a better deal. "Many people don't realize that they can do better than the posted rate," says Proctor. "Sometimes it's only a matter of asking."
Commitment issues
The number of years it takes to pay off a mortgage is called the amortization period, and the length of that period, along with the interest rate you pay, determines the total amount of interest paid.
Amortization varies depending on the lender and the size of the down payment, but 25 years is the norm. A shorter period of time would mean less interest paid in the end, but higher monthly payments.
Last summer, Finance Minister Jim Flaherty reduced the maximum amortization period in Canada from 30 years to 25 years for people who require mortgage insurance. (Typically, lenders require mortgage insurance for any borrower who makes a down payment of less than 20 per cent of the purchase price.) Says Proctor: "Mr. Flaherty was concerned that Canadians were overspending and beginning to fall into the same trap that has crippled the real estate market in parts of the United States."
Terms of endearment
Some mortgages may be amortized for 25 years, but they are broken down into chunks of time, called "terms," from one to five years, with periods of two years or less considered short-term and four years or more, long-term. Long-term mortgages offer protection from potential rate increases, although their interest rates are usually higher.
Torn between two rates
Variable or floating rate mortgages have rates that rise and fall when the Bank of Canada changes interest rate policy. Fixed rate mortgages lock the homeowner into the same rate of interest for the term of the mortgage. When interest rates are stable or dropping, variable-rate mortgages have a history of costing substantially less; when markets are less certain, fixed rate mortgages are an insurance policy against rising interest costs.
"Locking into a fixed rate takes away the worry," says Chris Golding, a Kentville, NS, mortgage broker. "It's especially important for young buyers who may not have much experience with mortgages."
So how to choose? Proctor describes it as a bit of a crap shoot. "You can't predict what the economy will do, but you can anticipate your ability to cope with whatever happens. We went with a fixed mortgage because, with rates already at near historic lows, they have nowhere to go but up."
The pre-nup
There's no point in waiting to fall in love with a house before arranging a mortgage. One way to streamline the house-hunting process is to secure a pre-approved mortgage—basically an agreement that gives the prospective home buyer a certain number of days to seal a deal, and for that period of time, locks in an interest rate—even if rates rise. The period varies between lenders, with some of the big banks offering between 90 and 120 days.
Pre-approved mortgages narrow the house-hunting search by giving buyers a realistic idea of what's affordable. As well, they give buyers a rough idea of their potential monthly payments and prepare them to make a quick, informed offer.
Renewing your vows
Mortgages must be renewed whenever a term ends, and while there's no obligation to renew with the same lender, keep in mind that you will be starting from scratch with a new lender. On the bright side, many new lenders are so anxious to get your business that they may try to make the application process as streamlined as possible.
Golding encourages homeowners to take a proactive approach by pre-arranging mortgage renewals in the same way they would pre-arrange an initial mortgage: they should contact a number of lenders to determine what's available. He also cautions against settling for the rates posted by banks, saying that in most cases, he can get his clients a better rate—sometimes even at their own banks.
Breaking up is hard to do - sometimes
Some lenders have conditions that make it difficult to break a mortgage. The mortgage contract should include an explanation of penalties—usually based on the interest rate of the mortgage, the amount owing, and administration and legal fees.
Just as with a marriage, it pays to know exactly what kind of contract you're getting into so that—should the necessity arise—you can move on gracefully, without being unnecessarily penalized.