So much hinges on the colour of your front door
Susan McBride smiles when she sees her front door. "Sometimes I even giggle," she admits, "remembering the look of horror and doubt on the painter's face when I showed him the can of chartreuse paint."
There are many strategies for choosing the best possible paint shades for the front door, with rationales ranging from the science of colour theory to the art of feng shui. But, it often boils down to hit or miss and personal preference.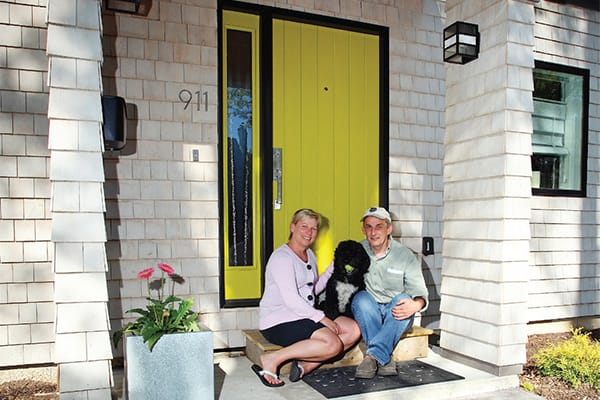 "Not everyone likes chartreuse," says Sue Sirrs, a landscape architect who worked with McBride and her husband Roy on a landscape plan for their newly renovated home in Halifax's South End. (Chartreuse is an almost neon yellow-green.) "The painter eventually came around after the neighbours told him it has an especially beautiful glow in the evening sunlight."
With hundreds of colours to choose from, and new, water-based paints that are specifically formulated for exterior doors, painting has never been easier. "The challenge is to approach the task with confidence," says Bev Bell, creative director for Home Hardware's Beauti-Tone Paint and Home Products Division.
"At some point, most of us have painted something the wrong colour, so we are all a bit intimidated when it comes to selecting the right shade of paint," says Bell. "It's not as simple as opting for a favourite colour, but it's also not as complicated as it seems. After all, doors are very small rectangles, so if we do make a mistake and choose the wrong colour, it's easy to fix."
To minimize the chances of a colour gaff, Bell advises considering the style of the house, as well as the dominant tones in fixed features, such as the roof, exterior finish (siding, shingles, brick, stucco, etc.), and hard surfaces such as pavement and gravel.
After identifying the colours already present, it's time to renew your acquaintance with the colour wheel. A monochromatic colour scheme (shades of the same colour) enhances the perception of size, while analogous colours (those next to each other on the wheel) create a sense of flow. And complementary colours (opposites on the wheel) will usually bring out the best in each other.
Bell recommends choosing bold, saturated hues. "Colours look less intense outdoors than they do indoors," she says. "Inside, we are told to go a shade lighter than we'd ideally like. Outside it's the exact opposite."
Before making a selection, examine your top few picks outside over a number of days. "Hang them on the door or a wall at the same angle they'll be viewed once you've painted the door," says Bell. "The colour will change, depending on the light, so take some time to find a shade that will make your neighbours' jaws drop for all the right reasons."
Bell's own home is in the woods, so when it comes to colour there, anything goes. Town dwellers don't always have the same freedom as their rural counterparts when selecting paint.
"Colour choice will be a weighty matter if you dream of a hot-pink house with lime-green shutters, and all the homes in sight are either white or beige," says Judith Mackin, creative director of a Saint John, NB design firm. "My advice is to work toward a compromise between what you imagine your neighbours could reasonably tolerate and what best expresses who you are."
Chartreuse may not top the list of tolerable colours, but the McBrides' bold choice has definitely worked. "We certainly stand out," says Susan McBride happily. "When visitors come to our home for the first time, I tell them to watch for our front door."