With a little planning, handsome rhododendrons and azaleas can become the star attraction in your garden
When I was a student at the Nova Scotia Agricultural College (now Dalhousie Faculty of Agriculture) in Truro, NS, one of my papers was about the Ericaceae, commonly known as the heath family of plants. That modest paper began a love affair with ericaceous plants that continues to this day. The heath family includes many plants that take pride of place in our gardens: heaths and heathers, rhodora, Labrador tea, wintergreen, bog rosemary, lambkill and mountain laurel, blueberries and cranberries, and the glorious blooming shrubs known as rhododendrons and azaleas.
The botany of the Ericaceae family is complex enough to make even a hardcore gardener's head spin, and taxonomists add subfamilies and subgenera on a regular basis. For our purposes, we are going to keep azaleas in the genus Rhododendron, although they have slightly different appearances. My goal is to encourage you to grow these gorgeous plants, not put you off by confusing taxonomy, but there are a couple of things to learn.
Rhododendrons and azaleas are handsome woody plants, which in our region grow as shrubs of varying sizes. Several are native to Atlantic Canada, including the tiny Lapland Rosebay (Rhododendron lapponicum), which I saw growing in Labrador and even on the Tablelands of Gros Morne National Park. The rhododendrons are evergreen, holding their leaves throughout the year; the hardy azaleas that we can grow outdoors in our region are deciduous, dropping their leaves in autumn. There are evergreen azaleas—most commonly seen in florist shops and department stores—but these are not hardy to our region. Botanically speaking, most azaleas have only five stamens (the male parts in the centre of each flower) while most rhododendrons have 10 stamens.
Rhododendrons and azaleas can be a challenge for many people because of two major problems: planting in the wrong site, and the fact that deer adore them. Selecting the proper site and the right cultivar for your area is crucial to success, but there are plenty of choices for all but the coldest parts of the region.
While rhodos and azaleas aren't the biggest divas in our gardens, they do want what they want in order to perform their best. Of the two types of plants, azaleas are the most forgiving of garden mistakes—a friend of mine who grows copious numbers of both types refers to azaleas as being essentially foolproof—provided you select hardy enough cultivars for your location.
The most important growing requirement for ericaceous plants is to make sure your site has good drainage. Many rhododendrons and azaleas, for example, are natively found in mountainous regions, where slopes whisk away snowmelt or excess rainfall; if you plant in slow-draining soil you condemn your rhodos and relatives to a slow death. If the soil in your yard is heavy clay and the drainage slow, amend with plenty of compost, sharp sand, and peat moss, or consider building a raised bed or berm so your plants will have better drainage.
Like all members of the Ericaceae family, rhodos and azaleas like an acidic soil, (lower pH reading below 7) which most of us in Atlantic Canada have in abundance. If your soil does lean towards a more alkaline (reading between 7-14) pH, you can amend it with ammonium sulphate (available at garden centres) or with aged manure, woodland litter/humus, pine needles and peat moss.
For best growth and bloom, rhododendrons require at least half a day of sunlight, although they will grow well in light to moderate shade, but not flower as well as with some sun. Azaleas are happiest with more sunlight than their evergreen kin and often the plants that aren't doing well aren't getting enough sunlight. Protection from harsh winds is important, especially if you're growing some of the more marginal-hardy species and varieties of rhododendrons. You may notice that rhododendrons pull down and roll up their leaves in the coldest winter weather—this is usually a protective measure, and when temperatures rise, the plant will relax its leaves back into normal position and shape.
The biggest concern for many gardeners, even when they site their plants properly, are those four-legged nuisances: deer. They find the flowers and foliage and new twigs of rhododendrons pretty much irresistible, so much so that some gardeners have resorted to high fencing around their properties, and in some cases have simply stopped growing rhododendrons. As we discussed last issue, there are commercial and homemade deer deterrents available, and from feedback we've received at Saltscapes, one of the most effective remedies is predator urine, which is available as a commercial product. The only problem with repellent sprays of any sort is that they usually need to be reapplied after a heavy rain.
Most shrubs sold at nurseries have been grown in containers for several years, and in many cases may be root-bound. Before planting a newly purchased rhododendron, shake soil away from the roots and carefully loosen the root ball with a stream of water from a hose or tease apart with your fingers so the roots will spread out around the plant. Take care not to plant too deeply. The top of the root ball can actually be left exposed, and don't tamp down the soil too firmly around your plant. It's a good idea to mulch the shallow-growing root systems with bark or pine needle mulch to protect against drying out in summer and excessively cold winter weather.
Rhododendrons and their relatives look spectacular when planted in groups, along with companion plants. Annapolis Royal Historic Gardens has an excellent collection, including some bred by Dr. Donald Craig at the Kentville Research Station during the 1970s and 80s, and some of Captain Steele's plants as well. In May and early June, take a trip to Pine Grove near Liverpool, NS, also known now as Captain Steele Memorial Park, where there are dozens of rhodos spread throughout the pine forest. Kingsbrae Garden in St. Andrews, NB, has a fine collection, and some nurseries around Atlantic Canada plant out specimens in their display gardens. Chances are, you'll decide that these plants are like potato chips and that you can't have one or two. Or three or four.
Best bets
My friend Rob Baldwin of Baldwin's Nurseries in Falmouth, NS, says that rhododendrons and azaleas give our gardens a tropical look with their explosive bursts of large, colourful blooms. When the flowers are spent, the handsome evergreen foliage adds a flourish of unique texture as a backdrop for perennials and shrubs. With a little planning, you can have rhododendron and azalea blooms in your gardens from late April until mid July, depending on the species and cultivars you select. If you visit reputable local nurseries, the staff should be able to help you choose the appropriate plants for your garden. There are hundreds, if not thousands, of species, varieties and cultivars to try, in a range of plant sizes and flower colours. Choices will vary at different nurseries. Bud colour can be misleading, as the flowers usually open lighter in colour than the closed bud displays; check websites and catalogues to confirm colours.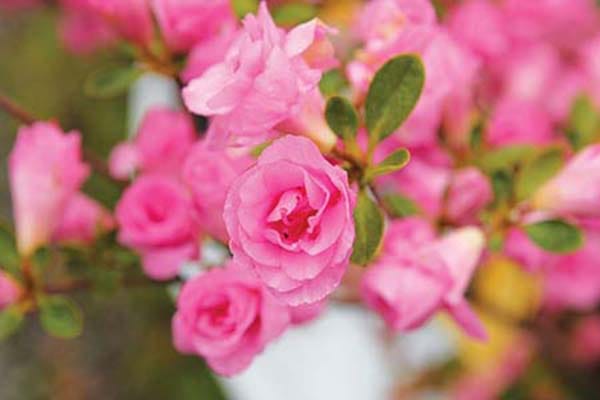 Rhododendrons
For our purposes, we're grouping rhodos into two categories: lepidote, which have small, fine leaves (to remember which is which, think lepidote/leprechaun) and can take more sunlight, are more tolerant of wind and dry conditions than their larger-leafed relatives. The large-leafed rhodos are categorized as elepidote (think elephant/elepidote) and want more shade as well as moist, rich soil. Morning sunlight and an east- or north-facing slope make a good site for elepidotes.
Lepidotes
'April Rose': Very early blooming (early May) with vibrant fuchsia-hued, double blossoms.
'Ramapo': A personal favourite, this is a low-growing but spreading shrub with lavender-purple blooms. It sometimes will bloom sparingly a second time in late summer or early fall.
'PJM': This is actually a series of plants developed from a particular hybridization done at a Massachusetts nursery. The plants are hardy and have flowers ranging from magenta pink to lavender, with evergreen foliage that darkens to burgundy tinted in winter. Cultivars include 'Elite', 'Checkmate' (a dwarf form), 'Northern Starburst' and 'Lavender.'
'Olga Mezitt': Deep pink flowers and aromatic foliage that turns burgundy in fall and winter.
'Landmark': The last rhododendron to bloom in many gardens, with large trusses of shocking-pink flowers.
Elepidotes
'Capistrano': Soft yellow flowers
'Purple Passion': Rich purple flowers
'Percy Wiseman': Strikingly attractive peach/yellow blend, fading to cream as flowers mature.
'Big Deal': Cream flowers with a yellow central blotch, giving the flowers a more-yellow appearance than they actually are.
'Henry's Red': Blood red buds open to a clear red flower.
'Mist Maiden' and 'Ken Janeck': These cultivars have white to pale pink flowers, but their special appeal is the wooly undersides of their leaves.
Azaleas
In my former garden, I had azaleas out in the open, some in soggy areas, some in more shady sites, and none of them ever let me down. Some were seedling crosses done by local growers and hobby breeders, often with well-established cultivars as parent plants. As an added bonus, many are also fragrant. Varieties to look for:
'Northern Lights' series: This series of azaleas was bred at the University of Minnesota, and they can take pretty much anything an Atlantic Canadian garden can dish at them. Cultivars include 'White Lights', 'Rosy Lights', 'Northern Hi-Lights' and 'Golden Lights'.
'Homebush': Large clusters of red buds open to bright pink, fragrant blooms. Foliage turns yellow-gold in autumn.
R. schlippenbachii: Commonly known as the Royal azalea, this species has soft pink flowers, and large, velvety green leaves that display excellent fall colour (orange/yellow).
'Arneson Gem': Huge orange flowers, lightly scented. A related cultivar, 'Arneson Flame' has splendid, clear red flowers.