Rather than tearing out good-quality kitchen cabinets that have worn out their welcome, homeowners are choosing to renovate, by refacing and painting
Replacing kitchen cabinets can be costly and time-consuming. Renovating existing cabinetry is a better option for homeowners like Susan Stacey, of Waverley, NS, who decided to reface her cabinets. That involves replacing doors and drawerfronts, and fitting the outside of the cabinets with a matching outer skin. "We liked the layout of our kitchen," Stacey says. "We had enough cabinets, so we didn't have to take out the frames. Less mess, less fuss. We went without our kitchen for three days."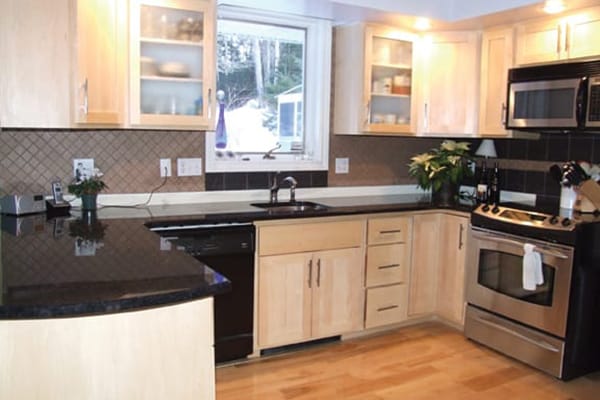 Stacey wanted a clean, modern look, so chose light maple Shaker-Style doors and drawerfronts, and installed frosted glass in a few doors. To complement the modern lines of the cabinetry, Stacey chose brushed stainless steel door handles, replaced the old hinges with European concealed hinges, and changed her countertop with a rich, dark granite.
"Refacing kitchen cabinets is far more than sticking on new doors," says Robert Stack, owner of Kitchen Refacers in Sackville, NS, a Web-based business with an online showroom. According to Stack, refacing appeals to many homeowners because it eliminates the expense and disorder involved in pulling out cabinets. As well, refacing doesn't require costly alterations to the electrical system, plumbing, or flooring.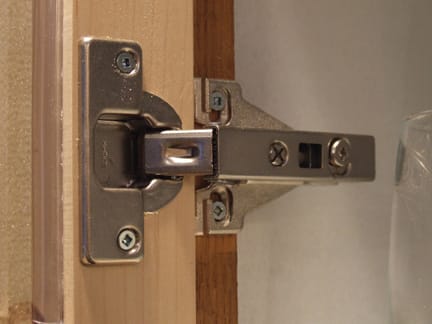 Most of the kitchens Stack refaces are at least 20 years old, and many have sturdy plywood doors and shelves. "Older cabinets were made at a time when building a kitchen was a slower process," he says. "Many are custom fit and made from high-quality materials." Stack says they take more weight than particle board, the hinges hold better, and shelves don't sag. Stack says his normal price for refacing is between $3,000 and $5,000. It's a range that he says is roughly half the price of replacing the cabinets.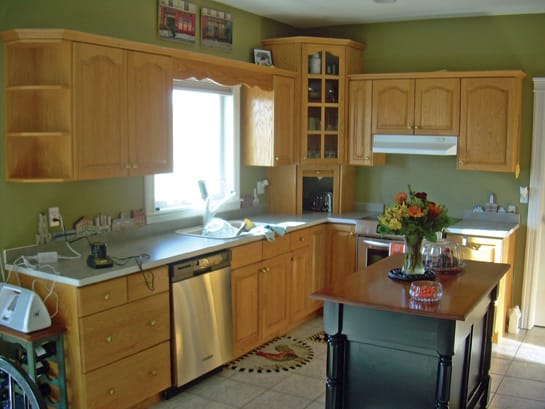 Before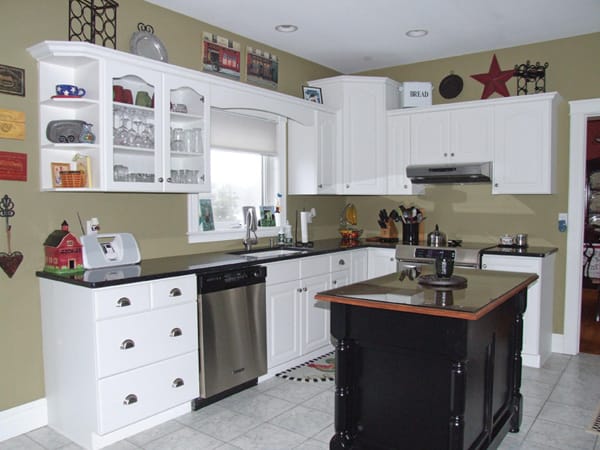 After
Paige Watson, in Kingswood, NS, also chose to reface her kitchen cabinets, opting as well to replace a built-in desk with a pantry, and add an island. "It was a nice kitchen before, but it just wasn't my taste," Watson says. Like Susan Stacey, Watson hired Robert Stack to do the work. For both the refaced cabinets and new pantry with roll-out shelves, Watson went with an easy-to-clean white vinyl. In all, she ended up replacing countertops, cabinet doors and hardware, as well as the sink, faucet and appliances. She also added an island and pantry.
If you aren't sure of style, materials or colours, ask a professional. According to Shelly Clee, of Sackville Decorating Centre in Sackville, NS, an interior decorator can save a homeowner money as well as prevent decorating mistakes. "Many people rush into decorating decisions and end up choosing something that doesn't work with the rest of the house," says Clee, who is also president of the Nova Scotia Interior Decorators' Association. She says decorators are more apt to have a broader perspective and may advise against some trends that might come and go quickly. Clee prefers a natural tone for hard elements like countertops and cabinets, for instance. "It gives you a lot more flexibility in the future," she says. "You can change the wall colour, appliances, and window treatments, and neutrals will work." Interior decorators can also help with the budget, and advise clients about the kinds of renovations that are likely to net the greatest return when the client sells the house.
Many of Clee's clients opt for painting or refinishing cabinets, as opposed to replacing or refacing them. For painting cabinets, she recommends two products: a melamine oil-based paint for a very smooth surface; and a modified acrylic polyurethane that goes on thin, cleans up with water, and hardens well. She also recommends hiring a professional painter. "It's beneficial for the consumer to consult with an experienced painter who knows how to apply these products for a professional look."
Refacing or painting existing cabinets, then replacing dated hardware, are changes that resonate well with the current focus on reducing, reusing and recycling. Whether you do the renovations yourself or hire a contractor, refacing kitchen cabinets is worth a second look.