A roundabout way of building a home
IN 2009, shortly after they were married, Stephen and Stephanie Arnold bought a parcel of land overlooking the ocean in North Rustico, Prince Edward Island. At the time the young couple bought the land, their notion was to build a cottage on the shore close to Stephen's family. Little did they know that they would be building something most people have never seen—a round rotating structure. Nor did they have any inkling they would also end up in the hospitality business.
Before starting on their "cottage project" the couple wanted to spread their wings a little, so they headed to Sydney, Australia, on a mission to help raise funds for charitable projects. Over the next three years they dreamed about their cottage and finally decided on a design; it would be a round house from Deltec Homes, a company that builds them in North Carolina and ships worldwide.
While still in Australia, Stephanie saw a rotating house on The Discovery Channel and recorded the show for Stephen. "She thought that I would find it amusing—like watching a dog on a skateboard—little did she know that I would get interested in building a rotating house for ourselves!" Stephen said.
Intrigued, Stephen tracked down the owner of the house featured in the documentary, Luke Everingham of E Rotating Structures (ERS), who lived just fours hours north of them in Wingham, New South Wales. Before long, the young couple was touring Everingham's home and getting the low-down on the possibility of importing a rotating platform to PEI.
"We just had to figure out how to put a Deltec Home onto an ERS platform in a way that it would rotate safely and effectively," Stephen said. Within months, engineers from Deltec and ERS were collaborating with Sheldon Tweel, a local engineer in PEI; after a bit of head scratching it all came together.
Making the numbers work
The next hurdle was how to finance the whole thing. The rotating platform alone cost $325,000 (before purchasing and constructing the house)—a bit steep, even after receiving financial assistance from their parents. What if the young couple could build a double-decker unit, live on the top floor, and use the bottom floor for guest stays? Perhaps in a few years, the platform could then pay for itself. They decided to build a two-storey structure, have four rental units below and use the upper level for their private living quarters.
In the summer of 2012, the Arnolds travelled from Australia to PEI and watched the excavators and contractors move on location at their North Rustico lot. The following April they moved permanently to PEI and completed the interiors of the four rental units on the lower level just in time to open for business in July of 2013.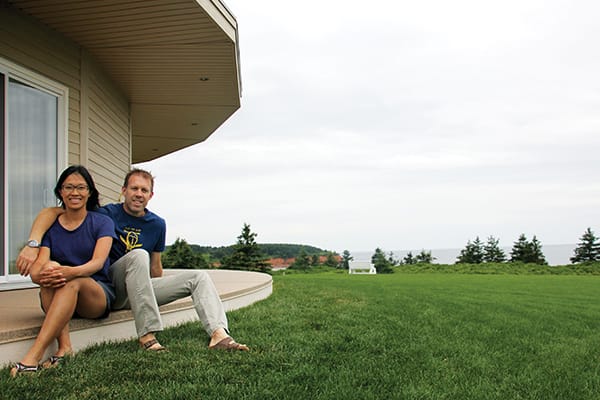 The challenges
Although the first rotating structure in the world dates back to the 1800s, the Arnolds' home—Around the Sea—is the world's first rotating structure with multiple dwellings, and the first rotating structure built for a winter climate with heavy snowfall. It is also the first duplicated rotating house in that the platform from the original E Rotating House in Australia has been successfully developed into an "export kit" which can be shipped anywhere in the world.
Those "firsts" come with a unique set of challenges. Such as, how to support the added weight of a 30-tonne modified ERS steel platform to accommodate heavy snowfalls and the structure's higher torque stress (due to the house being two levels versus just one)? For this, Sheldon Tweel, the local engineer, calculated exactly how much concrete was needed and designed a perfectly round basement, made with insulated concrete forms with footings for the central bearing as well as each of the 24 double-wheeled plates situated on a circular metal platform.
Every square foot of the walls and footings were strengthened with steel rebar and the fixed wheel posts and central bearing were further supported with extra bracing in the concrete. Next the exterior basement walls were covered with liquid rubber and surrounded with a gravel base six feet wide and eight feet high, to prevent any water from entering.
It was also tricky figuring out how to set up all the cables for multiple services for both the lower units and the top living quarters. "Because we have five panel boxes," Stephen said, "it meant that the number and size of the cables was quite hefty. These cables have a mind of their own when the house is rotating and want to go everywhere. We ended up having to build a circular cage of rollers and a Teflon tray to enable the flexible cables to flow smoothly in and out as the house osculates back and forth." (Back and forth meaning that the house can rotate 360 degrees in one direction, pause momentarily, then rotate in the other direction, to prevent the cables from winding right out of their sockets.)
Two 750-watt (1-horsepower) motors drive the rotation, each about the size of a large washing machine. They use about 1,500 watts of electricity per day, or about 60 per cent of what the average air conditioner uses daily in a small home.
Looking back—and forward
Stephanie calls it a project of love, sweat and tears. Somewhere along the line, she also gave birth to Emma, who is now almost three years old. Imagine supervising the construction phase then moving into new quarters, starting a new business, and taking care of guests for the first time, along with the challenges of coping with a newborn.
"We have wonderfully supportive family and friends. Everyone pitched in with both manpower and financial assistance. But it was still hard work," Stephanie says.
In the early days, before they were able to hire help with the cleaning, she recalls being six hours late for a wedding. "We missed the ceremony and the dinner but made it in time for the bride and groom's speech and their first dance. But we were so tired, we left shortly after," she says, ruefully. "However, the feedback from our guests has been overwhelmingly positive, and it's very satisfying to have our hard work recognised and appreciated."
Would they do it again?
You bet!
"Every obstacle can be overcome," Stephen says. Stephanie adds, "Imagine drawing your dream house on a napkin and making it happen! But you need to be passionate about what you are doing so you can endure the tough times. And it helps when you are able to see a low hanging sun and an early moon from the same room at the same time of day." As for their future plans? With the success of Around the Sea, the Arnolds' next venture is well underway—the world's first rotating three-tiered condo—coming soon to a shoreline in Nova Scotia.